Thursday, Dec 15, 2022
Marked by a return to normalcy, 2022 includes history-making moments
by Rachel Stengel '14, '20
The Science and Technology Center was renovated and renamed the Mike and Patti Hennessy Science and Technology Center. The $9 million renovation included a 9,500-square-foot addition, a new greenhouse, a cybersecurity lab, a software engineering lab, an anatomy/physiology lab and updates to common spaces. The project was made possible through the generosity of a $4 million leadership gift, the largest ever for the sciences at Rider, from Mike Hennessy '82.
'Transforming Students - Transforming Lives'
Rider announced the largest fundraising campaign in its 157-year history. Transforming Students - Transforming Lives: The Campaign for Rider University seeks to raise $80 million to increase scholarship support, build Rider's endowment, update campus facilities and fuel student success by strengthening the Annual Fund.

The campaign built incredible momentum during the quiet phase, which began in 2018, raising more than $76 million toward its overall goal and creating 37 new endowed scholarships. During this quiet phase, Rider received several of its largest gifts to date for scholarships, business, science, technology and athletics. This fiscal year, the University received $15.1 million in cash gifts, the highest in Rider history.

Rider received a number of major gifts this year, including a $1 million gift from Trustee Keith DiGrazio '84 and Christine Pindale DiGrazio '85 for the Rider Arena project and the Annual Fund, a $500,000 leadership gift from Tim Morrison '83 and his family to transform the wrestling training facility and a $500,000 gift to support the Rider Arena Project from Dr. Paul Muller Jr. '22 and Beverly Deren Muller '71. The University also named the campus pub Muller's Pub in recognition of the family's gift.  
Go Broncs!
Image
The men's swimming and diving team's reign continued with its 10th-straight Metro Atlantic Athletic Conference (MAAC) Championship win. Field hockey earned its eighth Northeast Conference (NEC) Championship in program history. The men's basketball team also delivered a shock to top-seeded Iona in the MAAC Championship Quarterfinals, winning 71-70. 
Rider announced women's lacrosse as its 21st Division I team with Evan Mager as the team's first head coach.
Two familiar pros made their way back to Lawrenceville. Stella Johnson '20 celebrated the retirement of her No. 4 in November. Her number was the first to be retired by the women's basketball team. Jason Thompson '08 joined the staff of the men's basketball team as the Broncs' special assistant to the head coach.
New programs
In January, Rider became only the second institution in New Jersey to join the GRAMMY Museum®'s University Affiliates program. Through this new partnership, students and faculty gained access to the historically rich archives of the GRAMMY Museum® and opportunities for guest lectures from music historians and educational programming.

The Class of 2026, who joined the Rider community this fall, was the first to partake in the University's new First-Year Experience program. The robust program is designed to provide new students with a personalized team of faculty, staff and student leaders, programs, events and activities to help make the most of their collegiate experience.

A new cannabis studies certificate, graduate certificate in cybersecurity, bridge program for Rider's master's program in cybersecurity and social media strategies major expanded Rider's academic repertoire.
Reorganizations
Rider introduced the new College of Arts and Sciences after merging the College of Liberal Arts and Sciences with Westminster College of the Arts. The new, single College consists of four schools, three of them new: Westminster Choir College, the School of Media and Performing Arts, the School of Humanities and Social Sciences, and the School of Science, Technology and Mathematics. Dr. Kelly Bidle was appointed dean with two associate deans, Dr. Brooke Hunter and Dr. Jason Vodicka '03, '09.

The new Division of Justice, Diversity, Equity and Inclusion was established to include the Department of Public Safety, Student Accessibility and Support Services, the Center for Diversity and Inclusion, and Title IX compliance. Barbara J. Lawrence, Rider's first-ever vice president for diversity, equity and inclusion and chief diversity officer, leads the division. 
High achievers
Image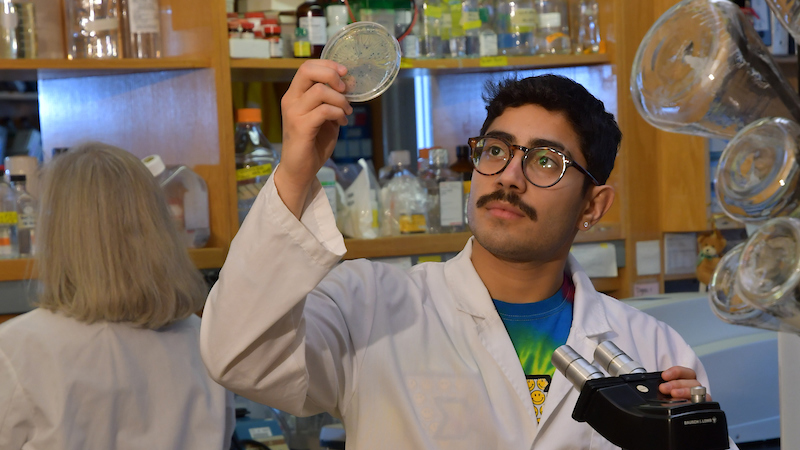 Rider was approved to receive a $1.3 million grant that will continue funding the Ronald E. McNair Post-Baccalaureate Achievement Program over the next five years. The program prepares students from under-resourced and underrepresented backgrounds for the pursuit of post-baccalaureate studies leading to a doctoral degree. Rider has been selected to sponsor the program with federal funding since 2007. Over that time, about 130 students have participated, going on to study at Harvard, Yale, Dartmouth, Brown, Vanderbilt, the University of Pennsylvania and other prestigious institutions.
A moment of zen
Image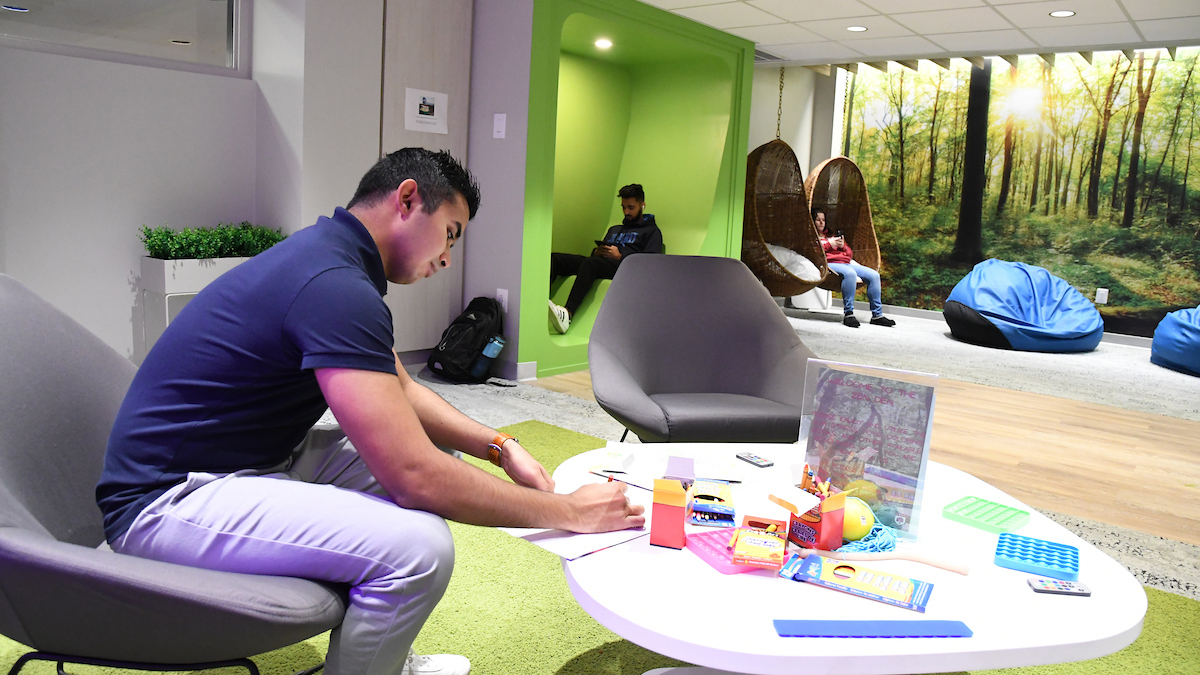 Students had a new space to quiet their minds and take a well-deserved break this year. The Zen Den was established in the Bart Luedeke Center thanks to funding from the Student Government Association with support from Student Affairs, the Counseling Center, Student Accessibility and Support Services, Facilities Management and the Office of Information Technologies.
A beverage refresh
Coca-Cola became the official water and soft drink provider for Rider. The 10-year partnership agreement with Liberty Coca-Cola Beverages also opened up opportunities for student internships with the organization's Philadelphia and South Brunswick, New Jersey, locations. 
Historical marker
Image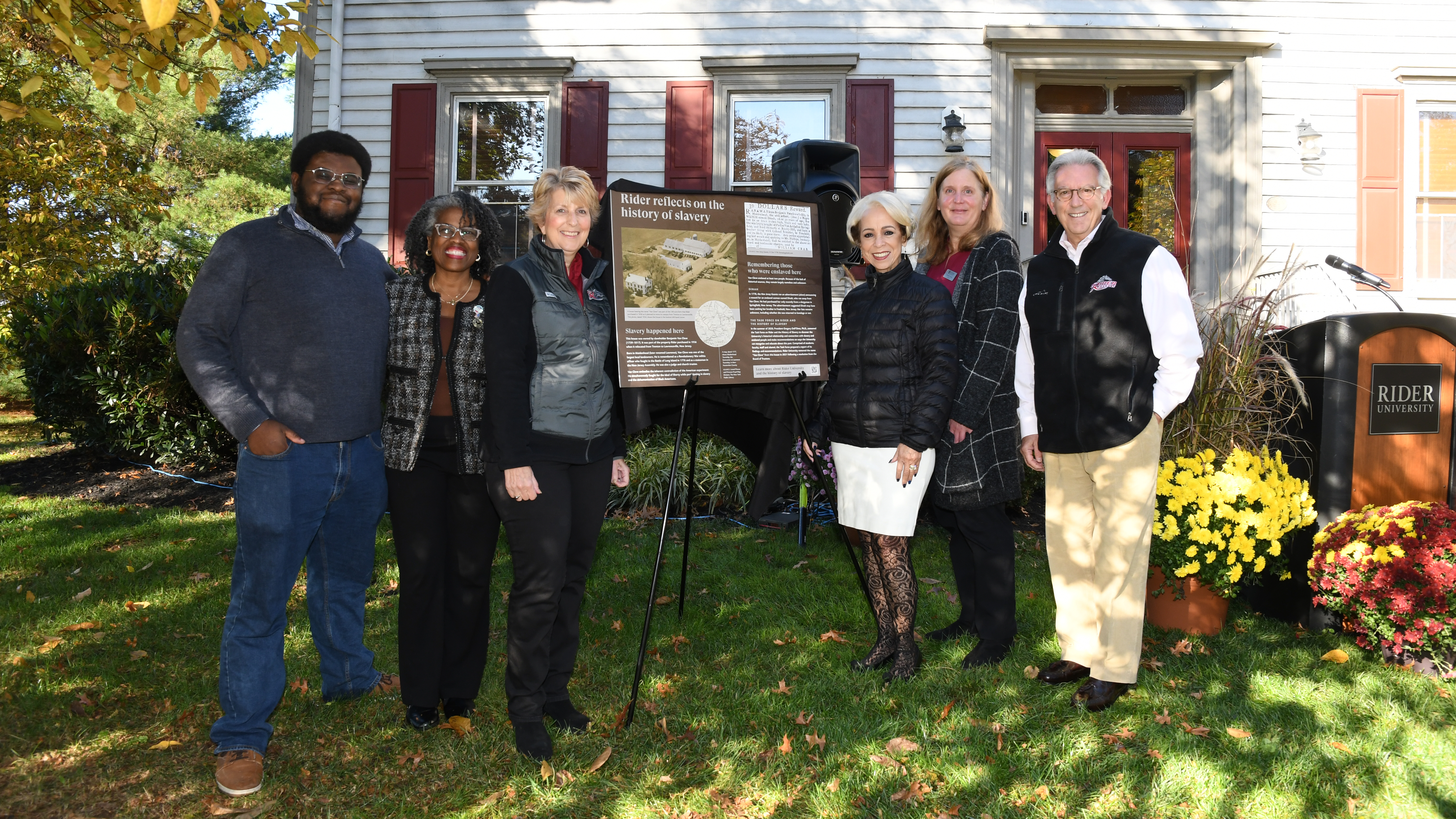 A new historical marker was unveiled outside Alumni House. It contains information about an enslaved woman named Dinah. She was one of at least two people known to have been kept in bondage by Benjamin Van Cleve, the former namesake of Alumni House. The marker represents the latest action in Rider's ongoing effort to use this history for educational opportunities as well as to memorialize those who were enslaved.
Rankings and awards
Rider continued to receive strong rankings from U.S. News and World Report and The Princeton Review. Rider was recognized as a best value school, a top performer on social mobility, a best northeastern institution and was ranked for best regional universities in the north. The University was also lauded for its undergraduate business programs, online master's degree programs and transfer student support and success. And for the 13th consecutive year, Rider was recognized as one of the nation's most environmentally responsible colleges by the Princeton Review's Guide to Green Colleges.