Friday, Sep 30, 2022
The Zen Den was designed to address growing mental health challenges amongst college students
by Adam Grybowski
Image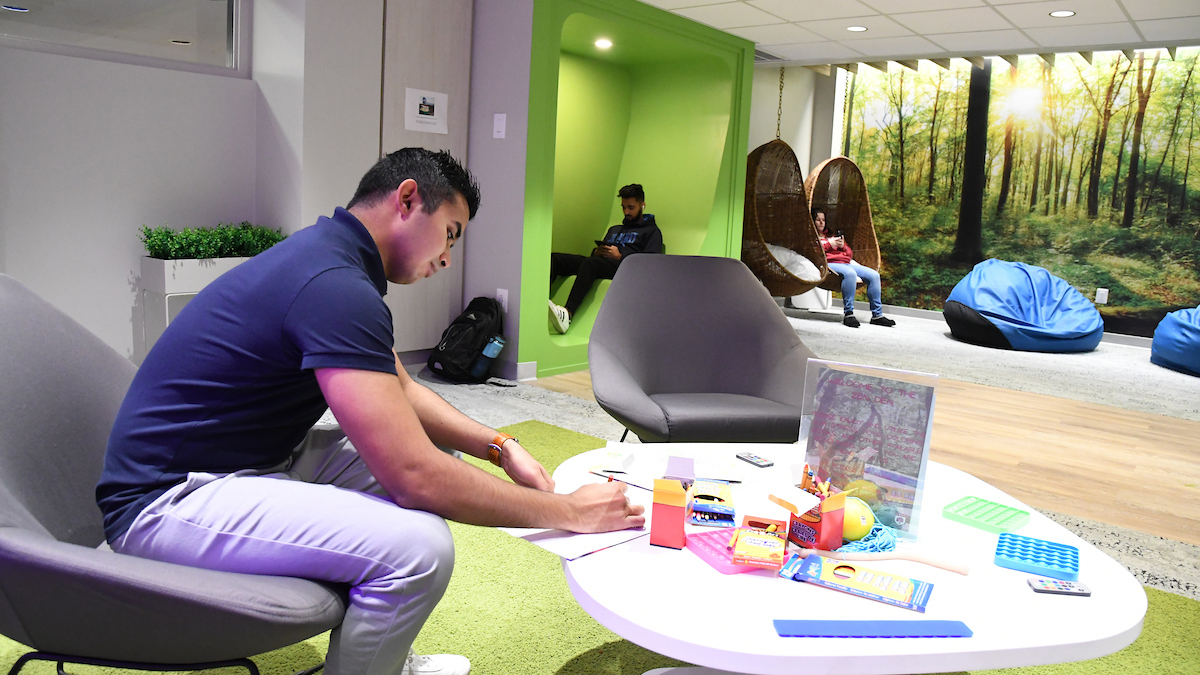 Colleges typically serve students by stimulating their minds. Beginning this semester, Rider University wants to also help students quiet their minds.
On Sept. 15, the University dedicated a new space, called the Zen Den, designed to foster peace, calm and well-being. It is the latest effort by Rider to help counter the growing nationwide trend of college students reporting signs of depression, anxiety and other mental health challenges. Other services include individual therapy, support groups and psychoeducational outreach.
"Across the nation, college student mental health is a pre-eminent concern," says Vice President of Student Affairs Dr. Leanna Fenneberg. "We wanted to create a space in the Zen Den that encourages students to slow down, breathe, reflect and center oneself — behaviors that can promote holistic health and well-being."
Student Government Association (SGA) funded the construction, collaborating with Fenneberg's office, the Counseling Center, Student Accessibility and Support Services, Facilities Management and the Office of Information Technologies on an intentional design to meet student needs. 
The idea of the Zen Den originated before the pandemic through the health and safety committee work in SGA. The pandemic delayed the project while also exacerbating the pre-existing mental health challenges among young people. 
Even as many schools were just opening back up for in-person learning, U.S. Surgeon General Dr. Vivek Murthy issued an advisory calling for increased support of children and youth mental health in educational settings. 
"Coming off that year or year and a half of isolation, one of the biggest things we saw in the post-COVID world were a lot of mental and emotional health problems," says Andrew Bernstein, the current SGA president. "People were struggling. We saw that this could be a timely project to meet a growing need. There are many spaces on campus that are great for students to gather and get work done, but there was nothing meant solely as a place to unwind and destress."
The Zen Den, located on the middle floor of the Bart Luedeke Center, is furnished with modern chairs, hanging swings and a built-in lounge seat. Students are encouraged to stay quiet, keep technology to a minimum and refrain from working on their studies. The Counseling Center provided resources such as coloring books, stress balls and essential oils for aromatherapy to promote relaxation. Periodically, the space will be used for guided meditations sessions and yoga.
Because the Zen Den functions as a respite from overstimulation, it doubles as a space that can support neurodivergent students or students who have difficulty with emotional regulation.
"This is an intentional space to quiet one's mind and spirit in order to counter the busyness of your day and the external environment," Fenneberg says. "This isn't a study space. It's a place to breathe and rejuvenate so you can return to your work restored."
The Zen Den is part of a larger effort Rider has been making to support student mental health and wellbeing. This year, Rider entered its final year of a four-year engagement with The Jed Foundation (JED), a nationwide initiative that guides schools on how they can build upon their efforts to support student mental health, substance abuse and suicide prevention efforts. Rider's Counseling Center has also recently established identity-centered support groups in addition to its individual therapy offerings. 
The Zen Den is open to all students during the hours of normal operation for the Bart Luedeke Center.