Thursday, Nov 3, 2022
The marker is located on Rider's campus
by Adam Grybowski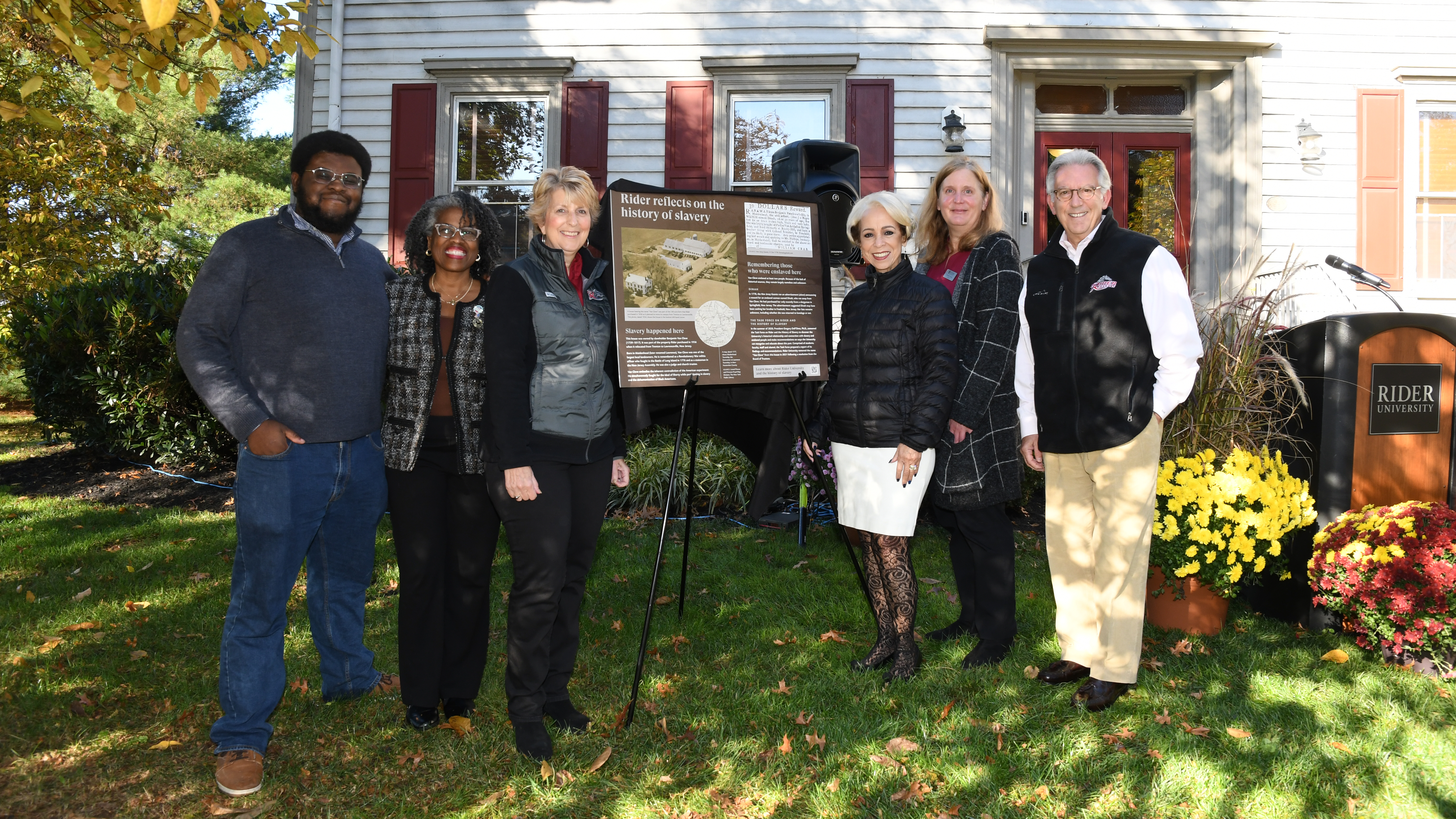 A new historical marker unveiled during Rider University's Homecoming Weekend acknowledges lives touched by slavery on what is now Rider's campus. The marker contains information about an enslaved woman named Dinah and the man who kept her in bondage, Benjamin Van Cleve. 
Van Cleve's name was long associated with a historical house in Lawrence Township that Rider purchased in 1956. That changed last October when the University announced it would remove his name from the building following the discovery that he held enslaved people as a private citizen and strengthened restrictions on enslaved people as a New Jersey legislator. 
The marker represents the latest action in Rider's ongoing effort to use this history for educational opportunities as well as to memorialize those who were enslaved. Other actions include launching a website that chronicles the local history of slavery in New Jersey and summarizes the University's plans to address this dark past.
"This new marker is an important next step in our efforts to confront our history and proactively share what we have learned and continue to learn," says Rider President Gregory G. Dell'Omo, Ph.D. "An honest acknowledgement of our shared history is essential as we continue to work toward a fairer, more just society that respects all individuals equally." 
Rider discovered that the namesake of one of its buildings had ties to slavery in 2020. That summer, it convened a group called the Task Force on Rider and the History of Slavery to study the issue, including how to respond to the historical record. Among the task force's series of recommendations were the renaming of Van Cleve Alumni House and the creation of new educational materials. 
The new marker, which proclaims that "Slavery happened here," contains a reproduction of a 1778 newspaper advertisement offering a reward for an enslaved woman named Dinah who ran away from Van Cleve. She was one of at least two people Van Cleve is known to have enslaved. Whether Dinah was ever returned to bondage or not remains unknown. The other person could not be identified by name because of the lack of historical sources.
Around that time, Van Cleve's house was surrounded by fields that grew wheat, rye, oats and corn. Although the Van Cleve house passed out of the family's hands in 1824, some of that land continued to be used for farming well into the 20th century. In 1956, Rider purchased the house along with a 140-acre farm as part of its plans to move its campus from Trenton to Lawrenceville, New Jersey. 
Van Cleve's former home — now known simply as Alumni House because it is the location of Rider's Office of Alumni Relations — has been part of the University's campus ever since. The temporary marker that now stands outside of Alumni House will be made permanent this spring.