Visit Us
Bart Luedeke Center, ground floor
Phone: (609)-896-5121
Fax: (609)-896-5215
Email: [email protected]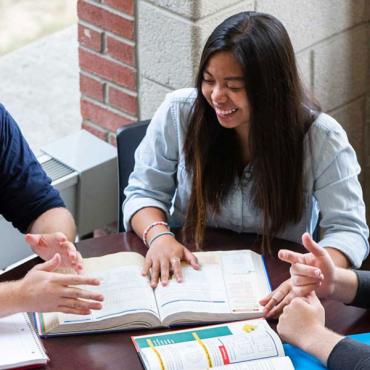 Rider First Day
The Rider First Day program gives you access to all of your course materials, no need to shop around!
Receive all your course materials before the first day of class
Save 35-50% on the cost of course materials each term
Benefit from a highly personalized concierge service
Learn more
Bookstore Hours
Monday to Thursday from 9 a.m. - 7 p.m.
Friday from 9 a.m. - 4 p.m.
Saturday from 10 a.m. - 2 p.m.
Orders are still available through our online site, however please understand shipments may take a few days longer than normal. Visit the online store!
Staff
Store Manager: Catherine Russomanno
Assistant Store Manager: Debbie Cohen
About the Bookstore
The Rider University store is a self-supporting retailed service owned by Rider University and operated by Barnes & Noble College. The University Store serves the academic community by providing required and recommended textbooks and supplies for classroom use as well as a large selection of general interest books.
The store maintains a wide variety of other products - videos, greeting cards, magazines and newspapers, snack foods, health and beauty aids, office/school supplies, gifts, and clothing items. Computer software is available online at academic pricing. The University Store carries a wide assortment of Rider team apparel. Products and services available include rental titles, gift certificates, class rings, diploma frames, and gift wrapping. The University Store is open for service throughout the year except on legal holidays. Extended hours are provided at the beginning of each semester. The University Store accepts cash, personal checks (with proper ID), and most credit cards.