Saturday, Oct 29, 2022
'Transforming Students – Transforming Lives: The Campaign for Rider University' supports scholarships, facilities, Annual Fund
by Diane Cornell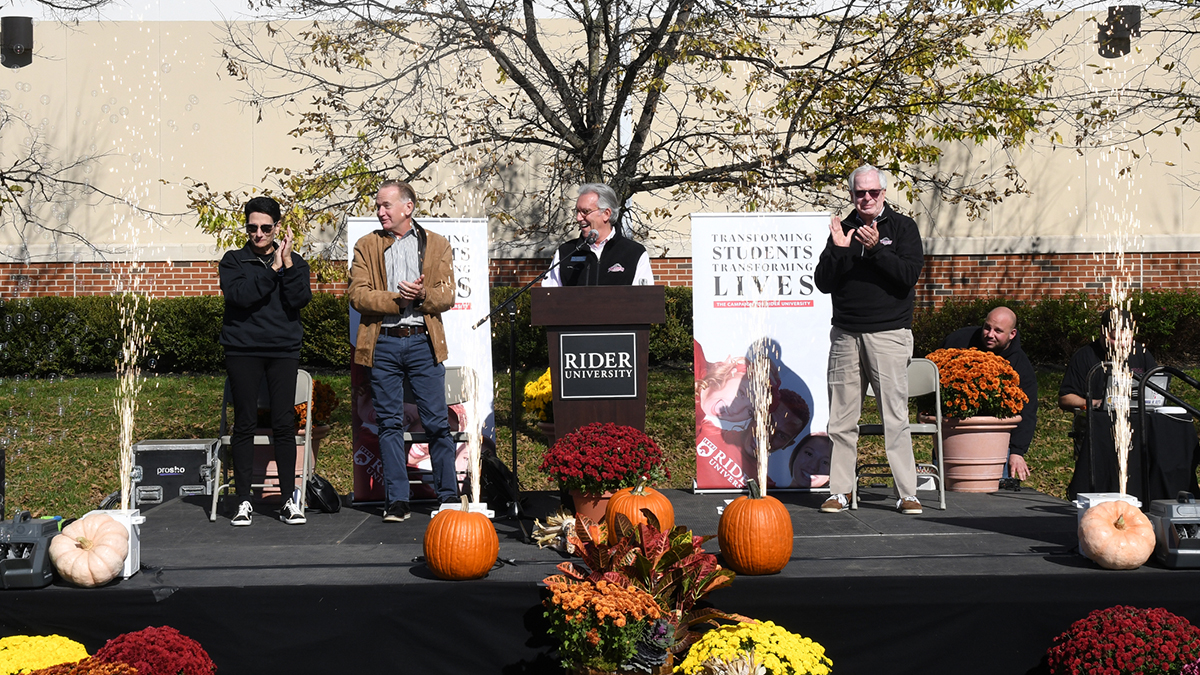 Rider University launched the public phase of Transforming Students – Transforming Lives: The Campaign for Rider University, the largest fundraising campaign in its 157-year history, during an on-campus celebration at Homecoming on Oct. 29.
The campaign seeks to raise $80 million to increase scholarship support, build Rider's endowment, update campus facilities and fuel student success by strengthening the Annual Fund.
President Gregory G. Dell'Omo, Ph.D., told alumni and friends gathered for the announcement that they were key to the campaign's success. "This bold undertaking will indeed provide us with resources to continue to transform the lives of our students. I couldn't be happier to be celebrating this news with all of you who, like us, believe in Rider. We ask you to join us on this historic journey by supporting the campaign at any level."
The University has raised more than $76 million toward its overall goal with 37 new endowed scholarships created since the campaign began in July 2017. During this quiet phase, Rider received several of its largest gifts to date for scholarships, business, science, technology and athletics. The public phase will emphasize community participation by inviting Rider supporters to contribute any amount to the campaign's three priorities, which include:
Supporting campus projects such as renovating Alumni Gym and the recent expansion of the Mike and Patti Hennessy Science and Technology Center;
Building Rider's endowment through support of scholarships and programs; and
Increasing contributions to the Annual Fund.
Image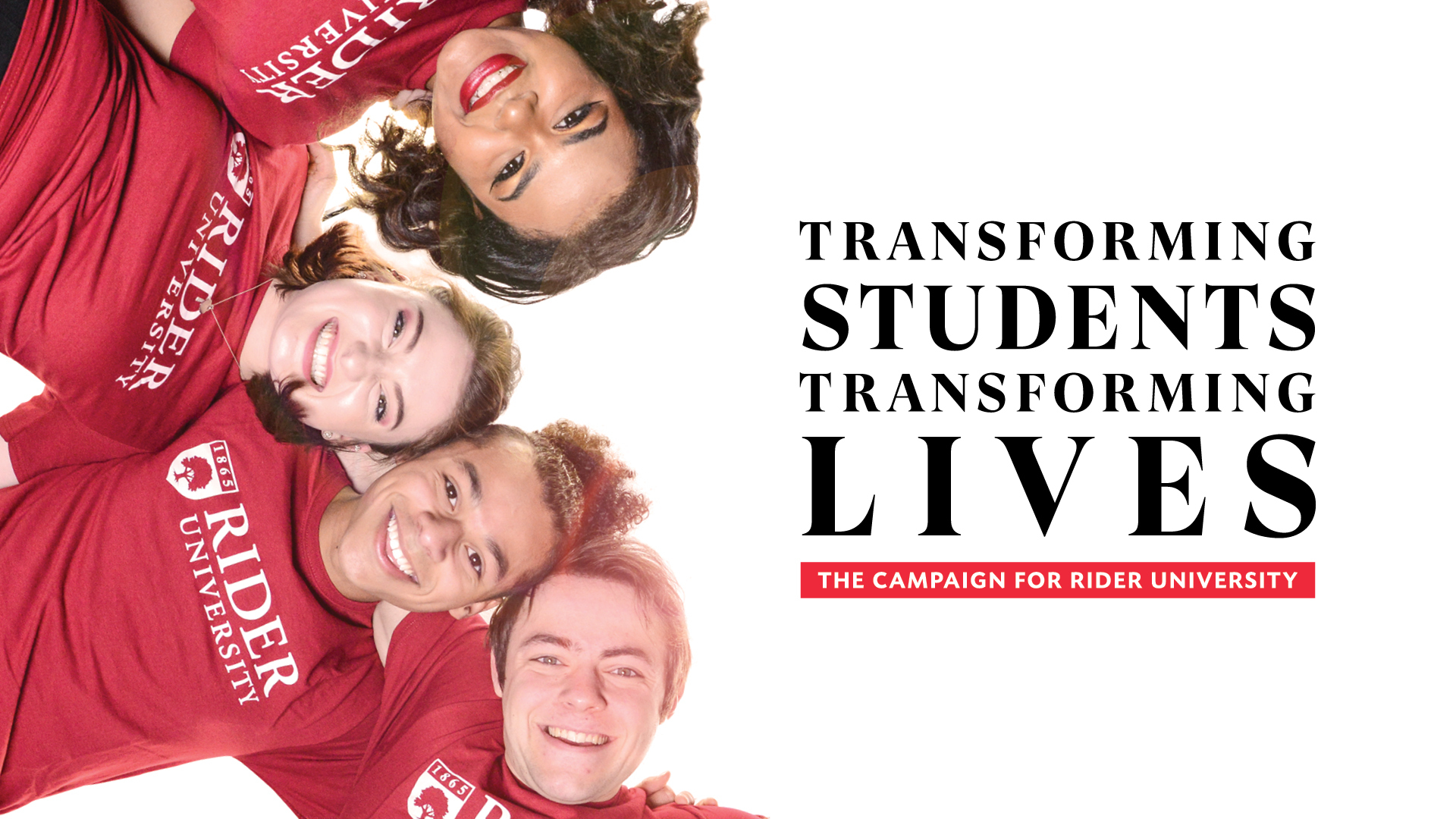 To further support the campaign launch, Rider will host its second annual Day of Giving on Nov. 3, encouraging even more members of the Rider community to come together to make a difference for students now and in the years to come. So far, more than 14,000 donors have supported Transforming Students – Transforming Lives, including close to 5,500 first-time donors. To date the campaign has brought in 16 gifts of $1 million or more, and raised more than $20 million from the Board of Trustees.  
"We have received exceptional support from our alumni and friends," says Karin Klim, vice president for University Advancement. "I am delighted that we have already raised more than $76 million since the start of this comprehensive campaign. We are encouraged by our progress, and we are excited to see so many first-time donors joining our long-time supporters in backing this effort."  
Rider alumni have driven the leadership phase of the campaign, inspiring their peers with their generosity. Norm '64 and Elaine Brodsky made the largest gift in Rider history of $10 million, which led to the naming of the Norm Brodsky College of Business in 2019. The College of Arts and Sciences was also generously impacted by a donor. Before he unexpectedly passed away in 2021, Mike Hennessy '82 designated his $4 million gift, the largest ever received for the sciences, in honor of his late wife, Patti '82, to support the expansion of the Mike and Patti Hennessy Science and Technology Center. Wayne Canastra '72 and University Trustee Jill Hammer Canastra '72 gave $4.5 million, including the largest gift for athletics and a gift to support multiple athletic projects, backing the University's campaign to elevate Alumni Gym into a modern NCAA Division I arena. 
Campaign efforts have been led by three dedicated alumni: Trustee and Campaign Chair Thomas Lynch '75, and Campaign Vice Chairs Trustee Joan Mazzotti '72 and William Rue '69. Lynch made one of the earliest gifts to the campaign for $5.5 million. In doing so, he surprised his fellow Bronc Joseph Adler '75, '90 by requesting that Adler's name be included when North Hall was renamed in recognition of Lynch's gift. Lynch Adler Hall now stands as a tribute to the pair's longtime friendship.
The Transforming Students — Transforming Lives campaign is needed now more than ever."
Lynch is chairman of the board of TE Connectivity, a leading provider of connectivity and sensor solutions. Mazzotti is the retired executive director of Philadelphia Futures, a nonprofit organization that serves low-income, first-generation-to-college students, and Rue is the chairman and an owner of Rue Insurance in Hamilton Township, New Jersey.
"As a longtime supporter of Rider, I am honored to be a part of this next stage in the University's story," says Lynch. "Our campaign was well underway when the pandemic struck, but like many private institutions of higher education, Rider was hard hit by the impact of COVID. As the University is restoring its financial stability over multiple years, the Transforming Students — Transforming Lives campaign is needed now more than ever."
Rider allows students to embrace their passions through more than 100 programs in business, the arts, sciences, education and liberal arts. Through the University's Engaged Learning Program, students participate in destiny-shaping, real-world experiences, preparing them to enter successful careers and become leaders in their fields. Established more than a century and a half ago, the University has progressed from a single classroom in Trenton to a comprehensive, coeducational university on 280 acres in Lawrenceville, New Jersey. Today, Rider continues to evolve through new academic programs, innovative partnerships and an enhanced living and learning environment.
Prior to this, Rider hosted only one other fundraising campaign. That effort, "Preparing for Success," concluded in 2003, raising $55 million.
For more information about Transforming Students – Transforming Lives, visit rider.edu/transform.