Wednesday, Sep 14, 2022
The grant will continue supporting first-generation and underrepresented students aspiring to graduate school, ultimately seeking a doctorate
by Adam Grybowski
Image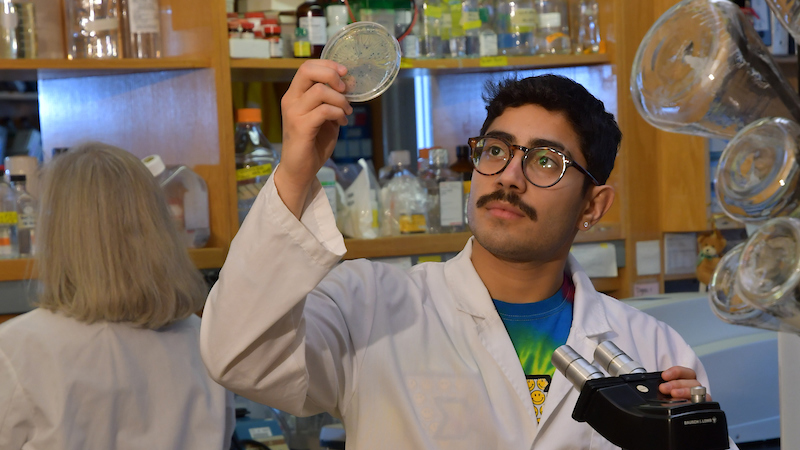 Rider University has been approved by the U.S. Department of Education to receive a $1.3 million grant that will continue funding the Ronald E. McNair Post-Baccalaureate Achievement Program at Rider over the next five years. Rider is one of six grant awardees in the state of New Jersey selected for funding, which requires a highly competitive score for consideration.
The McNair Program prepares students from under-resourced and underrepresented backgrounds for the pursuit of post-baccalaureate studies leading to a doctoral degree. 
Rider has been selected to sponsor the program with federal funding since 2007. Over that time, about 130 students have participated in McNair. Alumni of the program have gone on to study at Harvard, Yale, Dartmouth, Brown, Vanderbilt, the University of Pennsylvania and several other of the country's most prestigious institutions. Eighteen scholars have gone on to complete a doctorate, with many others completing a master's degree that coincides with their chosen career path. The new funding will continue to support 27 eligible participants annually. 
"The McNair Scholars Program is an important vehicle in providing access and opportunity to very promising, even brilliant students who otherwise may not advance their scholarship," says Angélica Benítez, director of TRIO Programs. "I am proud of this successful grant that will support many more deserving students, as McNair endeavors to increase doctoral degrees earned by more diverse scholars."
The program provides extensive benefits for participants, including full immersion in the McNair Summer Research Institute, research training stipends, graduate school preparation seminars, exposure to higher education via conferences, and funding for graduate school visits and admission test preparation, among other services. At the core of student training is Rider's committed faculty engagement through supervision and mentoring.
McNair not only inspires me to be the best scholar but to also believe in myself."
Attending graduate school preparation sessions helped Stessie Chounoune, a senior environmental sciences major, set her sights on a doctorate in environmental engineering rather than stopping at a master's degree. 
"McNair not only inspires me to be the best scholar but to also believe in myself," Chounoune says. "I have gained the skills to write research proposals, conduct research under my faculty mentor and present my work. Having been exposed to many motivating professionals and Ph.D. students, I realized that I too could earn a Ph.D." 
To be eligible for the McNair Scholars Program, which includes STEM and other disciplines, Rider students must have completed at least three semesters of study, maintain a minimum cumulative GPA of 3.0, and plan to enroll in graduate school with the consideration of earning a doctoral degree.
"Witnessing our students embrace their talent, trust the process that propels them to excel at the graduate level and then achieve their dream degree is extremely motivating," Benítez says. 
McNair is one of a cluster of eight federal programs collectively known as TRIO that are designed primarily to identify and provide services for individuals from disadvantaged backgrounds, with the ultimate goal of helping them to overcome economic, social, academic and cultural barriers to higher education. In addition to McNair, Rider sponsors one other TRIO program, the Student Support Services Program, intended to increase the performance, retention and graduation rates of primarily first-generation and income-eligible students through comprehensive services and resources. 
"Continuation of the McNair program is a critical endeavor not only for our student success and future outcomes but for advancing broader diversity and equity goals by improving the educational pipeline," says Vice President of Student Affairs Dr. Leanna Fenneberg.