Wednesday, Nov 30, 2022
The gift supports the Rider Arena project and the Annual Fund
by Diane Cornell
Rider University has announced a $1 million gift from Trustee Keith DiGrazio '84 and Christine Pindale DiGrazio '85 to support several initiatives of the recently announced Transforming Students - Transforming Lives fundraising campaign.
The couple have requested their gift be split between the Rider Arena project, an undertaking that will include a new training facility for athletes, and the University's Annual Fund, which provides immediate current-use support for all aspects of the student experience.
"Christine and I decided to split our gift between the Rider Arena project and the Rider Annual Fund in order to impact not only future athletes but all Rider students," Keith DiGrazio says. "By making an unrestricted gift, this allows the University to apply those monies to its greatest needs."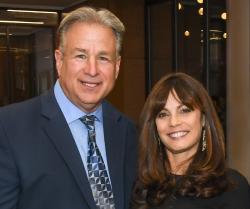 The DiGrazios are proud supporters of Rider. In addition to gifts to the Annual Fund, the Rider Resource Pantry and the Al Sumutka Endowed Scholarship, the couple have supported a number of athletic teams and initiatives, including men's and women's basketball, wrestling and the Rider Arena project. Most recently, Keith DiGrazio, along with Wayne Canastra '72 and Jason Thompson '08, are leading Rider's Champions for Athletics Campaign Committee. To date the committee has raised over $12 million toward a goal of $18 million for the arena project, becoming the most successful fundraising effort in Rider Athletics history.
The public launch of the Transforming Students - Transforming Lives campaign was celebrated during the University's Homecoming Weekend on Oct. 29. During its quiet phase, the campaign raised more than $76 million toward its $80 million goal. The public phase emphasizes community participation by inviting Rider supporters to contribute any amount to the campaign's remaining priorities, which are to invest in facilities, to increase scholarship support and build the University's endowment, and to fuel student success through gifts to the Annual Fund.
The DiGrazios' major gift comes just over a month after Rider publicly announced its comprehensive fundraising campaign and two months since Athletics received a $500,000 gift to transform the University's wrestling center. So far more than 14,000 donors have contributed to the campaign which is the largest in University history.
"I am deeply grateful for Keith and Christine's gift and for all of our generous donors, both those who have given in the past and those who are joining us now in this new phase of our campaign," says President Gregory G. Dell'Omo, Ph.D. "Together, we will make Rider even stronger, serving students well into the future."
Christine and I decided to split our gift between the Rider Arena project and the Rider Annual Fund in order to impact not only future athletes but all Rider students."
The Rider Arena Project is a multimillion-dollar fundraising campaign to transform Rider's Alumni Gym into a more modern NCAA Division I facility. The upgrades will include a new 5,800-square-foot strength and conditioning facility that will more than double the size of the present training center and will be relocated behind Alumni Gym. When completed, the University intends to name the Strength and Conditioning Center for the DiGrazios.
The Rider Arena Project will enhance Alumni Gym with such features as expanded and luxury box seating with an entertainment suite; increase the size of the building's lobby and add dedicated areas for concessions and ticketing; and install a center hung scoreboard with digital display. The project also includes a dedicated locker room for the volleyball team.
"Keith and Christine continue to demonstrate a great commitment and loyalty to Rider, particularly for Rider Athletics," says Athletic Director Don Harnum. "Both are alumni, proud Rider parents and season ticket holders, and we are so pleased that they wish to invest in Rider and its students. Gifts to the campaign are already impacting today's students and will continue to do so long into the future."
The Annual Fund allows the University to apply resources as needed across campus and is a key component in being able to provide students with a transformative Rider education. The fund supports scholarships and financial aid; athletics; the arts; academics; student life; diversity and inclusion programs; student emergency funds; counseling and career planning, impacting nearly every aspect of life on campus.
The DiGrazios are partners in B2 Bistro & Bar, a chain of restaurants located in Monmouth, Ocean and Middlesex counties and Berks County, Pennsylvania. Since January, DiGrazio has been the president of Richmond Foundry, LLC, formerly Richmond Industries, Inc., a high production non-ferrous foundry located in Dayton, New Jersey. DiGrazio has spent the bulk of his career, nearly 30 years, with the company, most recently as owner. 
Gifts to the Rider Arena Project can be made here. To support the Annual Fund visit rider.edu/supportrider. To learn more about the comprehensive fundraising campaign Transforming Students - Transforming Lives and to make a gift to any of its initiatives, visit rider.edu/transform.