Graduate Admitted Students
Congratulations, you've been admitted to Rider University as a Graduate Student!
LAWRENCEVILLE GRADUATE STUDENTS
If you are a LAWRENCEVILLE GRADUATE STUDENT follow these steps:
---
Once you've completed your health forms and submitted your final transcripts you'll register for classes and are able to take advantage of the other services listed.
Register for classes
How do I find my academic advisor?
Your academic advisor should be identified on your myRider student tab in the Academic Profile section. If no graduate advisor is assigned, please refer to chart below for assistance:
Area
Contact Name
Contact Phone
Contact E-mail
College of Business Administration
Jean Cherney
609-895-5557

[email protected]

College of Education and Human Services
Barbara Fruscione
609-896-5000 x7300

[email protected]

Applied Psychology
College of Liberal Arts & Sciences
Dr. France Perrin-English
609-896-5034

[email protected]

Business Communication
College of Liberal Arts & Sciences
Dr. Allison Weidhaas
609-

896-5106

[email protected]

Homeland Security
College of Liberal Arts & Sciences
Dr. Adam McMahon
609-896-5350

[email protected]
---
New Student Reception
Approximately one week before the start of fall and spring semesters, you will receive an invitation to Rider University's new graduate student reception. At this reception, you will be able to obtain your student ID and parking decal and purchase books for your classes. If you would like to complete these tasks prior to the reception, please follow the steps below.
---
Vehicle Registration & Parking
All vehicles must be registered with the Public Safety Office located in West House, near the south entrance of campus. If you registered your vehicle during an earlier registration period, the decals that you received are still valid and will remain so for your entire academic program unless you have changed vehicles since your last registration or have a new license plate. If your vehicle registration information has changed or if you are attending Rider for the first time, you may secure new Rider decals by going to the Public Safety office (West House). The office is open seven days a week, twenty-four hours a day. Be prepared to show your state vehicle registration form, your driver's license, insurance card, and Bronc ID. Parking for students is permitted in the lot in front of the Bart Luedeke Center (Student Center).
---
Photo IDs
Students who need to obtain a new or replacement ID card should go to Public Safety Monday through Friday from 8:30 a.m. to 4:30 p.m. New student ID photos will also be taken in the Bart Luedeke Center, Room137, during the fall and spring semester's one-stop enrollment clearance periods. Students who lose their ID card after hours can obtain a temporary card at Public Safety. If you lose your ID, please note that there is a $30 replacement fee charged to have a new photo taken for a replacement card.
---
Access to Technology Services and RIDER KEY
RIDER KEY allows students to access technology services available to the Rider community. To claim your RIDER KEY account go to myrider.rider.edu.
RIDER KEY services include: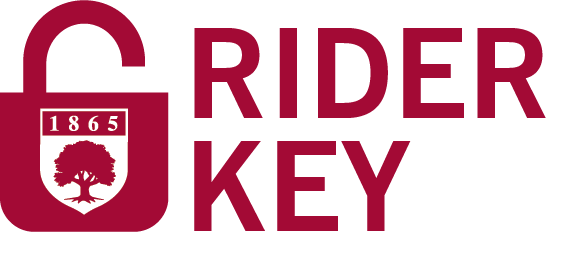 ---
E-mail
All Rider students are assigned a Rider email address that must be used for all Rider official email correspondence. Your e-mail User Name is your full Rider email account name (e.g., [email protected]). For more information about email, visit the technology site.
Need Help? Visit the Technology Help Desk or e-mail [email protected]
---
New address or phone number
Students are able to update their address through MyRider, or by completing the appropriate form available from your advisor.
---
Books for your courses can be purchased from the University store located on the bottom floor of the Bart Luedeke Center. Normal hours during the semester are 9 a.m. to 7 p.m. Monday through Thursday; Friday 9 a.m. to 4 p.m. and Saturday 10 a.m. to 2 p.m. For additional information call (609) 896-5121.
---
Graduate Assistantships
If you are interested in a graduate assistantship, please visit the student employment website.
WESTMINSTER GRADUATE STUDENTS
If you are a WESTMINSTER CHOIR COLLEGE STUDENT follow these steps:
Apply for Financial Aid
Not applicable to international students

Facebook
If you would like to join our Facebook page, contact us at [email protected] and we'll send you an invitation to join the group

Submit your final transcript or test score
---
Westminster Choir College Graduate students will register for classes after completing placement testing and orientation. All new Westminster Choir College graduate students will be contacted shortly with information regarding orientation and placement testing. Call 1-800-962-4647 with questions.
---
Graduate Assistantships
For Westminster Choir College Graduate Students, please visit: Westminster Choir College Graduate Assistantships.