School Psychology Program
Make a difference in the lives of children
Develop the skills and expertise to identify and manage the emotional, behavioral and academic challenges faced by children and adolescents across diverse backgrounds by earning your Education Specialist (Ed.S.) in School Psychology from Rider University.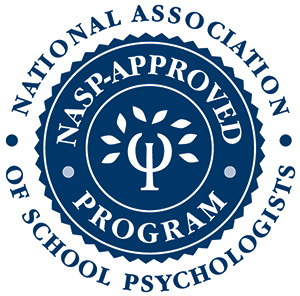 Our top-ranked, National Association of School Psychologists (NASP) accredited program fuses traditional and contemporary school psychology training to provide students with the classroom-based knowledge and field experience necessary to become a certified School Psychologist at the state and national levels.
Using a highly structured, developmental curriculum, our 64-credit program builds upon preceding coursework and experience and uses a variety of theoretical, conceptual and experiential pedagogical activities, to train students to provide a range of evidence-based services including consultation, psychological assessment, behavioral and academic intervention, prevention, counseling, and program planning/evaluation.
Our curriculum also connects this traditional training with contemporary teachings focused on developing students' understanding of a child's environment (within and outside of school) in order to effectively support them.
Rider's Ed.S. candidates benefit from individualized attention within a collaborative cohort-based learning community where their potential is fully supported. Upon acceptance, students are matriculated in the Ed.S. program, and we continually monitor and evaluate the acquisition of knowledge and skills using traditional assessment methods and performance-based outcomes representative of professional practice.
Deadline for Fall entry: February 15
Application requirements and admissions process
---
Program Highlights
First-year field experience
Students develop and apply skills through fieldwork that complements our coursework, starting in their first semester. As a result, you will have the opportunity to earn 400-hours of practicum before stepping into a full-time internship.
Research active faculty
Rider's School Psychology faculty practice what they teach. Students in our program benefit from working directly with our expert faculty who actively research what they teach, are published in top-tier professional journals and remain active in the field as practitioners to conduct evaluations, consult with teachers and school districts, and offer training to parents.
NASP Accreditation
Our program is one of only seven specialist level programs in New Jersey to hold full accreditation from the National Association of School Psychologists (NASP), which is the world's largest organization of school psychologists. NASP works to advance effective practices to improve students' learning, behavior and mental health and represents more than 25,000 school psychologists, graduate students and related professionals throughout the United States and 25 other countries.
---
"I like the fact that we have two directors for the program who bring two different perspectives to the table. Dr. Stefan Dombrowski has a more clinically-based mindset, while Dr. Karen Gischlar teaches from a behaviorally-oriented, systems approach, which she supports with examples from her background as a teacher and a school psychologist. The small cohort size is nice because you can get a lot of support from the other cohort members."
- Daniel Rosa '20, a student in the school psychology program
---
Outcomes
Over the past 15 years, nearly 100% of our graduates have passed the national examination in school psychology and become employed in the field before or shortly after graduation. Our graduates have also continued to advance their studies by enrolling in doctoral programs to study school psychology, clinical psychology and allied fields.
---
For more information about School Psychology, please contact:
Professor and Director, School Psychology Program
Bierenbaum Fisher Hall 202J
Academic Background
Post Doctoral Fellow, Clinical Child Psychology, University of California, Davis Medical Center
Ph.D., School Psychology, University of Georgia
M.B.A., Finance, University of Connecticut
B.B.A., Personnel Management & Organizational Behavior, College of William & Mary
Professional Certifications
Licensed Psychologist (New Jersey & Pennsylvania)
Certified School Psychologist (New Jersey & Pennsylvania)
Bierenbaum Fisher Hall 202N
Dr. Gischlar's primary areas of research interest are early/emergent literacy assessment and intervention, and multitiered systems of support. Prior to joining the faculty at Rider, Dr. Gischlar enjoyed a 19-year career as a kindergarten teacher and, subsequently, school psychologist in the K-12 public schools. She earned her Ph.D. in School Psychology at Lehigh University.