Dance
Rider University offers a Bachelor of Arts (B.A.) in Dance. This 4-year degree is performance-oriented with courses in dance history, movement theory, choreography and pedagogy.
Students have the option of a dance concentration if majoring in Elementary Education, a B.A. degree that affords another major, or a minor in dance. All students must take a placement class before entering the program.
Rider University has a unique relationship with the Princeton Ballet School, a studio with a national reputation for excellence in dance training. Advanced studio dance classes are held at PBS in Princeton, NJ; lecture classes and performances are on Rider's Lawrenceville campus. Students at Rider have the opportunity to obtain a quality liberal arts education, while taking dance classes with a conservatory-level faculty at the Ballet School. Rider students have many internship possibilities with Princeton Ballet School, American Repertory Ballet, DANCE POWER, TEDI, and the Princeton YWCA among others. Performance opportunities exist with Rider Dance Ensemble on campus, in main stage productions with the leading professional dance artists in the area; with American Repertory Ballet in The Nutcracker and with American Repertory Ballet Workshop, part of Princeton Ballet School's pre-professional training program.
Our students go on to perform on stages locally and across the country. They teach in private studios, outreach programs and public schools. They work as administrators in an array of dance venues, dance in the trainee program at the Princeton Ballet School or go on to graduate school for dance-related degrees such as Dance/Movement Therapy and Dance Physical Therapy.
Featured Students (.pdf)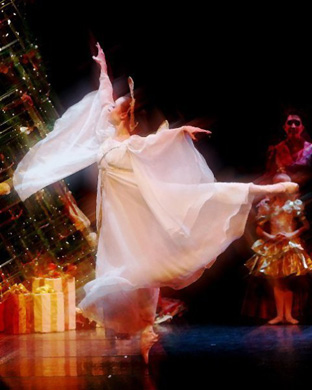 Many Rider Dance students return to home studios to perform in Nutcracker. This is Elizabeth Tkaczynski '14, with Vineland Regional Dance Company.

Studio Classes offered:
Ballet
Jazz
Theater Dance
Modern Dance
World Dance Forms
Pedagogy and Methodology
Jazz Dance
Professional Training
Hip Hop
Choreography
Pilates
Improvisation
Visit the Web site of the Princeton Ballet School.
The Rider Dance Program Curriculum is aligned with the National Registry of Dance Educators, and the NJ Department of Education criteria for State Certification.