2021 Competition Winners
Senior Division
1st Place - Margaret Achanzar, Sili-Head: Your Styling Buddy, Mercer County Technical School, NJ
2nd Place - Jerrell Gipson, Betes Phonecase, Montgomery High School, NJ
3rd Place - Francesca Roehm, You Sized, Manchester Township High School, NJ
Sophomore/Junior Division
1st Place - Siddharth Vecham, Interview Master, Montgomery High School, NJ
2nd Place - Daniel Lustig, The Clean Box, Park Ridge High School, NJ
3rd Place - Atharva Kulkarni, Lost and Found, Montgomery High School, NJ
Sophomore/Junior and Senior Division Finalists
Image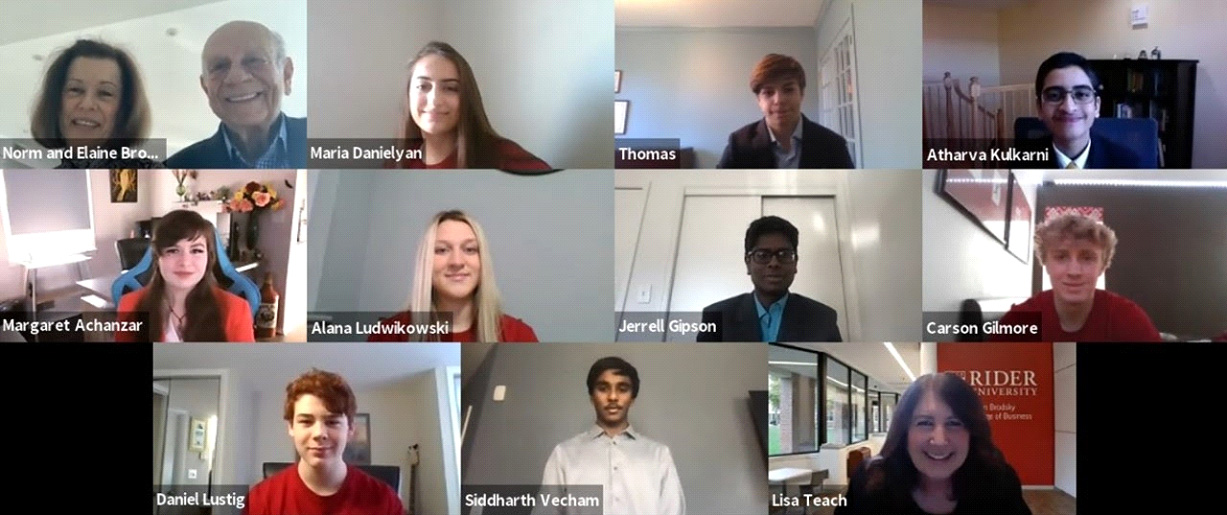 Senior Division
Image

Junior/Sophomore Division
Image

WHAT is the Norm Brodsky High School Idea/Business Concept Competition?
The Norm Brodsky Idea/Business Concept Competition is designed to recognize and promote exceptional effort, skill, and creativity among high school students.
WHO is eligible?
Sophomores, juniors, and seniors at any high school.
HOW do students apply?
HOW are winners selected?
A set of judges review all entries. The top five entries in each division will be invited to present their business concept at Rider University before a panel of judges. Scores will then be totaled to determine final placement. If you are a finalist in the senior division and are coming from beyond the local area, Rider University will provide transportation and lodging for the senior finalist. Rider does not want distance to deter a senior from entering the competition.
WHEN are the awards conferred?
Final placement and awards will be announced at the banquet following the live finale.