Create an optimal campus environment
Inspire creativity. Enhance instruction. Encourage collaboration. Promote sportsmanship. A University's campus environment does all that and more. Rider has made significant investment in its facilities in recent years but more remains to be done. The University must continue to upgrade its equipment and facilities in order to continue to provide modern collaborative spaces to live and learn. Your support of this endeavor will enhance the student experience and modernize academic and athletic facilities. 
Learn more about our capital projects: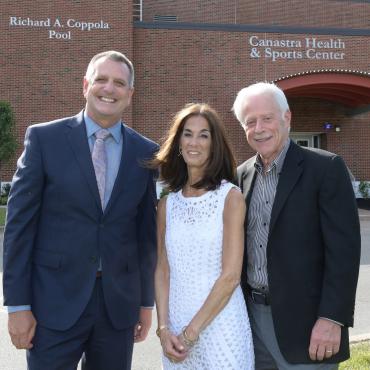 Jill Hammer Canastra '72 and Wayne Canastra '72
"Rider is a very special place whose size offers the unique ability to nurture and deliver great opportunities to all of its students, and we want to do all that we can to support it. We have taken a great deal of pride in seeing the difference that each of our gifts has made to the University and we both believe that now is the time to show how much Rider means to us all by investing in its future."
- Jill and Wayne Canastra, with Athletic Director Don Harnum (far left)
Tour recent campus improvements