A fund that benefits every student on campus today
The Annual Fund allows the University to apply resources as needed across campus and is a key component in being able to provide students with a transformative Rider education. The Fund supports scholarships and financial aid; athletics; the arts; academics; student life; diversity and inclusion programs; student emergency funds; counseling and career planning. The Fund impacts nearly every aspect of life on campus.
The Annual Fund provides the University with maximum flexibility, offering support to Rider's current operating expenses and the Lifting Barriers Scholarship Fund. Giving to the Annual Fund has an immediate impact and provides critical, current-use support of all aspects of the student experience.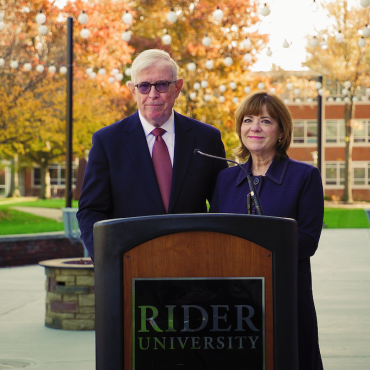 "Giving back is not only investing in your diploma, it is about supporting the progress of Rider. That idea is important to me and should be important to every graduate."
Thomas Mulhare '70, pictured with his wife, Tina