We've come a long way!
The Rider Athletic Arena Project has now entered its final phase, and your support will fulfill the promise of transforming Alumni Gym into a modern NCAA Division 1 arena, creating exceptional game-day experiences for Rider fans and student-athletes.
Propelled by an anonymous $2.5 million gift and other private support, the University has already begun to enhance one of the most visible parts of our athletic program with several recent improvements to the home of the Broncs men's and women's basketball, volleyball, and wrestling teams.
Now it's your turn to leave your mark. 
Exciting facility upgrades:
a new and more spacious lobby
new ticketing and concession areas
expanded seating along the baseline and arena corners
an entertainment suite
better sight lines to the court
new ways to access seating that does not disrupt the action
a center-hung scoreboard with digital display
more restrooms
expanded sports medicine area
a new strength and conditioning center
We invite you to bring this project home
Join us as we work to transform the game day experience.
Whether you played on a Rider team, were part of the Broncs' Zoo cheering from the stands, or are simply a fan of "all things Rider," this is your chance to display your name as a proud supporter of the University. Name an arena seat for $500, a locker for $1,000, an arena courtside padded seat for $2,500 or join other prominent donors on our Donor Wall (for gifts of $5,000+)
The condition of the University's athletic facilities is important to the continued success and status of its sports programs. Your support has led our Division I teams to experience tremendous success both during competition and in their growth as student-athletes, with a student athlete graduation rate of 95% - 5% above the national average.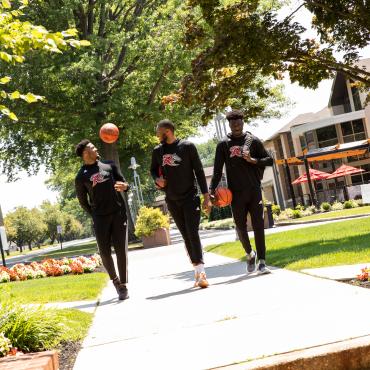 Our Plans
Students want a college education, but what they desire is a complete college experience.
Rider's NCAA Division I sports teams play a central role in creating the college experience for students. 
Learn More (PDF)
Keep the momentum going
Let's continue to create an ideal environment that matches the expectations we have for our teams.
Transformation of this historic facility - the first Rider building on the Lawrenceville campus - began with a focus on improvements for the athletic programs that use the space to train and compete. Significant upgrades have already been accomplished.  In fact, today we are 60% of the way to our ultimate goal of $18.2 million. Thanks to generous support, we have raised over $11 million, allowing us to accomplish these significant upgrades:
a practice facility featuring the Jason Thompson Practice Court 
new flooring 
new lighting and sound system 
a video board 
upgraded locker rooms
team meeting and film rooms
new coaches' offices  
courtside padded seats 
replacement and expansion of chairback seating to one entire side of the court installation of new bleachers
walkway tunnels added behind seating sections to improve flow of spectators 
better sightlines to the action
Numerous naming opportunities available!
*Already assigned
Athletics Complex - Indoor ($5M)
Alumni Arena ($2.5M) *
Alumni Arena Competition Court ($1M)
Alumni Arena Grand Entrance Lobby ($1M) *
Basketball Practice Facility ($1M)
Alumni Arena Entertainment Corner Suite ($500K)
Alumni Arena Corner Seating ($250K)
Alumni Arena Sports Medicine Area ($250K)
Men's Basketball Locker Room ($250K) *
Practice Facility Court ($250K) *
Strength and Conditioning Center ($250K) *
Women's Basketball Locker Room ($250K) *
Video Scoreboard ($250K) *
Hall of Fame ($200K) *
Athletic Director Office ($100K)​
Athletic Director Office Suite Conference Room ($100K)
Athletic Director Office Suite Reception Area ($100K)
Media Workroom ($100K)
Men's Basketball Head Coach Office ($100K) *
Men's Basketball Conference Room ($100K)
Women's Basketball Head Coach Office ($100K)
Women's Basketball Conference Room ($100K)
Volleyball Locker Room ($100K)
Alumni Arena Concessions ($50K) *
Alumni Arena Ticket Booth ($50K) *
Men's Basketball Assistant Coaches Office ($50K)
Men's Basketball Locker Room Lounge ($50K)
Women's Basketball Assistant Coaches Office ($50K)
Women's Basketball Locker Room Lounge ($50K)
Visiting Team Locker Room ($50K)
Donor Wall Recognition ($5K+)
Arena Courtside Padded Seats ($2,500 each)**
Individual Lockers, Men's Basketball, Women's Basketball, Volleyball ($1K each)**
Arena Chairback Seats ($500 each)**
**Donors will be recognized on arena seats or lockers. Seats and lockers will not be owned by donors and a donation will not substitute for the future purchase of game tickets. Volleyball locker naming will be added upon completion of the new volleyball locker room.