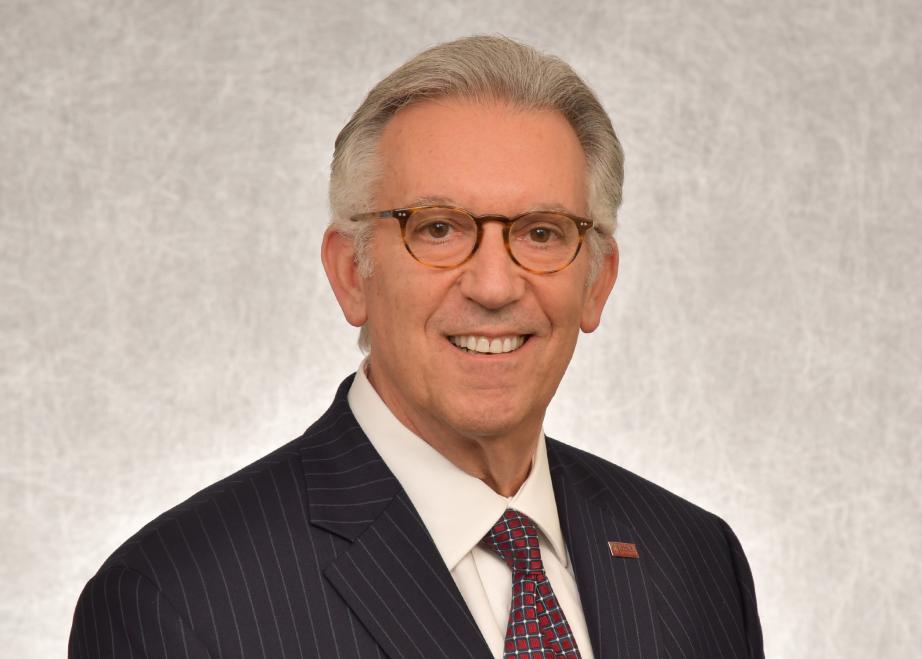 Gregory G. Dell'Omo became Rider University's seventh president on August 1, 2015. Born and raised in Rumson, New Jersey, Dr. Dell'Omo returned to the Garden State and joined Rider after ten years as the seventh president of Robert Morris University in Pittsburgh where he oversaw the University's unparalleled growth.
Early in his tenure at Rider, Dr. Dell'Omo led a highly participatory strategic planning process, culminating with the approval in June 2017 of a new vision and mission and Our Path Forward, the University's comprehensive multi-year strategic plan. With a strong focus on visionary growth, Our Path Forward is ensuring the University's continued growth into the future and provide successive generations of Rider students a highly transformative and affordable college education. This will be achieved by fostering a vibrant living and learning environment for all students – one that engages them fully in their learning inside and outside the classroom. The plan will also advance the University's academic reputation and brand, expand and diversify enrollments, invest in campus facilities and infrastructure; all of which will allow the University to deliver Rider's promise for the next 150 years.
Since Dr. Dell'Omo's arrival, Rider has developed more than a dozen new undergraduate and graduate academic programs, including the University's first doctoral program in Educational Leadership, offered for the first time in summer 2017. With leadership and support provided by Rider's world-class faculty and staff, the University launched in fall 2017 its new Engaged Learning Program, a cornerstone of the Strategic Plan.
As part of the Strategic Plan, a campus master (facilities) plan was completed in February 2018 and a comprehensive fundraising campaign is in its beginning stages.  Donor support for the University continues to grow with record funds raised over the past three years, major capital improvements in academic and athletic facilities, and endowed programs and scholarships.
In 2019, Rider received the largest philanthropic gift in its 155-year history when alumnus Norm Brodsky and his wife Elaine made a $10 million gift to endow a scholarship for business students and to support future business projects. In turn, the University announced that Rider's College of Business would be known as the Norm Brodsky College of Business. 
Under Dr. Dell'Omo's leadership, Rider introduced a new initiative in 2020, called Lifting Barriers, a series of new measures intended to strengthen the overall value of a Rider education, including a 22% reduction of annual undergraduate tuition, as well as robust support for career preparation and academic success. The Lifting Barriers initiative is designed to help students break through the significant obstacles they face in obtaining a college education and a successful career, including understanding the true cost of college and the ability to adapt, both socially and academically, in a college environment and beyond. Dr. Dell'Omo's goal is to help lift any barrier that prevents a student from thriving at Rider University, including those who assume a private education is out of reach based solely on sticker price.
On the heels of Lifting Barriers, Dr. Dell'Omo led the launch of Cranberry Investment in the spring of 2021, a new program which guarantees that Rider's undergraduate students who fulfill their responsibilities will obtain an entry-level job related to their field of study or be accepted into graduate or professional school within six months of graduation. The Cranberry Investment (named after Rider's primary school color), reinforces the University's longstanding commitment to providing transformative student experiences that lead to career success.
The Cranberry Investment symbolizes Dr. Dell'Omo's deeply held belief that students who invest in a Rider education should feel confident that the University is going to do everything within its power to make sure they reach their full potential and achieve their professional dreams.
Dr. Dell'Omo designed the Cranberry Investment to work hand in glove with other signature Rider programs designed to promote career success including the Engaged Learning Program and Lifting Barriers.
Earlier in his thirty-four year academic career, Dr. Dell'Omo held positions at Canisius College as an Assistant Professor of Labor Relations and Human Resources and St. Joseph's University in Philadelphia, where he was a Professor of Management and also held a sequence of academic and administrative leadership positions – Dean of the Haub School of Business, Associate Vice President for Academic Affairs and Vice President for External Affairs. Prior to his academic career, Dr. Dell'Omo spent seven years as a human resources executive in the retail industry.
Dr. Dell'Omo serves on the boards of the National Association of Independent Colleges and Universities (effective July 1, 2021), New Jersey Presidents' Council (Executive Committee), Independent Colleges and Universities of New Jersey (Vice Chair, Executive Committee),  Metro Atlantic Athletic Conference Presidents' Council, NJEdge.Net, Inc., and just completed a six-year term on the Board of the Princeton Mercer Regional Chamber of Commerce.  He earned a Bachelor of Arts in economics from Montclair State University, a Master of Science in industrial relations from Rutgers University and a Ph.D. in industrial relations/human resource management from the University of Wisconsin-Madison. He also earned certifications at Harvard University from the Institute for Education Management and the Seminar for New Presidents.
Dr. Dell'Omo and his wife Polly reside in the president's home, known fondly as Betta House, in Lawrenceville. They have three grown children, five grandchildren and three granddogs.
Updated June 2021