Business Honors Program
The Business Honors Program is designed exclusively for business majors enrolled in Rider's Norm Brodsky College of Business on the Lawrenceville Campus in New Jersey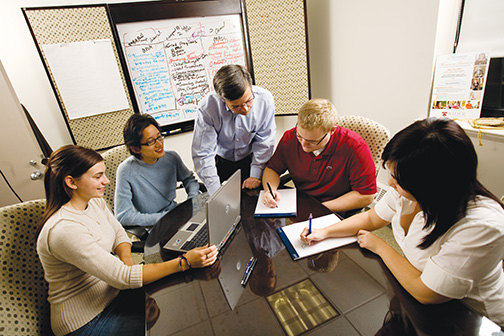 Program Highlights
Rider's Business Honors Program features cohort learning, which teaches the framework of successful business environments by encouraging teamwork and critical thinking. You'll participate in classes as a cohort with the same group of students for all four years.
The cohort creates a powerful learning environment where you'll gain crucial business skills:
the ability to communicate and collaborate,

problem-solve,

analyze various perspectives,

initiate discussions,

network and

delegate.
Your group will develop invaluable team-building skills while learning to use each person's strengths to build a strong community.
As a Baccalaureate honors student, you'll receive:
special advising,

the opportunity to live in a residential learning community in your freshman year,

priority in course registration, and

invitations to attend co-curricular events (e.g., art exhibits, film screenings, poetry slams, theater previews) which are planned by the faculty team.
Program Requirements

To complete the Business Honors Program at Rider University, you must meet the following requirements:

Complete the required number of honors business core classes

Complete a capstone course in their senior year

A minimum overall GPA of 3.4

Complete one non-core business honors class

Complete a thesis

Graduation as a Business Honors Scholar requires a minimum overall University GPA of 3.4 and a minimum GPA of 3.4 in all business Honors courses.

Entering students are automatically considered for this program based on their academic record. Continuing students are invited to join by the director of the Business Honors Program.

NOTE: It is possible for Business Honors students to simultaneously participate in the Baccalaureate Honors Program.

top 50

The top 50 business students in each entering class are invited to participate in the Business Honors Program.

For more information

Dr. Ira Bruce Sprotzer
Director, Business Honors Program
Phone: 609-896-5280
Email: [email protected]