Welcome!
Rider University is a proud Yellow Ribbon school. Since 1865 Rider University has opened its doors to veterans, military service members and their families. One of our proudest historical facts is that Civil War veterans comprised most of Rider's inaugural class. The following year, in 1866, Civil War widows were admitted.
Today, the University continues its proud tradition of partnering with former and current members of the Armed Forces and their families as they advance their education. The Dr. Eugene Marsh Center for Veterans and Military Affairs is here to assist you in all things unique to being a military connected student from application to graduation and beyond! Whether you're planning to begin or complete your undergraduate degree, pursue graduate studies at Rider, or gain that certification, we invite you to learn how the center can guide you in taking advantage of our diverse programs and support resources.
Services provided by The Dr. Eugene Marsh Center for Veterans and Military Affairs team and student volunteers include assisting military connected students with applying for educational benefits for veterans, military and veterans' dependents, navigating the Rider administration, certifying school attendance to the regional VA office, maintaining individual students' files, and reporting to regional and state VA offices. The center also hosts events and activities, along with the student group, Rider University Veterans Association (RUVA), to promote a healthy, vibrant and integrated military community.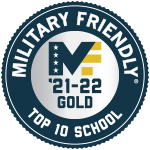 2021-2022 Military Friendly® School
Rider is proud to be designated a 2021-2022 Military Friendly® School. Known for professional preparation, leadership development, student-centered environment and small class sizes, we take care in guiding students through academic advising, registration and career services. Visit our Admissions page for more information on these degree options and how to apply.
Support the Rider Veteran's Fund
The Rider Veterans Fund assists in providing support services exclusively to veterans and members of the military and their family members.  Services include student veteran organizations, select awards for military and veteran students, Rider's Veteran Career Fair, as well as other special projects and activities for veterans, members of the military, and their family members. 
Campus Veteran and Military Groups
Join our on-campus veteran and military groups!
Helpful Links
Contact Us
Need help? Email us at [email protected]. We look forward to connecting with you!