Monday, Nov 14, 2022
Gov. Phil Murphy presented Rider with the prestigious award at New Jersey's Veterans Day ceremony on Nov. 11
by Tatiana Sciancalepore
Image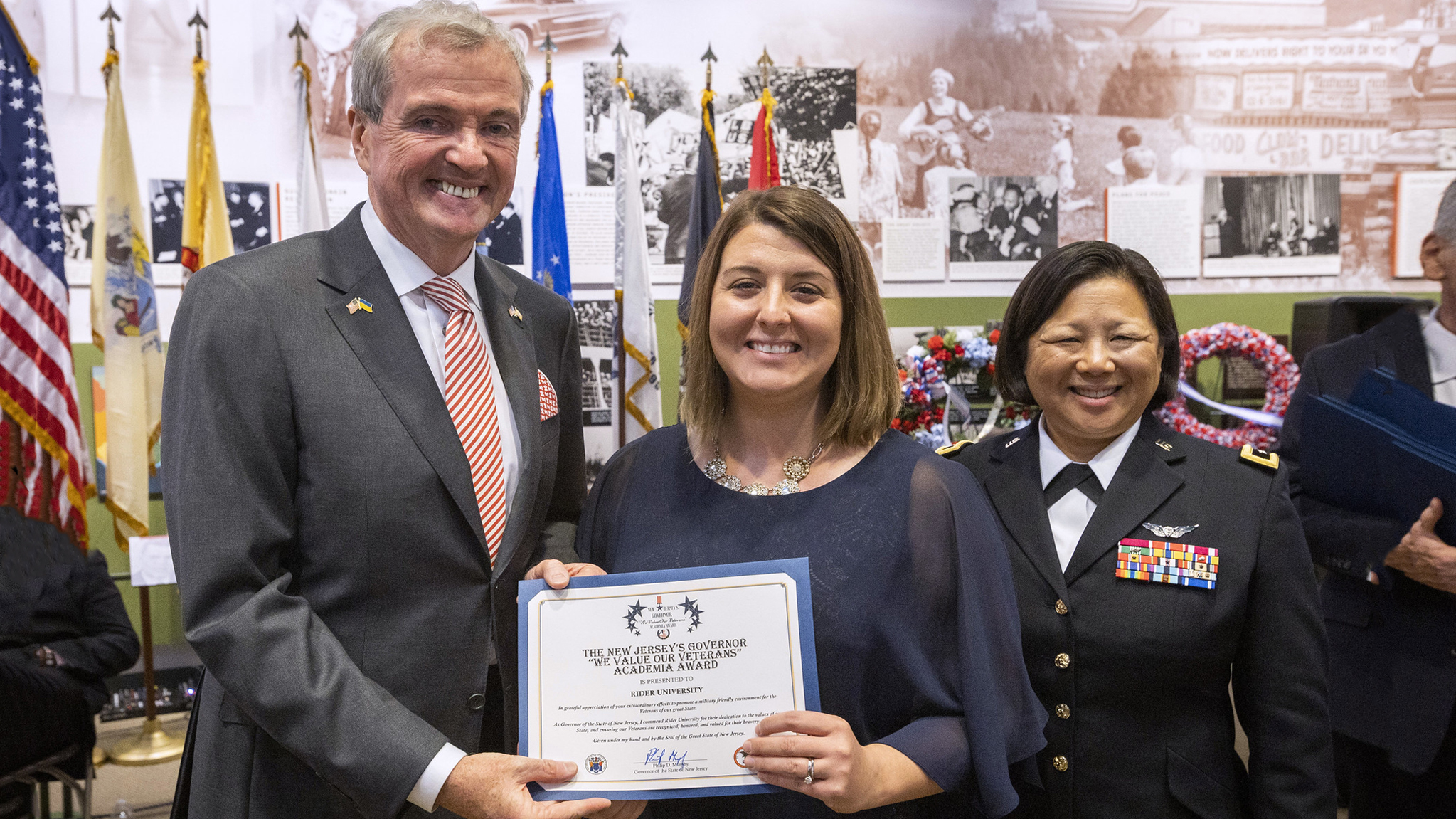 Rider University has been awarded the prestigious New Jersey's Governor We Value Our Veterans Academia Award for outstanding support of the United States Armed Forces. Associate Dean of Students Christine Mehlhorn accepted the award on Rider's behalf at the Veterans Day ceremony on Nov. 11 at the Vietnam War Memorial in Holmdel, New Jersey.
The award, presented by New Jersey Gov. Phil Murphy and the New Jersey Department of Military and Veteran Affairs, is bestowed upon academic institutions that "value and honor the sacrifices, patriotism and bravery displayed by our men and women who have worn the military uniform."
"It is an honor for Rider to receive the We Value our Veterans Academia Award," says Mehlhorn. "It represents all the hard work done by our many campus partners to support veteran and military-connected students in their success at Rider University." 
To be eligible, colleges and universities had to meet a minimum of 70 points based on a list of qualifying criteria. Rider exceeded the minimum requirement with a total score of 95. Rider hosts a number of programs and initiatives through The Dr. Eugene Marsh Center for Veterans and Military Affairs such as the annual Veterans Week Plant-a-Flag event, the Veterans Luncheon, the Veteran Career Fair and Military Expo, and monthly veterans round-tables with the Veterans Advisory Committee. The University has dedicated spaces celebrating veterans, including the prominently displayed Wall of Honor inside the Bart Luedeke Center and the Rider University Veterans Affairs Lounge staffed with student workers to assist veteran and military-connected students. There are also several campus-based veteran and military groups such as Rider Color Guard and SALUTE Veterans National Honor Society. 
As a proud Yellow Ribbon school, Rider University partners with members of the Armed Forces as they advance their education, and continuously strives to promote a healthy, vibrant and integrated military community.