Image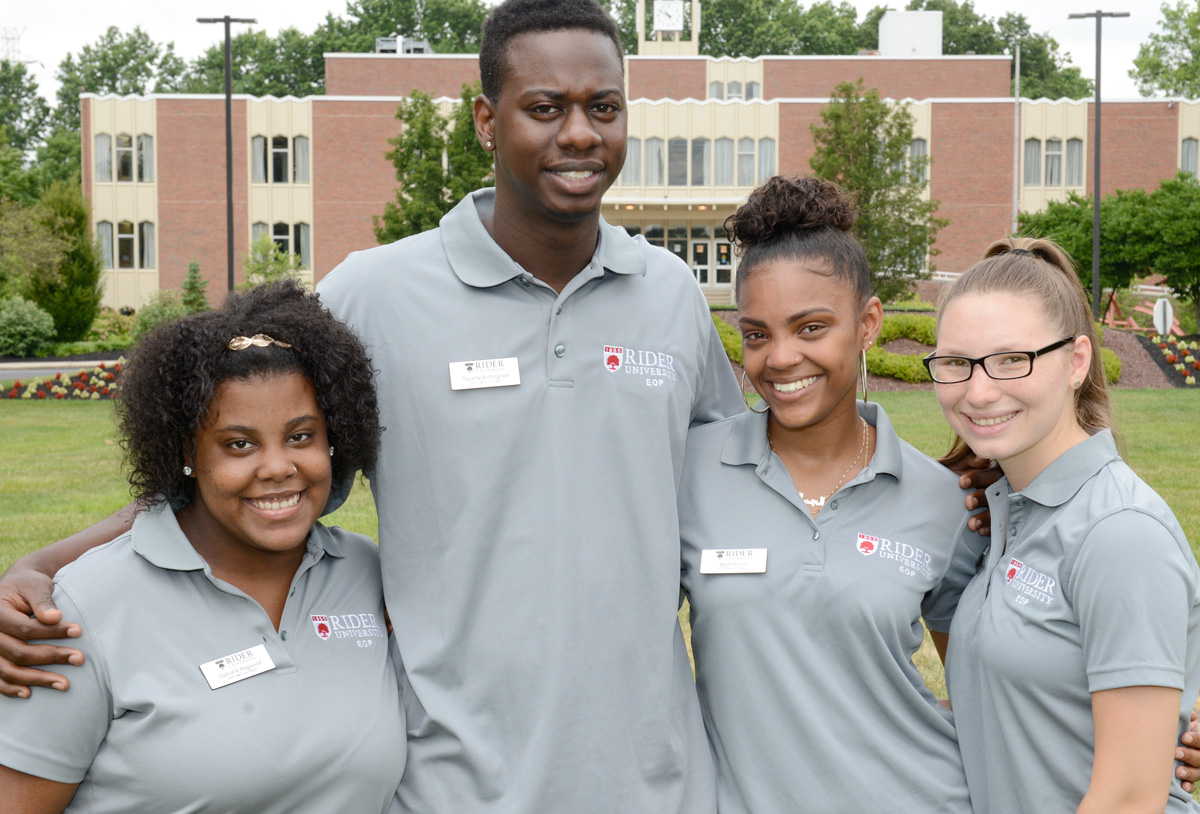 Rider University's Educational Opportunity Program (EOP) seeks students with big dreams for their future.  Created in 1968, this state-supported program helps make college accessible to New Jersey residents.
Rider's EOP is an academic support program with financial assistance.  It offers a wide range of opportunities for students with financial need who demonstrate solid academic potential and a genuine motivation to learn.
Our record speaks for itself.  94% of EOP freshmen continue on to their sophomore year at Rider – well above the national average freshman retention rate of 72%.
Support EOP
Your support makes it possible for our students to reach their potential.
Donate Today
EOP Summer Institute Academy
Start date: July prior to the beginning of the first semester
The EOP Summer Institute Academy is required for new freshman.  The program includes an orientation for students and family members. Students take four courses in the summer:
Ethics
MCS (Race, Class and Gender)
EOP 101
Students will learn about professors' expectations, learn their way around our campus, and develop habits and skills essential to successful academic performance.
The 6-week program also includes enriching and educational weekend activities. We offer men's/women's groups, an etiquette class, and community service and outreach opportunities.
Our top students are selected to serve as peer counselors.  A Graduate Assistant also works with our students and is usually a former Rider EOP student.
Sustained Support
Once you are a part of EOP, you are always a member of EOP: you have a home base that  closely connects you with staff, faculty, advisory board and volunteers.  We offer financial, academic and personal counseling, free tutoring, and continuing men's/women's groups throughout the year.  EOP is student-centered.
Leadership Development
We expect EOP students to be leaders on campus.  Our students have served as members of student organizations and are community volunteers.  EOP develops leaders through empowerment, coaching, mentoring and pushing students to be their best.  MSLI works along with EOP to develop leaders.  Yearly, our students attend the National Leadership conference where students learn techniques and strategies that would be suitable for their campus.
Career Connections
EOP is closely connected to the Career Services and we work together to give our students opportunities for internships.  Students also network with EOP alumni and EOP Affinity groups.  Many of our graduates continue to work throughout New Jersey with EOP programs.
Alumni Affinity Group
Our active alumni affinity group sponsors career networking workshops, hosts luncheons and secures additional achievement dollars for our students.