Resources to Educate the Next Generation of Scientists
State-of-the-art laboratories, new classrooms and dedicated collaboration space. The expansion of Rider's Science and Technology Center will allow the University to meet the needs of evolving science education.
As demand for science majors continues to grow, the Science and Technology Center expansion will provide students with the resources and support needed to compete in a competitive job market or further pursue their interests through graduate study.
Construction is anticipated to be completed by December 2021.

The entryway's open floor plan removes barriers to collaboration.

The project will allow Rider to continue to integrate its newer disciplines.
Begun in November 2020, the $10 million project will create a new wing with modern labs, new equipment and new space for programs in cybersecurity, software engineering and anatomy and physiology. It will also provide a new greenhouse and distinct areas to encourage collaboration, discussion and study.
Expanding Rider's Science and Technology Center is not just about increasing the footprint of a building. It's about preparing students for fulfilling careers in ever-expanding areas of science. By offering small classes, collaborative relationships with professors and research opportunities that can begin as early as freshman year, Rider's interdisciplinary approach allows students to gain fresh perspectives and understand connections between diverse fields of study — a critical ability when seeking answers to complex problems.
The 9,500-square-foot addition will expand the size of the Science and Technology Center to more than 79,000 square feet of space, allowing Rider to grow its current programming in computer science, artificial intelligence and software engineering.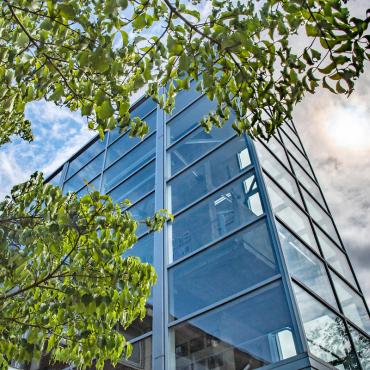 Our Plans
You invest in the next generation of thinkers, problem solvers and innovators by supporting Rider's Science and Technology Center expansion.
Learn More
Naming Opportunities
Science Lecture Hall 201 ($250K)
Science and Technology Center Atrium ($175K)
Additional Science Equipment ($50K)
3 Study Areas ($20K)
The Greenhouse ($150K)

Greenhouse Growth Racks ($4K)
Greenhouse Tables ($3K)

Cybersecurity Classroom ($250K)

Cellebrite UFED Mobile Security Tools ($18K)
Nao V6 Robot Learning Platform ($9K)
Ultimaker 3D Printers ($7.7K)

Software Engineering Classroom ($250K)

Software Engineering Prep Room ($25K)

Anatomy and Physiology Classroom ($350K)

Motion Capture System ($100K)
Syndaver ($72K)
Anatomage Table ($60K)
Bod Pod ($37.5K)
Anatomy and Physiology Prep Room ($25K)
To learn more about the expansion, as well as current naming opportunities, please contact:
Senior Director, Development and Director of the Rider Women's Leadership Council
Moore Library
pamingle [at] rider.edu
609-896-7725