Why Use a Trainer?
Studies show individuals who work with a trainer or who are involved in group fitness classes adhere to a workout regime longer than those going it alone.
Certified personal trainers customize workouts based on client need, level of fitness and lifestyle.
If you're a beginner, personal training offers a safe and effective way to workout.
If you're a veteran, personal training can add diversity and reduce the risk of monotony and plateauing.
Individuals working with a certified personal trainer are more likely to exceed self limitations and increase fitness levels.
Our Personal Trainers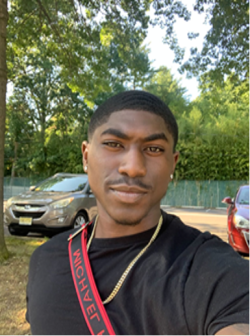 Greg Anthony Jones
Hello Everyone! My name is Greg Anthony Jones and I am a Junior at Rider University. I am from Newark, New Jersey, where my interest in athletics and fitness began. While assisting others in their fitness journeys, I am very passionate about positivity, growth, and overall success. Throughout my time as a Personal Trainer, I have and continue to enjoy my experience, while training along with building friendships and relationships with others. My workouts are Calisthenics based with some inclusion of weight training. Come join me for Let's HITT (High Intensity Interval Training) with Greg class on Wednesday nights @7pm.
Specialties: Nutrition, Weight loss, Hypertrophy (muscle gain), Functional strength, Flexibility, Agility, Posture
Modalities: High Intensity Interval Training (HIIT), Body weight exercise, Weight training, Free weights, Machines, Running.
Certifications
Education

International Sports Sciences Association (ISSA): Certified Personal Training
National CPR Foundation: CPR/AED/First Aid

Political Science and Psychology Rider University, 2024
Eve Sylvester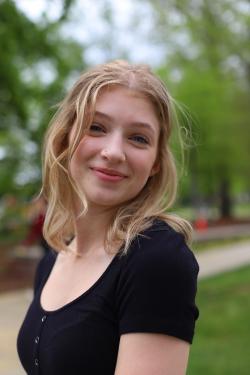 Hi! My name is Eve Sylvester and I am from Andover, New Jersey. I will be graduating from Rider University in Fall 2023 with a major in exercise science and a minor in psychology. A couple of my favorite classes that I have taken here have been kinesiology and sports nutrition. Those classes, along with others, have given me a lot of extra insight and knowledge about exercise. I have always had a passion for physical fitness and staying active, which is why I have begun my journey as a personal trainer. I hope to help others feel confident in their own skin and accomplish their fitness goals, whatever they may be. You can also find me teaching a one-hour Zumba class in the SRC. Each class is full of energy and everyone is welcome! 
Eve's certifications include:
National Academy of Sports Medicine (NASM): Certified Personal Trainer
Zumba Instructor Network (ZIN): Official Zumba Instructor
American Red Cross: Adult CPR/AED
Aron Talenfeld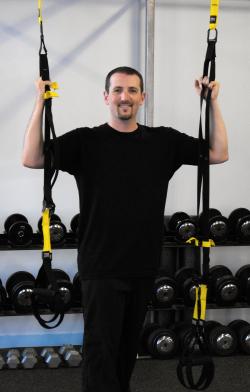 A graduate of the University of Arizona, Aron began his career as a personal trainer at its recreation center in 2008. He went on to teach kinesiology, fitness assessment and exercise prescription, and exercise psychology to aspiring personal trainers at Brown Mackie College before relocating to the Northeast.
In contrast to the human body (arguably the most advanced machine in the known universe), the tools for basic body maintenance are simple–whether using state-of-the-art equipment or nothing but body weight for resistance.  Aron takes pride in designing programs that are safe, effective, and fun for teens, seniors, and everyone in between. Above all else, Aron helps clients become their own trainer–the key to lifelong fitness is a little bit of knowledge and a strong sense of self-agency.
Specialties: nutrition, weight loss, hypertrophy (muscle gain), functional strength, flexibility, agility, balance, posture
Modalities: Suspension Training (TRX) / body weight exercise, free weights, machines, cycling, running
Certification
Education

American Council on Exercise (ACE)
TRX Suspension Training Instructor
American Red Cross Adult CPR/AED

BBA, Interdisciplinary Studies
University of Arizona, 2009 
Personal Training Packages 
| Packages | Price |
| --- | --- |
| 1 session (60 minutes) | $60 |
| 4 sessions (60 minutes each) | $220 |
| 8 sessions (60 minutes each) | $400 |
| 12 sessions (60 minutes each) | $540 |
Steps To Sign Up For Personal Training
Step1: Complete forms A - D (These forms are located below)
Step 2: If you answered "yes" to any questions on Form B, go to step #3. If you answered "no" to all questions on Form B, go to step #4.
Step 3: Contact your physician and have him/her send you a "Release Waiver" to begin an exercise program. This release waiver should list any exercise restrictions that you may have.
Step 4: Return all paperwork to the front office at the Student Recreation Center during operating hours which can be found on our main website.  Payment for the services that you would like to purchase should be made at this time.
Step 5: You will be contacted by your trainer once the payment and paperwork has been processed. The process can take up to a week  for processing. For more information contact Brett Davis, Fitness Director, at (609) 896-7716 or [email protected]
Payment: We accept cash, personal check (made out to Rider University), Master Card, Discover, AMEX and Visa