Arts & Entertainment Industries Management
Why Arts & Entertainment Industries Management?
Arts & Entertainment Industries Management (AEIM) prepares students for a dynamic career working in the arts. There are more than 4.8 million jobs available in this ever-growing field, which represents a larger percentage of America's GDP than all commercial sports franchises, alone! As an AEIM major, you will combine your creative passion with the business know-how that keeps the arts active and integral to communities. AEIM is more than a career - it's a commitment to bringing joy, insight and inspiration to people's lives as only the arts can do.
Thousands of opportunities abound for satisfying and rewarding careers in managing the arts - whether in the growing nonprofit sector or in the for-profit entertainment industries, including:
Producing Arts & Entertainment
Talent Management
Entertainment Law
Tour Management & Production
Fundraising for Arts & Entertainment
Production & Event Management
Marketing & Brand Development
Music Publishing/Record Label Execs
Artist Discovery & Development
Advocacy & Arts Policy Leadership
Executive & Artistic Direction
Museums & Gallery Management
Arts Outreach & Education Programming
---
Why Arts & Entertainment Industries Management at Rider?
Rider's undergraduate arts and entertainment industries management program provides a solid foundation-whether continuing on to graduate study, breaking directly into the field, or pursuing related fields such as:
Entrepreneurship
Independent Business Management
Digital Marketing Strategies
Grant Writing/Fund Development
Institutional Advancement/Fundraising
Community Leadership
Rider's quiet campus location - just a 45-minute drive to Philadelphia and a train ride to Manhattan, makes for an ideal blend of traditional campus life and access to some of the finest performing and visual arts programming in the world.
Arts & Entertainment Industries Management at Rider takes advantage of its unique location by:
Drawing in top professionals to teach, guest lecture and network with students.
Recent guests have included:
Tony-winning producers
Music managers of Grammy-winning artists
Arts policy directors, Arts council leaders
Independent theatre entrepreneurs
Talent and casting agents
Radio producers
Independent film professionals - and more
---
Hosting networking events for students.
---
Placing interns in top arts institutions.
Recent internship placements include Atlantic Records, Live Nation; Jujamcyn Broadway Theatres; Disney Los Angeles & Orlando; Boosey & Hawkes; International Creative Management (ICM); McCarter Theater; MTV; American Ballet Theatre, Broadway Green Alliance, LifeWater Foundation; and many more.
---
Engaging top professionals through New York Networking.
Recent site visits and meetings include Disney Theatricals; Atlantic Records; Carnegie Hall; Rodgers & Hammerstein; ASCAP; Madison Square Garden; The Public Theatre; The Recording Academy; The Guggenheim; Jazz at Lincoln Center; and NBC/Universal Television.
---
Building community among majors and across the University.
Arts & Entertainment Industries Management at Rider is a hub of arts activity, generating exciting multi-arts projects including an annual campus-wide arts festival; coffeehouse events; networking events; concerts; and more. AEIM majors provide key production support for Rider's six mainstage theatre & musical theatre shows, dance concerts, student productions and more.
---
Successful Outcomes
Our alumni are skilled and passionate leaders in the arts and entertainment industries. Applying skills learned in the classroom and beyond, they hold positions in a variety of organizations, including Epic Records, American Ballet Theatre, Sleep No More, Atlantic Records, McCarter Theatre, Arts Council of Princeton, Miami City Ballet, Bucks County Playhouse, Mayo Performing Arts Center, Theatre at Pepperdine; Harlem School of the Arts and many more.
---
---
A Balanced, Integrated, Student-Centered Approach
Arts & Entertainment Industries Management at Rider is unique among undergraduate programs in the country. It is specifically designed to fully integrate artistic and business components to instill real-world insight and skill-sets. A balance of theoretical and practical-across the curriculum and among the faculty-helps students understand foundational assumptions and theories and how to apply them in practice.
Rider's commitment to the program is evidenced in designated space (the Arts Administration Center) and resources that afford our majors unique opportunities to enhance learning, build community and expand networking capacity. Resources support the student-run Arts Management Association, Arts Admin Ensemble, and a variety of networking and other events each year.
---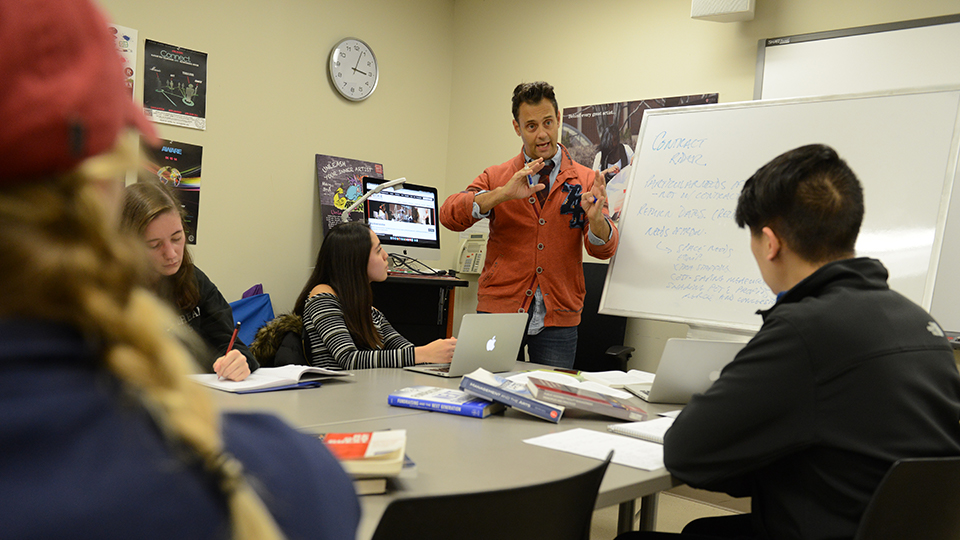 ---
Curriculum Overview
The degree requirements within Arts & Entertainment Industries Management (B.A.) incorporate a core curriculum of 39 credits, as well as a chosen emphasis or concentration comprising 12-15 credits depending upon the emphasis chosen. Each emphasis incorporates studio or applied skills, historical and practical coursework within one or a combination of two chosen arts discipline(s). In addition, majors select 9 credits of Arts & Entertainment Industries Management electives - courses selected from a list of options which expand professional skills development beyond those specific to the Arts. These range from public relations and communications to professional writing and other options housed beyond the School of Fine and Performing Arts.
Rounding out the degree is the general university requirements and a number of "free electives" which commonly are applied to minors or second majors in one of the arts disciplines or related administrative fields of interest (ie: marketing, event planning and production, business administration, etc.).
---
For admission information, call 609-896-5042 or visit www.rider.edu/admissions.
For more information about the program, call 609-896-5246 or contact:
Associate Professor; Program Coordinator
Todd Dellinger devised and built the uniquely integrated, theoretical & practical learning Arts & Entertainment Industries Management program and directs the Arts Administration Center at Rider, drawing from more than twenty years' experience in the field after earning his Masters in Arts Administration from the American University in Washington, D.C.