MBA - Master of Business Administration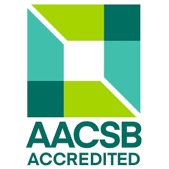 About Rider's MBA (Master of Business Administration) Program
The Rider MBA program program provides advanced preparation for successful participation in a rapidly changing world. You'll be exposed to real-world situations that you are encouraged to question and analyze. Rider is located in central New Jersey and in proximity to the Route One corporate centers. The MBA program is accredited by the AACSB International – Association for the Advancement of Collegiate Schools of Business, the top business accreditation in the world.
---
---
Rider's MBA program provides an effective and distinctive learning environment that emphasizes:
Critical communication skills
Holistic strategic decision making
Leadership development
Cross-functional integration of advanced business theory and processes
Management skills that adapt to a rapidly-changing environment
Hands-on experience including team projects, business consulting and internships
The Rider MBA program provides built-in flexibility and choice. As an MBA student, you may pursue:
---
Alternate format courses
On-campus | Online | Hybrid (online and on-campus)
We know you have commitments. That's why the Rider MBA program offers in-person and hybrid evening classes (Monday through Thursday), online classes, as well as a fully Online MBA and online classes. Plus, all basic requirement courses are offered during fall, spring, and summer semesters. While most students pursue their MBA on a part-time basis, the course schedule allows you to enroll on a full-time basis.
---
Dual Degrees – Combining a Master of Business Administration AND an MS in Information Systems or MS in Corporate Finance is now available. Our dual degree offerings allow students to earn both degrees with fewer total credits than earning the degrees separately.
---
For more program information, please contact:
Academic Coordinator, Graduate Programs
Assistant Director of Graduate Business and International Admission