Sports Media Major
Are you seeking a career that combines your strong communication skills with your passion for sports?
Our B.A. in Sports Media will prepare you to join the next generation of sports media professionals by building your skills in multimedia production, writing/storytelling, social media and sports communication.
Whether you aspire to work in the sports industry as a journalist, on-air broadcaster, public relations strategist, blogger or producer, our innovative interdisciplinary approach will give you the foundation to pursue your goals.
---
B.A. in Sports Media Overview
Offered through Rider University's College of Liberal Arts, Education, and Sciences, the B.A. in Sports Media is designed to help you acquire the diverse skills and competitive edge that sports media employers seek. As a student in this program, you'll build a solid foundation in journalism, public relations and marketing. Courses in the major will give you the opportunity to specialize in sports-related communications (written, multimedia, and social media) for a wide variety of audiences.
Our central location near two of the country's largest media and sports team markets — New York City and Philadelphia — also means exceptional access to internships, guest speakers and other professional development opportunities in the field.
---
About the Program
Through Rider's B.A. in Sports Media, you will:
Develop advanced sports reporting, writing, television and field production skills
Apply those skills to produce effective and interesting sports communications
Master the creation of digital sports content for a wide range of audiences and media
Develop flexible, practical skills that translate directly to the workplace
Gain hands-on experience through internships, leadership and volunteer opportunities and network with industry professionals
Throughout the program, students will meet regularly with a health sciences advisor to ensure awareness of opportunities and completion of academic requirements needed for their intended goals.
---
Through individual internship advising, our students have interned with a number of major professional sports franchises, minor league organizations and Division 1 programs. Rider communication majors have successfully interned with ESPN, the New York Giants, New York Jets, Philadelphia Flyers, New Jersey Devils, Trenton Thunder and the Rider Broncs. Recent graduates are working as multimedia producers with Major League Baseball and the National Hockey League. Other recent graduates are working at CBS Sports and NBC Sports.
Alumnus Jordan Hall '12 is a multimedia producer/writer for Comcast SportsNet Philadelphia. He was part of a team that won a Sports Emmy for Outstanding New Approaches covering hockey for NBCOlymics.com at the 2014 Sochi games.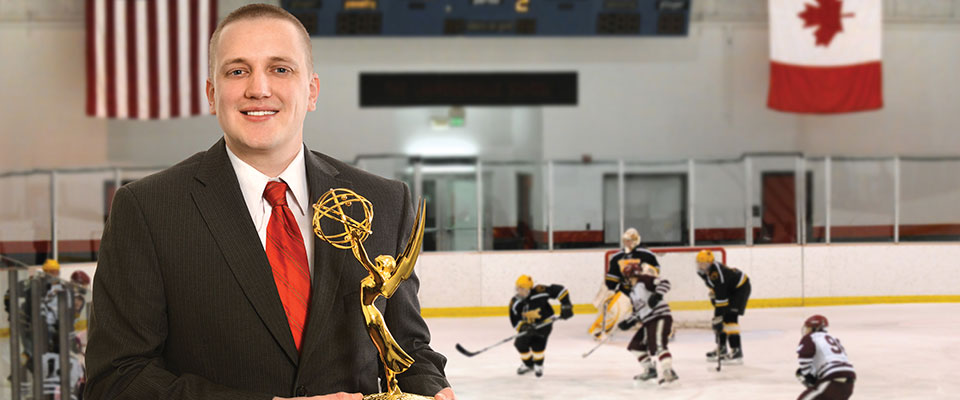 ---
On-Campus Sports Media Opportunities & Facilities
Many of our students participate in extracurricular activities at the University's fleet of award-winning media: The Rider News consistently wins state and regional journalism prizes; The Rider University Network (R.U.N.) TV station has won numerous awards for audio management, sports play-byplays, and video documentaries; and in 2015, The Bronc 107.7 was named the 15th best college radio station in the nation. Our department also features its own television studio and state-of-the-art Mac labs, equipped with professional-grade multimedia tools and software.
---
Career Outlook
The U.S. Bureau of Labor Statistics projects employment increases in communications, sports, and related fields, with New York and New Jersey ranking among the top states in the nation for employment in sports media fields. Job opportunities for graduates of the program include areas such as:
Sports writing and editing
Broadcasting and media production
Digital media
Web development
Marketing
---
Program Requirements
A total of 120 credits are required for graduation, with 48 credits required in the major.
Department Core Courses
(24 credits)
Introduction to News Reporting & Writing (3 cr)
Communication, Culture & Media (3 cr)
Speech Communication (3 cr)
Fundamentals of Video Production (3 cr)
Introduction to Media Convergence (3 cr)
Communication Law (3 cr)
Communication Ethics (3 cr)
Senior Seminar (3 cr)
Major Courses
(24 credits)
Sports Multimedia Reporting (3 cr)
Business of Sports (3 cr)
Sports Marketing (3 cr)
Sports Television & Field Production (3 cr)
Sports Feature Writing (3 cr)
Sports Media Relations (3 cr)
Photography (3 cr)
Live Sports Reporting (3 cr)
Recommended Electives
Sports & the Law (3 cr)
Sports in American Life (3 cr)
Associate Professor of Journalism; Director of Internship Program
B.A., LaSalle University; M.A., Ph.D., Temple