Political Science
Podcast of the Political Science teach-in about the 2018 midterm election, featuring Dr. Michael Brogan, Dr. Frank Rusciano, and Prof. Micah Rasmussen
---
How did American politics become so polarized?
How can we understand the global shift to the right in electoral politics? What is freedom and how is it best protected? What causes politics to turn violent, what can be done about it? How can citizens effect change in their own communities and beyond?
These are just some of the big questions students will confront in Political Science courses at Rider University. Through these courses, students will examine politics at every level: local, state, national, international and global. They will acquire a variety of methodological skills and theoretical perspectives in order to develop a broad understanding of political institutions and processes, political cultures, and political actors. Students enjoy experiential learning in many of their courses, including Congressional simulations, mock trials, and creative problem solving in foreign policy.
Students take courses in every subfield of political science:
American politics
comparative politics
constitutional law
political theory
international relations
Rider's Political Science students have many opportunities for hands-on Engaged Learning:
The Rebovich Institute for New Jersey Politics places students in internships in NJ, PA, NY, DC and beyond, offering fellowships to support students during unpaid summer internships. The Institute also brings many noteworthy speakers to campus, including former Speaker of the House Newt Gingrich (R) and Rep. Bonnie Watson Coleman (NJ-D).
Rider's award-winning Model United Nations (MUN) team has received Outstanding Delegation (the highest award) eight out of the last nine years. Students in MUN earn course credit while preparing to represent their delegation in an annual week-long conference at the United Nations in New York City.
Washington Semester Program gives students the opportunity to intern in Washington, D.C. while taking courses at American University.
Global Village® courses allow students to take a semester-long course virtually alongside students in Iraq and Northern Ireland.
The Political Science faculty also offers multiple teach-ins every semester, in which faculty members offer expert analysis of current events in politics. Students also lead teach-ins about their experiences outside the classroom, including Model UN.
In addition to joining the Political Science Club, students are encouraged to join the College Democrats and the College Republicans.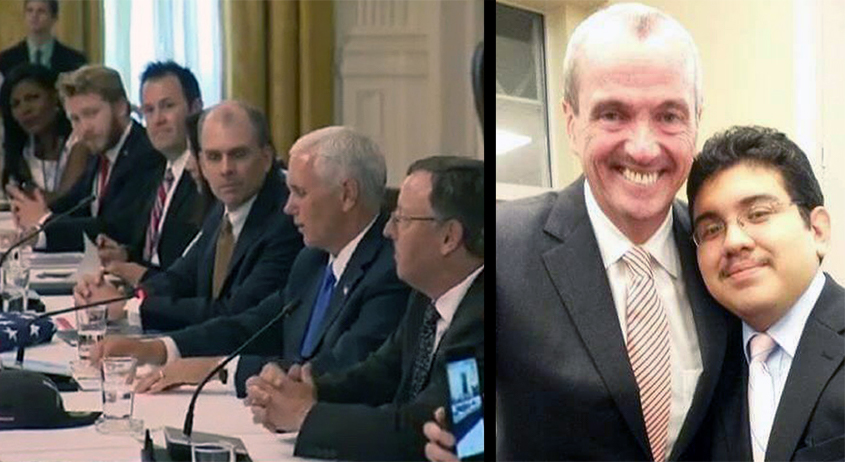 Pictured from left to right: Vice President Mike Pence and Hunter Morgan, Political Science 16' (second from the left); New Jersey Governor Phil Murphy with D'Jalma López, Political Science 17'.
---
Related Programs
Beyond the Political Science major, the department also offers majors in Health Care Policy and Global Studies; as well as minors in Homeland Security Studies, Global Studies, and Political Communication.
4+1--an incredible opportunity
We offer a Master's degree in Homeland Security for Rider undergraduate students in one additional (fifth) year of study.
---
Political Science Faculty
Our political science faculty members are active researchers and practitioners who bring their expertise into the classroom. Rider students find many opportunities to collaborate with faculty on research and present their work at disciplinary conferences.
Recent research areas include:
the politics of gas and oil pipelines
campaign finance and political corruption
the role of Hip Hop for under-privileged migrant youth
world opinion and the Northern Ireland Peace Process
the role of private military companies in African conflicts
the role of ignorance in American politics and political thought
---
Outcomes
The study of politics and government is an important part of a well-rounded liberal arts education. Studying political science and the liberal arts will give students the skills in critical thinking, written and oral communication, and problem-solving that will serve them well in any career. More and more business leaders, including Rider alumni, report that they seek precisely these skills in potential employees.
Graduates in Political Science pursue a wide range of careers and public service opportunities, as well as advanced study, including:
local and national politics and government
international politics and IGOs (international governmental organizations)
non-governmental organizations (NGOs)
Peace Corps and Teach for America
community and political organizing
think tanks and policy analysis
business
journalism
education
graduate and law school
---
How can I succeed with this major? (pdf)
---
For more information, contact:
Professor of Political Science
Barbara Franz (Ph.D. Syracuse University) is Professor of Political Science.  Her research interests juxtapose the phenomenon of mass migrations and refugee movements and what they mean for the stability of nations, the increasing potential of culture clashes within societies, and the root causes of migration movements, violence, terror, and genocide, as recently seen in Rwanda, Bosnia and Syria.