Model United Nations (POL-317)
This course (POL-317) prepares Rider University's award-winning Model United Nations (MUN) team for the annual National MUN competition in New York City. The team has brought home top awards for the past decade and continuously strives for excellence. POL 317 is a student-led course that hones writing, public-speaking and researching skills of student-delegates and it represents student engagement at the highest level.  Chosen through a rigorous selection process in the fall semester, the student-delegates write position papers during the winter break, and develop caucusing, team-working, and presentation skills in class during the spring semester. During the past five decades, Rider University's MUN team has represented more than 50 countries, and competed with thousands of delegates from national and international universities. It is one of the premier engaged learning and cohort-building institutions on campus.
What is Rider's Model UN?
National Model United Nations (NMUN) at Rider is a university-wide co-curricular annual special project within the Department of Government, Politics and Law. It has been active since 1967 and is open to students of all schools and majors. Stretching from late September to the Saturday before Easter, NMUN requires research, writing, speaking, caucusing, and bargaining at a consistently rigorous level. There have been 55 teams and some 1,000 participants in Rider's NMUN team.
Image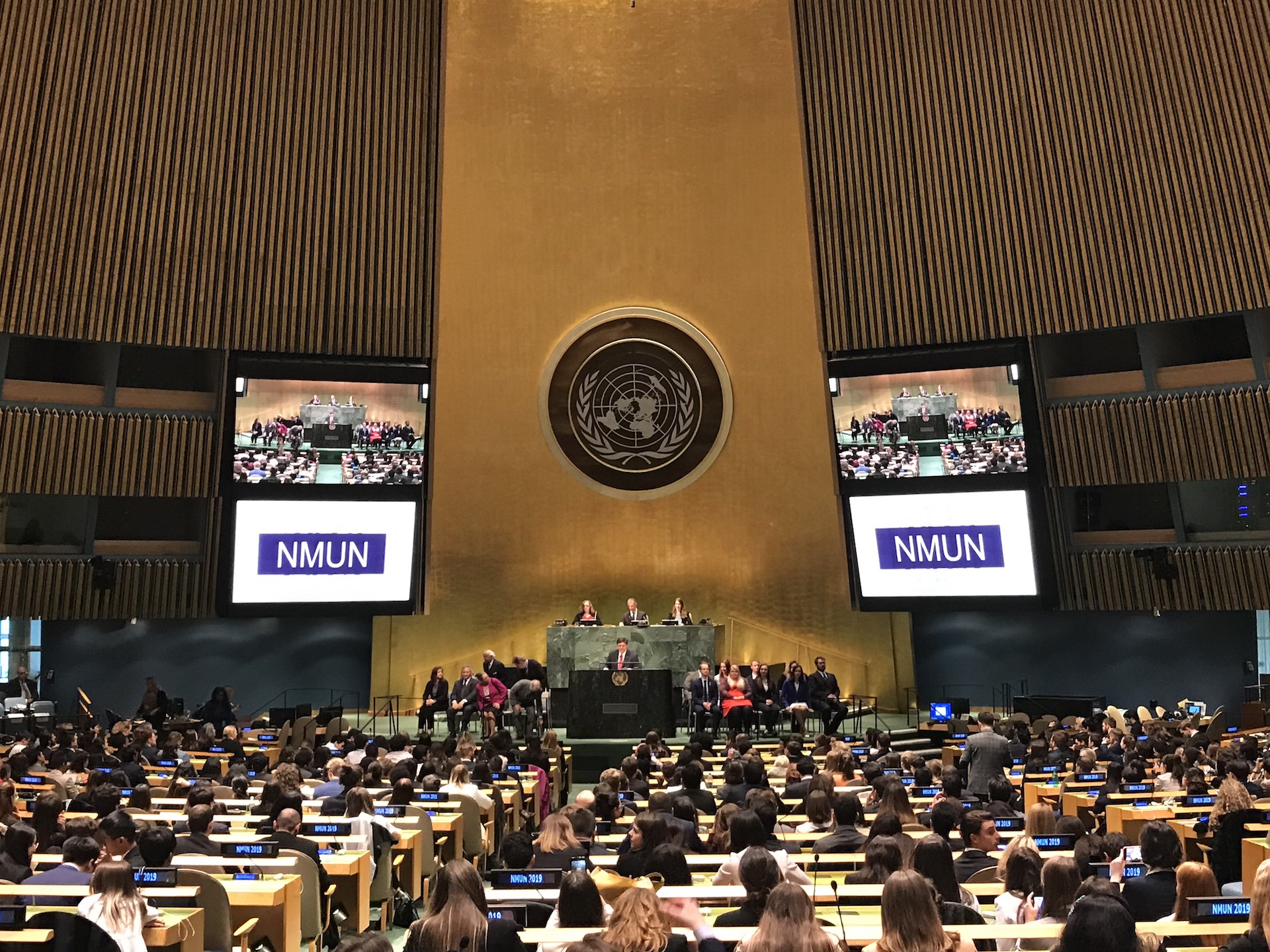 Purpose
NMUN allows Rider University students to participate in the largest intercollegiate simulation in international relations, matching them with students from a cross-section of 200 colleges and universities in the USA, Canada, Europe, Japan, Latin America, and more.
Eligibility and Requirements
NMUN is open to all sophomores, juniors, and seniors who have at least a 2.5 overall grade point average or higher. Freshman can participate in the try-out process and will be considered for the final team selection based on their performance. The essential qualities required of team members are an ability and willingness to carry a demanding research schedule, meeting deadlines, enthusiasm and reliability, strong teamwork, negotiation, and cooperative skills.
The try-out process consists of three phases: First, students have an individual interview. Second, students are paired to create a 1-minute speech, written based on a specific country's position toward a particular international issue, previously assigned to the student pair. In addition to that, each applicant submits a writing sample, for example, a research paper, to team leadership for review. Finally, all students participate in a caucusing event that simulates diplomatic interactions amongst diverse delegates, sharing ideas about various topics/issues of international interest.
What do you get out of it?
Participants learn first-hand about various issues relevant to the international community and politics, diplomacy, economics, the work of the United Nations in the real world, and much more. Additionally, students learn how to speak extemporaneously in front of large audiences,  take leadership initiatives in debates and caucusing, work cooperatively with people of different backgrounds to solve international problems, fashion workable compromises through negotiation, and grow in self-knowledge, self-confidence, and self-reliance. 
Students earn engaged learning points in Study Abroad & Cultural Exploration for Model UN.
A Lifetime of Benefit
NMUN alumni consistently rate the NMUN experience as the single most memorable and beneficial experience they ever had at Rider, in terms of developing initiative, maturity, judgment, self-confidence, the ability to think on their feet and hold their ground in real-life discussions and negotiations.
Honors and Awards
Nineteen NMUN Teams from Rider have received honors and awards, including Outstanding Delegation and numerous Position Paper Awards.
For more information, please contact:
Professor
Fine Arts Building
bfranz [at] rider.edu
609-896-5262
Academic Focus: Political Science