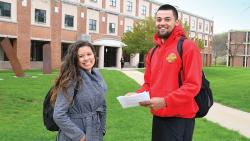 The Rider University ELI Au Pair Language Program offers practical courses at reduced rates designed specifically to improve language skills relevant to your time here in the states.  
Each course is designed to meet 21-hours of your educational requirements. 
Upon successful completion of the course, au pairs will receive a letter from the ELI confirming the course and hours that count towards the education requirements. 
Program Highlights
Small classes for personal attention
Instructors with advanced degrees and years of teaching experience
Innovative classroom technology
Online Orientation to guide you in setting up your courses online and answer any questions you may have.  
21-non-credit hours per course towards education requirements 
Au pair courses are offered at reduced rates 
Getting Started
Fill out the Au Pair ELI Application. 
Return your completed application to

[email protected]

When your application is processed, you will receive a Bronc ID and username.
Please fill out the Google Form to choose the courses you wish to attend.
Once you are registered, you will receive an invoice with instructions for an Online Orientation.
The Orientation will assist you in getting set up for your online course experience and answer any questions you may have.
Meet your instructors and other classmates online! 
Application and Course Selection
Contact Us
There is limited phone access with the current safety restrictions, but we will answer your   emails and can easily schedule a Zoom meeting with you if you want to speak with a friendly face! For more information, please go to ww.rider.edu/eli or email us at [email protected].

*Au pair courses are restricted for au pairs only and designed to fulfill education requirements as part of the program obligations.