Monday, Feb 8, 2021
Maggie Achanzar wins 2021 Norm Brodsky Business Concept Competition
by Rachel Stengel '14, '20
Image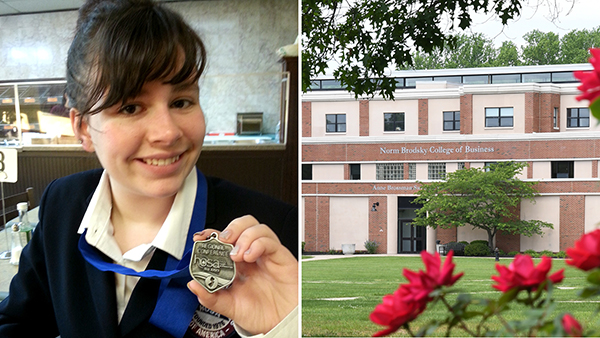 Maggie Achanzar, a senior at Mercer County Technical School's Health Science Academy, has won a full, four-year scholarship to Rider University. On Jan. 30, Achanzar was named the winner of the 2021 Norm Brodsky Business Concept Competition.
The Hamilton, N.J., resident is still reeling from her win.
"Honestly, winning this competition feels surreal. I'm still coming to terms with the whole idea of winning a full-ride scholarship to Rider," she says. 
Achanzar claimed the top prize after pitching her product idea, Sili-Head, a mannequin head that aims to solve many common problems for people who use them to style wigs.
Traditional styrofoam mannequin heads aren't ideal for styling wigs, Achanzar says. They are typically improperly sized for most adults and lack the grip needed to keep a wig from slipping while styling. The silicone-covered Sili-Head is designed to be available in three average sizes. Its soft silicone spikes prevent wigs from slipping and it's heat resistant.
The product would be ideal for any consumer who wears or styles wigs, from those who work in the professional theater industry to those undergoing chemotherapy, Achanzar says.
Rider's annual Norm Brodsky Business Concept Competition challenges high school students to develop an innovative business idea and present it in front of a panel of judges, Shark Tank style. This year's finale judges were Bill Cunningham of Encompass Media Company; Jeanne Gray of American Entrepreneurship Today; and Joe Lopez of Uncommon Individual Foundation. 
Held virtually this year in light of health and safety concerns, five seniors competed for the top prize of a full, four-year scholarship, while five juniors and sophomores competed for cash prizes and the chance to automatically be entered into the senior competition when eligible.
Rider received more than 130 submissions for this year's competition. Applicants were required to submit a brief summary of their business concept, which was reviewed by a group of judges and narrowed down to the 10 finalists. 
"The caliber of the competition continues to grow each year," says Lisa Teach '02, '09, director of Rider's Center for Entrepreneurial Studies and a visiting professor. Teach emceed the event. "All of the judges were impressed with Maggie's professionalism and passion for her product. We are very pleased to welcome her as a Bronc and support her academic career with a full scholarship. We know that she will continue to dream big and achieve her goals."
The competition is sponsored by husband and wife Norm Brodsky '64 and Elaine Brodsky. Norm, a long-time entrepreneur who is the namesake of Rider's Norm Brodsky College of Business, founded eight successful businesses, including Citi Storage, the largest privately owned archive business in the country. He also heartily believes that anyone, regardless of industry or job title, can benefit from an entrepreneurial mindset. This mindset is recognizable throughout the College's nearly 40 undergraduate and graduate majors, minors, certificates and programs.
Entrepreneurship is certainly of interest to Achanzar who plans to study that or chemistry as an undergraduate. In the meantime, she hopes to secure a patent for her product.
"I believe that Sili-Head is an amazing idea and that it could go far with the proper attention," she says.