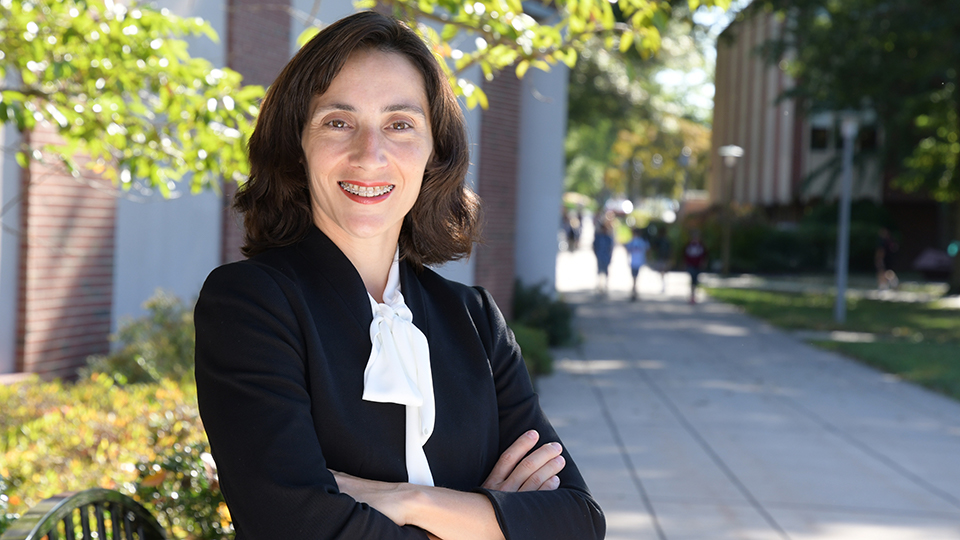 Myra Beaudoin

Bertrand

'18
Associate Director, Business Development, Bristol-Myers Squibb
Major: Executive Master of Business Administration (EMBA)
I have a much better understanding of how the world works having gone through Rider's EMBA program.
Why Myra Chose Rider
During Myra's thriving career as a medicinal chemist at Bristol-Myers Squibb (BMS), she led multiple projects and was a co-inventor of two small molecules used in clinical trials for the treatment of rheumatoid arthritis. The work of a scientific investigator, however, can be somewhat isolating, and Myra had a yearning to be on the business side of the pharmaceutical industry where she could interact with people and build relationships. Since 2011, she quietly eyed the EMBA program at Rider; in 2016, this French-Canadian mother of two decided she was ready to take it on.
A distinguishing feature of the 14-month accelerated EMBA program is that classes are held on Saturdays, better accommodating people with families and professional careers without the burden of a full-time program. For Myra, this was a good match. In addition to speaking with a recent EMBA graduate, she visited the campus and sat in on a finance class with a teacher she recalls as being "fantastic!" She clearly remembers thinking, "This is what I want."
Rider's Impact on Myra's Career
As she emerged from behind her lab coat, Myra gained confidence and learned to think "big picture" with the knowledge she acquired and exposure to professors and students from different backgrounds. Through course work, she deepened her understanding of how companies are built, what sustains them and how to evaluate them financially. The personalized attention she received from professors, a result of a low student to teacher ratio, as well as 20 hours of individualized executive coaching that is built into the program, were of great benefit to her.
Myra credits the EMBA program for helping her emerge from her shell and show her true colors. Once quieter and more introverted, she laid bare her vulnerabilities within the safety of her cohort of 10 fellow students, evolving into the livelier and more confident person she is today. The EMBA program was the key to learning how to be a team player and unlocking her potential as a manager. She appreciated the nurturing environment of a smaller university and the knowledge that everyone was truly invested in her success.
Continued Success
In her role at BMS, Myra is involved in the search and evaluation of business opportunities such as research collaboration, in-licensing, and mergers and acquisitions. She is focused on improving the company portfolio with therapeutics in the areas of fibrosis, immunology and cardiovascular disease as well as biomarkers in the fields of oncology and immuno-oncology. When not at work, she is busy raising her 4-year-old boy and 6-year-old girl, fitting in early morning yoga and adventurous hikes with her family.
As her career continues to evolve, she envisions furthering her role in business development at BMS. She believes her future may one day include helping a small pharma or biotech company achieve success by promoting a new discovery. But for now, Myra is grateful for the relationships she has made at Rider and her growth on a personal level. Having achieved so much as a scientist and now armed with her new business acumen, she is ready to make her next big discovery: who she is as a businesswoman.
Credentials
Rider's EMBA degree rounds out Myra's stellar educational background: she has a bachelor's in biopharmaceutical sciences from the University of Ottawa and a doctorate in organic chemistry from the University of Michigan.

Developing Leader
While enrolled in Rider's EMBA program, Myra transitioned from the laboratory at Bristol-Myers Squibb, where she had done medicinal chemistry for eight years, to be a manager on the business side. She was promoted to associate director in July 2018, following the completion of her degree.

Global Perspective
On a fully immersive international trip, Myra's EMBA class visited Zurich, Switzerland, and Prague, Czech Republic, seeing in real life the importance of working on a global scale.
As a trained scientist, aspects of the business world, such as finance and the stock market, were foreign to me. I have a much better understanding of how the world works having gone through Rider's EMBA program.
Myra Beaudoin
Bertrand
'18
Executive Master of Business Administration (EMBA)