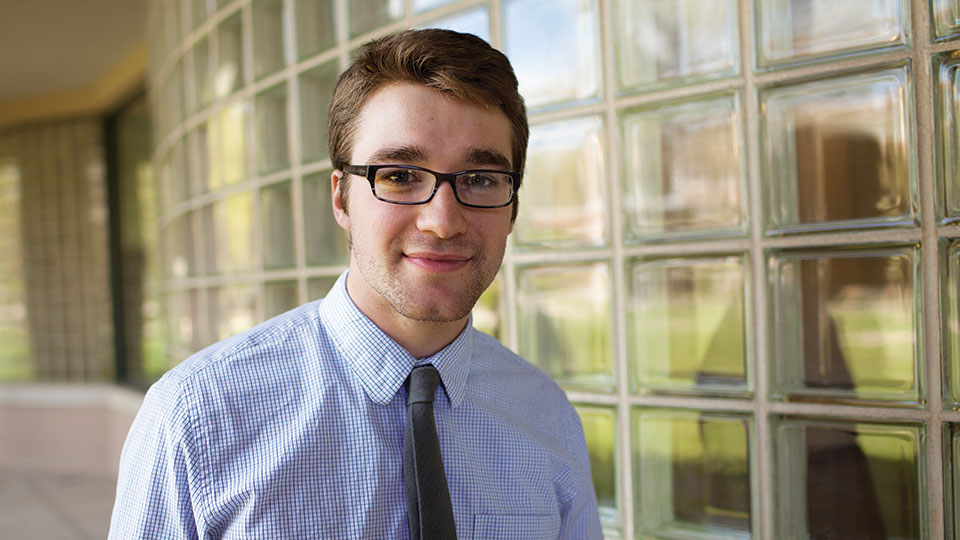 ERS Consultant, Deloitte
Majors: Accounting, Information Systems
I knew Rider had a good business and accounting program. When I found out both were AACSB accredited — that put me over the top. I knew Rider would prepare me to make an impact after college.
The Proof Is In Our People
Why Dylan Chose Rider
Dylan attended Rider's Admitted Student Day where he met Dr. Margaret O'Reilly-Allen, chair of the Accounting Department, during a breakout session with other prospective accounting students. "She took time to explain what Rider is all about — how Rider provides the best experiences for students and how professors are accessible," says Dylan.
"I really liked the personal feel. Experiencing that accessibility and the one-on-one relationship with professors — especially the chair of the department — on Admitted Student Day, gave me a taste of what the real experience would be like as a Rider student."
Rider's Impact on Dylan's Success
Initially, Dylan planned to focus on accounting. But his professors urged him to pursue a double major in Information Systems because it would make him more marketable and provide more career opportunities. "I never knew my field existed until I talked to my advisor, Dr. Dorothy McMullen, and Dr. O'Reilly-Allen," Dylan says. "It definitely helped me get the job I have now, which combines accounting and the IT field. I think that says a lot about Rider's understanding of the professional world."
Continued Success
Dylan was drawn to Rider because of the reputation of its accounting program, which attracts recruiters from the "Big Four" audit firms. He landed an 8-week internship with one of those firms — Deloitte — the summer before his senior year. At the end of his internship, he was offered a full-time job following graduation. "Having that job offer going into my senior year was a huge weight off my shoulders. I'd heard stories about that happening, but I never thought it would happen to me," says Dylan.
1+1 The number of "Big Four" accounting internships and job offers Dylan had — prior to his senior year.

3 The number of leadership positions Dylan held through his involvement in campus clubs and organizations. "These were great opportunities to develop leadership skills, as well as personal and professional skills," he says.

1+3 Dylan worked on campus as an Admissions Tour Guide for three years.
Rider did a tremendous job in preparing me for my career. I love my job at Deloitte. I know I wouldn't be in the position I am today if not for Rider.
Accounting, Information Systems