Alumni
A lifelong connection
When you graduate, your relationship with your alma mater is just the beginning. As you embark on a lifelong connection, you are invited to participate in alumni-specific events and benefits, networking and business opportunities, volunteer engagement programs, continuing education, travel and much more.
---
ATHLETICS HALL OF FAME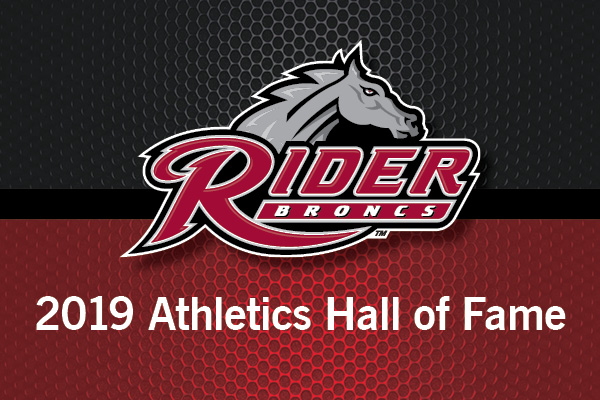 Saturday, June 8, 2019
Rider Athletics Hall of Fame Reception and Induction Ceremony
6 p.m. Reception
Student Recreation Center
7:30 p.m. Athletics HOF Induction Ceremony
Bart Luedeke Center Theater
$65 per person
---
WESTMINSTER REUNIONS
May 16-17, 2019
View Schedule & Register Online
---
2019 Alumni Award nominations
Nominate a colleague, friend, family member, or yourself for one of five Alumni Awards:
Distinguished Alumni Award
The Harold L. Conover Leadership Award
The Honorable Lawson R. McElroy Award for Excellence in Engaged Learning
The Gordon E. Prichard '63 Award for Volunteer Service
Outstanding Young Alumnus/a Award
Nominations for the 2019 Alumni Awards Now Accepted! Click here to make your nomination.
View past Alumni Award recipients
For questions, please contact the Office of Alumni Relations at [email protected] or by phone at 609-896-5340.
---
Save the Date! Homecoming 2019 is scheduled for November 1-3, 2019.
---
Participate
Return to campus at any time to see what's changed and reminisce about your time on campus. In the spring, make a plan to connect with your friends at Rider or Westminster reunions; these annual gatherings are fun, affordable and give you the chance to see the faces and places you miss.
Other Benefits
Membership to the Student Recreation Center includes the Schimek Family Fitness Center, group exercise classes elevated indoor track, game room, locker room amenities and access to the Coppola Pool in the Canastra Health and Sports Center for a monthly fee of $33. The monthly membership fee for the pool is only $17. For additional information and hours please contact the Student Recreation Center Office at 609-896-5059.
---
Host an event in your city, join an existing regional or affinity club or create your own, volunteer to talk with students about your professional experience, join an existing board or council–learn more about the numerous engagement opportunities available in your area.
Let's Organize a Reunion (PDF)
---
As a member of BOLD, Broncs of the Last Decade, you will find special opportunities to stay connected and engaged with Rider. You play a vital role in the success, growth and future of University.
---
Connect electronically via our vibrant and exclusive LinkedIn University, learn about other successful fellow alumni on our Outcomes website, and be sure to make plans to connect with friends at reunions and events, including our Career Fairs, sporting events, alumni and student networking get-togethers, panels and many other chances to see old friends and make new ones.
---
Grow
Take advantage of Rider's Office of Career Development individual career training, job search and research tools, mock interview training sessions and other career-related assistance. You can also connect with current students to provide mentorship and guidance in your area of professional expertise. Let Rider help you get to the next step in your career.
Continue your education by auditing an undergraduate course during any semester through the College of Continuing Studies. You can also expand your mind by checking out books at the Moore Library using your Alumni Card.
---
Gifts in any size make a difference in the lives of our students. Consider making a gift to support our commitment to high quality education student centered learning, positive outcomes and affordability.
---
Being part of the alumni community gives you access to numerous discounts and programs that help you save money and attract customers to your business.
Discounts on Dell computers via the Rider University Store
Reduced rates for Broadway shows and Land's End merchandise
20% discount on merchandise purchased at the University bookstore along with coupons and your Alumni card.
Benefits for veterans