Broncs Together
Engaged alumni are essential to the vitality of our institution and success of our students.
By supporting Rider University with a financial gift—no matter the size—you are celebrating the legacy that you helped create during your days as student here, while strengthening the foundation for a secure future. As our school and our reputation grow, so does the value of a degree from Rider--in the eyes of employers, graduate schools, prospective student and parents.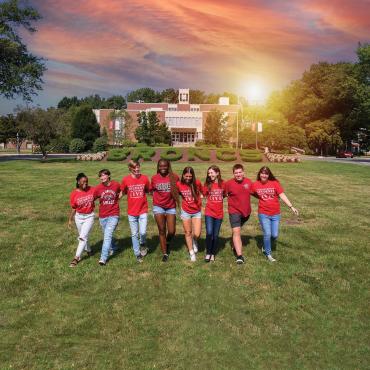 You can make a difference
A college education is more important today than ever. Your financial commitment to Rider University will support student scholarships, program development and university growth and improvements that will keep us competitive well into the future.
Support Rider
Ways to support current Rider students
For those with the ability to do so, you can support students by contributing to one of these funds, described below.
Rider and Westminster Cares Funds
When students on both campuses are impacted by unexpected and devastating circumstances, these funds provide economic support to help bridge students' most critical needs.
Rider Resource Pantry
Funds directed to the Rider Resource Pantry are used to provide nourishment to students who struggle to eat consistently and to give them access to dry goods, toiletries, laundry supplies and other necessities. The Pantry is experiencing consistent demand during this difficult time.
Rider and Westminster Scholarship Funds
The Rider and Westminster Scholarship Funds support students with financial need, assuring they may continue their studies. During this fraught economic time, students and their families are already sharing heartbreaking stories of livelihoods lost and great economic hardship.