Update
This program will be offered virtually.
July 19 - August 1, 2020
Under the direction of choral conductor and clinician, Jason Vodicka, the two-week Vocal Institute at Westminster draws students from across the country and around the world. Due to the COVID-19 pandemic, this year's program will be offered completely online. Enrollment is open to all high school students including rising high school freshmen!
VIRTUAL VI Program Highlights
Focus on college-level singing and musicianship training
Daily sessions in singing technique, ear training, improvisation, and more
Group and individual voice lessons with esteemed Westminster faculty
Elective courses in performance, conducting, composing, and voice science
Daily lectures with award-winning artists and internationally acclaimed guest conductors and composers
Scheduled Daily Sessions
Yoga
Vocal Warm-Up
Music Theory
Daily Plenary Session with guest artists
Elective classes
Private voice lesson (twice per week)
​​View the schedule (pdf)
Elective Class Options
African American Choral Music
Choral Masterworks
Conducting
Performance Techniques
The Singing Actor
Voice Science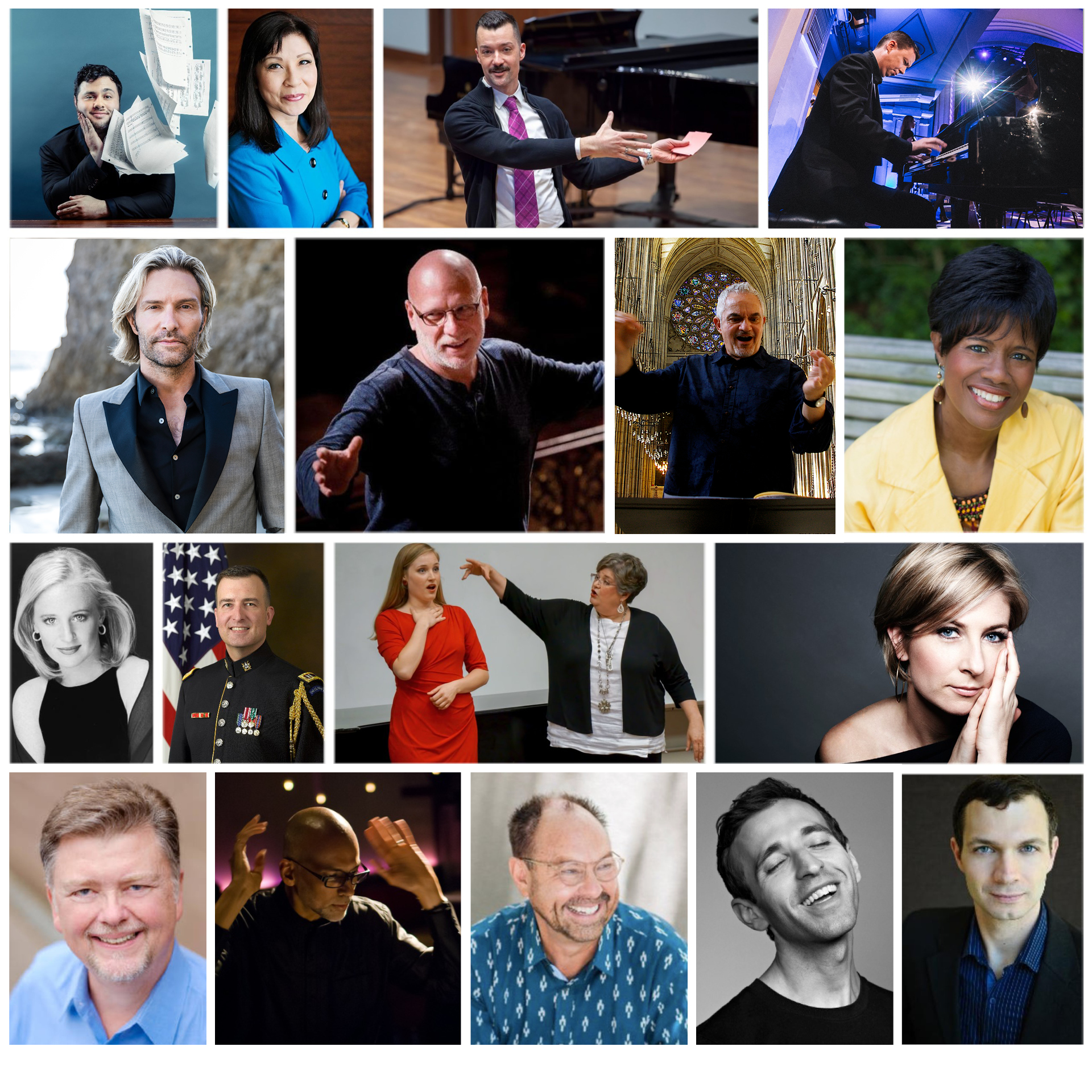 Faculty
Guest Presenters
Sam Brukhman (WCC '15), As the founding Artistic Director of the Verdigris Ensemble, Brukhman is committed to bringing dynamic choral music to the modern audience. He is also the Artistic Director of the Arts District Chorale and the assistant conductor for the Capital Symphony Orchestra based in New York City.
Anthony Roth Costanzo, Countertenor, Akhnaten at the MET, began performing professionally at the age of 11 and has since appeared in opera, concert, recital, film, and on Broadway. His debut album, ARC, on Decca Gold was nominated for a 2019 GRAMMY Award, and he is Musical America's 2019 vocalist of the year.
Kiera Duffy (WCC '01, MM '03), is recognized both for her gleaming high soprano and insightful musicianship in a diverse repertoire ranging from Bach, Handel, and Mozart to the modern sounds of Carter, Feldman, and Zorn. Ms. Duffy has appeared with many of the world's major orchestras and made her debut with the Metropolitan Opera in 2013.
Ola Gjeilo was born in Norway in 1978 and moved to the United States in 2001 to begin his composition studies at the Juilliard School in New York City, where he currently lives and works as a composer and pianist. Ola is an exclusive Decca Classics artist, and his Decca albums include "Ola Gjeilo" and "Winter Songs", also featuring Tenebrae, Voces8 and the Choir of Royal Holloway – as well as his new solo piano album, "Night".
Curtis Kinzey (WCC '98), has served as director of the US Army Chorus and the US Army Field Band Soldiers' Chorus.
Donald Nally (WCC MM '87), is conductor of the two time Grammy® award-winning ensemble The Crossing, whose nearly ninety commissioned premieres address social, environmental, and political issues. He is also director of choral organizations at Northwestern University.
Rosephanye Powell (WCC MM '87), has been hailed as one of America's premier women composers of choral music. She has an impressive catalogue of works published by leading national and international publishers, and is commissioned yearly to compose for professional, university, community, church and secondary school choruses.
André de Quadros, Conductor/Ethnomusicologist, music educator, writer, and human rights activist has conducted and undertaken research in over forty countries around the globe.
Laura Brooks Rice, is Emeritus Professor of Voice at Westminster Choir College. She has served as a consultant to the Metropolitan Opera's Lindemann Program and is currently the voice teacher for the Domingo-Cafritz Program with the Washington National Opera. Her students regularly appear on stage at the The Metropolitan Opera, Washington Opera, and New York City Opera.
Pearl Shangkuan (WCC MM '88), a sought after conductor and clinician all across the United States and internationally, Dr. Pearl Shangkuan directs choirs at Calvin College. She has led performances and given workshops all across the US and in Asia (China, Korea, Japan, Singapore, Taiwan, Malaysia, Indonesia, Hong Kong and the Philippines), as well as in Austria, Australia, and Canada.
Tim Sharp, is Executive Director of the American Choral Directors Association, the world's largest association of choral conductors, teachers, students, scholars, composers, and choral industry representatives.
Eric Whitacre, Grammy® Award-winning composer and conductor, is one of today's most popular and performed musicians. His works are programmed worldwide by orchestras and choirs, while his ground-breaking Virtual Choirs have united singers from 129 different countries.
Virtual VI Tuition
$995 (includes $50 application fee)
Enrollment
Enrollment is open to students entering the 9th grade through those who have just completed their senior year. Admission is based on teacher recommendation. While applications may be accepted until the end of June, 2020, based on available space, it is recommended that you register early to ensure a spot in this popular program.
*Based on ongoing state and federal recommendations to reduce the spread of coronavirus, this summer Rider University is providing remote and alternative instruction and is committed to providing the same quality programming in an exciting new format. All class instruction with Rider faculty and materials will be provided, along with a line-up of award winning artists and internationally acclaimed guests to present engaging masterclass sessions. For questions regarding our 2020 Summer programs, please visit Frequently Asked Questions or email us at [email protected].
Westminster Office of Continuing Education
609-924-7416
[email protected]