Master of Science in Corporate Finance
Why Rider's Master of Science in Corporate Finance?
Rider's Master of Science in Corporate Finance will expand your career opportunities by preparing you for a leadership role in managerial finance in a corporate setting. Our program capitalizes on the strengths of Rider's AACSB-accredited Accounting program and nationally-ranked Finance program, allowing you to develop and practice skills that can lead to success in the corporate environment.
Our distinctive managerial and accounting emphasis will put you on a track to become a CFO. Through our program, you will become adept at synthesizing financial and accounting data, and using modeling to recommend financial strategies that impact high-level business decisions.
---
Credentials that Count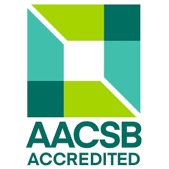 Rider is among only 2 percent of universities worldwide to hold prestigious dual accreditation in both business and accounting by AACSB International — the Association to Advance Collegiate Schools of Business. It is the standard of excellence in business education.
---
Program Overview
Foundation Courses
10.5 credits
Fundamentals of Accounting (3 cr.)
Economic Analysis (3 cr.)
Basic Financial Principles (1.5 cr.)
Fundamentals of Statistical Analysis (3 cr.)
Required Courses
30 credits
Strategic Accounting for Managers (3 cr.)
Financial Accounting & Reporting (3 cr.)
Analysis of Accounting Data (3 cr.)
Applied Corporate Finance (3 cr.)
Elective (3 cr.)
Enterprise Risk Management (3 cr.)
International Financial Management (3 cr.)
Investment Instruments and Strategies (3 cr.)
Financial Modeling (3 cr.)
Legal and Ethical Aspects of Management (3 cr.)
---
Distinguishing Features
Flexible: Our evening and online classes allow you to work while pursuing your degree as a full- or part-time student.
Fast Track: Complete your graduate degree in as few as 12 months on a full-time basis; may require a fall semester start.
Personal: Our small class sizes (average of 12 students) offer an interactive learning environment and personalized attention.
Relevant: Our focus on case studies, simulations and faculty mentoring provides hands-on, experiential learning that will build your real-world knowledge and skills.
Access: We provide students with access to key financial databases and analytical tools to promote best practices in corporate finance.
---
Dual Degrees – Combining a Master of Business Administration AND an MS in Information Systems or MS in Corporate Finance is now available. Our dual degree offerings allow students to earn both degrees with fewer total credits than earning the degrees separately.
---
Ready to apply to one of Rider's graduate programs?
Start the Graduate Application today.
---
For more information about the curriculum, fill out the form above or contact:
Academic Coordinator, Graduate Programs
Assistant Director of Graduate Business and International Admission