Master of Science in Information Systems
Rider University's Master of Science in Information Systems (MSIS) is the perfect synthesis of the latest technology trends and high-level management skills.
Whether you're a developer looking for business training or a manager seeking in-depth understanding of analytics and other trending topics, the MSIS offers a direct route to career advancement.
---
Program Overview
The MSIS program first provides students with a strong foundation in information technology and organizational leadership before offering electives personalized to each student's career goals.
The mission is to graduate a new class of information and business leaders from a STEM degree program that prepares them to rise as CTO/CIOs and in other senior information management roles.
The 30-credit program begins with a core foundation of management, information technology, and analytics, followed by in-depth investigations into the relationship between technology systems and high-level business strategies. The MSIS curriculum offers universal skills for students. Classes for the program are offered in the evenings with some courses offered online.
The MSIS program at Rider is also STEM eligible. International students who graduate with an MSIS from Rider may be eligible for a STEM OPT Extension to extend their post-completion OPT (optional practical training) authorization.
Enrollees will graduate with a deep and profound understanding of information systems for businesses -- and how to execute innovative strategies in their own work.
---
Why Earn Your MSIS at Rider?
Flexible: Course schedule and delivery format options allow you to work while pursuing your degree
Relevant: Study emerging technologies and trends, and how they apply to your career
Global: Network and collaborate with students and faculty from the greater tri-state area and around the world
Personal: Small class sizes and one-on-one attention from graduate coordinator offer an interactive and supportive learning environment
Resources: Students are given access to key databases, services, and tools to promote best practices in information systems
---
Credentials that Count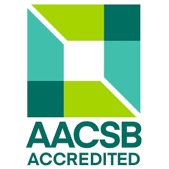 Rider is among only 2 percent of universities worldwide to hold prestigious dual accreditation in both business and accounting by AACSB International — the Association to Advance Collegiate Schools of Business. It is the standard of excellence in business education.
Career Pathways
According to the Bureau of Labor Statistics, the current median annual salary of information systems managers is $139,220. With an anticipated 12% growth in demand for qualified MSIS professionals by 2026, Rider's program is preparing leaders in the thriving field of information leadership.
Rider's MSIS program separates itself by integrating business acumen with a passion for information science and emerging technologies.
Graduates of the program will be able to explore careers that lead toward:
Chief Technology Officer
Chief Information Officer
VP of Technology
VP of Digital Services
VP of Strategic Automation
VP of Digital Marketing
---
Dual Degrees – Combining a Master of Business Administration AND an MS in Information Systems or MS in Corporate Finance is now available. Our dual degree offerings allow students to earn both degrees with fewer total credits than earning the degrees separately.
---
Ready to apply to one of Rider's graduate programs?
Start the Graduate Application today.
---
For more program information, please contact:
Associate Dean, Graduate Programs
Areas of Expertise
Small business management; small firm consulting; starting new ventures; family businesses; business planning
Research Interests
Business planning; microenterprises
Campus Involvement
Director of Entrepreneurial Studies and the Small Business Institute
Assistant Director of Graduate Business and International Admission