Actuarial Science
Actuaries analyze the financial consequences of risk.
A major in Actuarial Science from Rider University offers you respected and proven career preparation in this fast-growing, high-demand field.
---
Actuarial Science Overview
In a world of uncertainty, actuaries use mathematics, statistics and computer software to assess — and manage — financial risk. Considered the backbone of the insurance and financial security industries, actuarial science is a highly regarded field that businesses and government rely on to improve forecasting and decision-making.
Recognizing our long history of excellence in the field and the accomplishments of our graduates, College Choice ranks Rider University 35th in the nation for actuarial science.
Our graduates can be found in rewarding careers as actuaries, analysts, consultants, underwriters, brokers and senior executives with national and regional industry leaders in consulting, health care, insurance and finance, including:
Clarivate Analytics
Conduent (formerly Buck Consultants)
Geisinger Health Plan
JP Morgan Chase
Marsh & McLennan Companies
Milliman
National Council on Compensation Insurance (NCCI)
New Jersey Department of Banking and Insurance
New York Life Insurance
Prudential Financial, Inc.
Selective Insurance Group, Inc.
As a Rider University Actuarial Science major, you will gain the knowledge, skills and tools needed to enter this dynamic career. Our interdisciplinary program provides the crucial mathematical, statistical, computational, and financial background that actuaries need, plus preparation for a series of examination required for certification through the Society of Actuaries (SOA).
What is an Actuary?
Actuaries are business professionals who analyze and assess the financial impact of risk. They perform quantitative analysis using skills in mathematics, statistics, economics, and finance to decrease the impact of an uncertain event.
Found in all sectors of the economy, actuaries are represented primarily in the financial services sector, including insurance companies, commercial banks, investment banks, and retirement funds.
---
About the Program
Actuarial science at Rider University is a joint program between the College of Liberal Arts and Sciences (Department of Mathematics) and our AACSB-accredited Norm Brodsky College of Business (Department of Information Systems, Analytics, and Supply Chain Management).
Students pursue a degree in one of two tracks: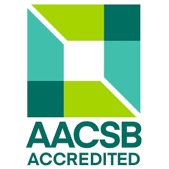 For business majors, our BSBA in Actuarial Science is the only bachelor's degree program in Actuarial Science in New Jersey that is accredited by AACSB International, considered the "gold standard" in business education.
As an Actuarial Science major, you will:
Earn a highly marketable degree
Learn how to forecast the probability and cost of future events, such as death, sickness, accidents or natural disasters
Gain skills needed to minimize risk and maximize profitability
Develop the business know-how to communicate findings and proposals
Prepare for the SOA's professional actuarial exams required for employment
Complete courses needed to meet the SOA's Validation by Educational Experience (VEE) requirement
---
Career Opportunities
With its high salary and job security, actuary is consistently ranked among the nation's top-ranked professions. The U.S. Bureau of Labor Statistics projects this in-demand field will grow by 22% through 2026.
Actuaries are often found at insurance companies or financial firms, where they use high-level statistical analysis to calculate the financial impact of potential risks. Then they convert their findings into a digestible presentation for management and other stakeholders. Actuaries are able to apply technical and mathematical findings to real-world issues.
---
Program Requirements
The major requirements are the same whether students pursue a BA or a BSBA in Actuarial Science. The only difference between the two degrees is the college-level core requirements.
Coursework
Courses are 3 credits each unless otherwise noted.
Actuarial Science Major
Required Mathematics Courses (21 credit hours)
Calculus I (4 credits)
Calculus II (4 credits)
Calculus III (4 credits)
Linear Algebra
Probability and Statistical Analysis I*
Probability and Statistical Analysis II**
Required Business Credits (24 credits)
Introduction to Accounting
Introduction to Finance**
Intermediate Finance**
Principles of Macroeconomics**
Principles of Microeconomics**
Compound Interest Theory*
Quantitative Methods for Business Forecasting*
Regression/Analysis of Variance*
Free Electives
Recommended, but not required for completion of the major:
Financial Markets & Institutions
International Finance
Investments
Risk Management
Fixed Income and Derivatives
Economics of Health Care System
* Prepares students for actuarial exams
** Fulfills Validation by Educational Experience (VEE) requirements (Accounting and Finance, Economics, Mathematical Statistics)
---
To learn more about the Actuarial Science program, contact:
Bill Amadio teaches business intelligence and other data-driven technologies for management practice. He is currently interested in applications for the healthcare sector and social media.  Past projects include work in forensics, investment banking, manufacturing and insurance.  Hands-on group projects are an important part of Dr. Amadio's teaching. "Complex decision-making requires a robust understanding of theory and concepts. I believe the best way to achieve that understanding is to work on realistic, concrete projects in a collaborative environment."