Department overview
Become a leader of tomorrow
The study of politics and government is an important part of a well-rounded liberal arts education. As a student in the Department of Government, Politics and Law, you will gain skills in critical thinking, written and oral communication, and problem-solving. These skills will serve you well in any career.
Our programs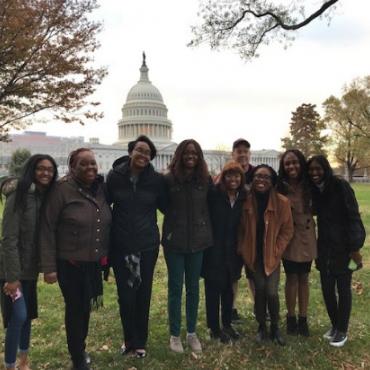 From learners to implementers
Rider offers students the opportunity to connect with people in charge of our nation's governance and security all over the world. Our Washington Semester Program allows students to intern in Washington, D.C. while taking courses at the American University.
Learn more
Join the club
Connect with like-minded students to discuss politics and current events at the local, national and global levels. Learn first-hand about various issues in international politics and economics, while also learning how to speak extemporaneously in front of large audiences, to take leadership initiatives in debates and caucusing, to work cooperatively with diverse groups of people to solve common problems, to fashion workable compromises through negotiation and innovation, and to grow in self-knowledge and self-confidence.
Model UN is an opportunity to improve public speaking, writing and research skills, while simultaneously learning about a new country and the United Nations as a whole. Being on the team has provided me and countless other alum with the connections and stronger skills needed to enter professional life."
Learn from leadership
Our government, politics and law faculty members are active researchers and practitioners who bring their expertise into the classroom. Rider students find many opportunities to collaborate with faculty on research and present their work at disciplinary conferences.
Recent research areas include:
the politics of gas and oil pipelines
campaign finance and political corruption
the role of Hip Hop for underprivileged migrant youth
world opinion and the Northern Ireland Peace Process
the role of private military companies in African conflicts
the role of ignorance in American politics and political thought
Rise through the ranks
Our alumni inspire us every day, and the list keeps getting longer. See the exciting things these Broncs have done with their degrees.  
Alexis Bailey '19: Kaufman Zita Group (top 5 contract lobbying firm in NJ) 
Kate Bradley '17: Deputy Chief of Staff to Hamilton Mayor Jeff Martin
Craig Carpenito '96: U.S. Attorney for the District of New Jersey 
Petra Gaskins '15:  Director of Outreach & Programming for Congresswoman Bonnie Watson-Coleman
Jillian Montilla '18: Ambassador for UN Women's Generation Equality Campaign 
Hunter Morgen '16: Special Assistant to the President and Policy Specialist (2018-2019)
Nina Rodriguez '17: first Latina editor-in-chief at the Rutgers University Law Review-Camden
Kayla Walden '17, '18: Intelligence Analyst at Tam-C Solutions
Put it into practice
Rider's Government, Politics and Law students have many opportunities for hands-on Engaged Learning:
The Rebovich Institute for New Jersey Politics places students in internships in NJ, PA, NY, DC and beyond, offering fellowships to support students during unpaid summer internships. The Institute also brings many noteworthy speakers to campus, including former Speaker of the House Newt Gingrich (R) and Rep. Bonnie Watson Coleman (NJ-D).
Rider's award-winning Model United Nations (MUN) team has received Outstanding Delegation (the highest award) eight out of the last nine years. Students in MUN earn course credit while preparing to represent their delegation in an annual week-long conference at the United Nations in New York City.
Global Village® courses allow students to take a semester-long course virtually alongside students in places like Iraq and Northern Ireland.
The Government, Politics and Law faculty also offers multiple teach-ins every semester, in which faculty members offer expert analysis of current events in politics. Students also lead teach-ins about their experiences outside the classroom, including Model UN.