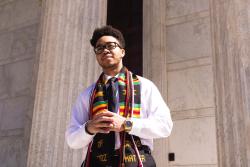 Jeremy Hester, '22
Intern at the Washington Post
"Before my internships, I really had no idea what I wanted to do for a career. However, getting the opportunity to work at such cool and prestigious places to get a feel for the industry was really helpful in developing a plan. Interning helped me to figure out that I want to do something that involves writing and editing, and gave me several resources in my two biggest interests—publishing and journalism."
"I was lucky enough to have a bunch of great advisers at Rider that sent me lots of internship recommendations. I applied for pretty much every internship that they sent my way, and I managed to secure two of them. I served as an assistant to Macmillan Sales representatives, so I would create and update records of sales, keep track of various book orders and shipments, email clients and suppliers on behalf of Macmillan."
"At the Washington Post internship, I served as copy editor just like I did for the Rider News, which means it was my job to check writing for grammar or factual errors and make sure the writing fits within their specific style. I know that a lot of my English classes—specifically ENG 336: Grammar and Style—have made me a better editor, so that's one huge skill set that I gained from my English courses."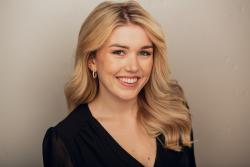 Zoë Aarts '19
MFA in Writing student at Sarah Lawrence College
"Essentially, I knew next to nothing about writing before I came to Rider, and would probably not be doing it today without the wisdom and encouragement of Rider professors and students!"
"Freshman year I took Dr. Jack Sullivan's ENG 363: The Drama, where we wrote about Broadway shows, and he recognized my abilities in writing. English classes I took with Dr. Megan Titus and Dr. Vanita Neelakanta further unlocked my love for writing critically and creatively about everything from Shakespeare to Sci-Fi. The honors project I worked on with Dr. Titus also helped me build skills in analyzing social patterns through research and writing. Perhaps the most influential experience I had with writing at Rider, however, was working in the writing lab, where I helped students discover their voice and craft thoughtful essays. This helped me understand that we all possess the profound ability to express unique insights through writing if we learn to craft it intentionally."
"In 2020, I started a website with another Rider grad, Abeba Isaac, where we began sharing our writing as well as the work of other women to stay connected and creating during lockdown. In the fall of 2020, I began applying to graduate school writing programs. My life is in New York City, so at first I was only applying to MFA programs in Manhattan. However, once I expanded my scope a little, I found Sarah Lawrence (just a quick train ride from Grand Central!) and was accepted. When visiting programs, I found that the distance SLC provides from the distractions of the city was actually a huge asset. Plus, I loved that it's a relatively small program with attentive, passionate teachers."
"Although my concentration is creative nonfiction, I took a fiction craft class this semester that culminated in writing a short story. I don't have much experience writing fiction, but the story I wrote was surprisingly one of my favorite things I've worked on yet! I'm working on building a freelance writing career, specifically in the space of women's issues and pop culture. I'd also love to publish a YA novel that promotes an awareness of media literacy to young women."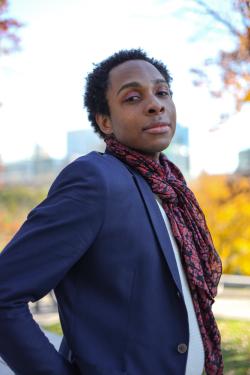 Ghanima Emmanuelle Sol '19
MFA in Creative Writing student at Emerson College
"I applied to MFA programs based on their classes, location, and success of graduates as writers and professors. I was accepted at Columbia University and Emerson College. Choosing between two great programs was hard because Emerson is far more like me (unconventionally creative) but Columbia is an outstanding name to have on a CV. In the end, Emerson felt far more accommodating to me. And I followed my instincts."
"I learned at Rider to keep revising. Nothing can ever be perfect, but revision is the way to reconstruct parts of my story to improve it. Right now my favorite project is Godsent, that will serve as my MFA thesis. I hope to send it out to agents after graduation. I wish I knew [as an undergrad] that I'll always keep improving so long as I stay committed to writing. I used to think this story or that would be my peak. But there is no peak to a writer; we're always planting gardens or navigating a labyrinth. In the end, our work pays off."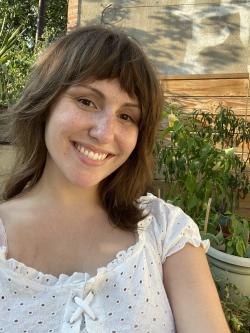 Breanne Needles, '16
Editorial Manager at Skyword
"Right out of college, I got a job at Taylor & Francis, an academic publishing company in Philadelphia. After five years in that world, I made the move to Skyword, a content marketing company, where I'm an Editorial Manager."
"In my junior and senior year at Rider, thanks to Dr. Hess, I worked as an intern with Eva Ries. Eva is a booking agent for high-profile musicians and bands. She's been in this industry for a long time, and has worked with bands like Nirvana and Wu-Tang Clan. When I worked with her in 2015, our main project was to book the Wu-Tang Clan's European tour. I wrote press releases and sent them to booking contacts from venues to promoters and media personnel, and made sure contracts made sense and were signed by all parties. I also had to do some more bizarre things like collect scans of all of the Wu-Tang members' passports, book their hotel rooms, and edit GZA's tour rider. (He requires one extra-large cheese pizza hot and ready after every show!) After all that work, I think they ended up canceling most of that tour, but I stayed on with Eva and we worked on some other projects right up until I graduated. I learned a lot from her about communicating with people, keeping things organized, and balancing several things at once, even when it seems like everything is on fire."