Using the Course Section Search
Planning your classes for next semester just got a whole lot easier!
Rider's Course Section Search is an interactive tool in real time that allows you to search, browse, or filter course lists. 
Quick Tips
Searching for Online Courses
Click on Advanced Search and select On-line (Distance Learning) as the Instructional Methods.
Image

Meeting Times
Use your cursor to hover over the meeting times and reveal the full details.
Image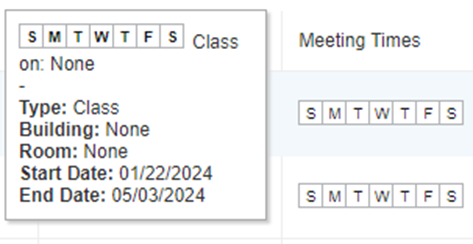 Additional Notes and Comments
Click on the course title to reveal a popup box with more details. Click on Course Information to view course description, prerequisite requirements, additional meetings dates, and other notes. 
Image