Thursday, Feb 2, 2023
Brianna Bogos wins 2023 Norm Brodsky Business Concept Competition
by Rachel Stengel '14, '20
Image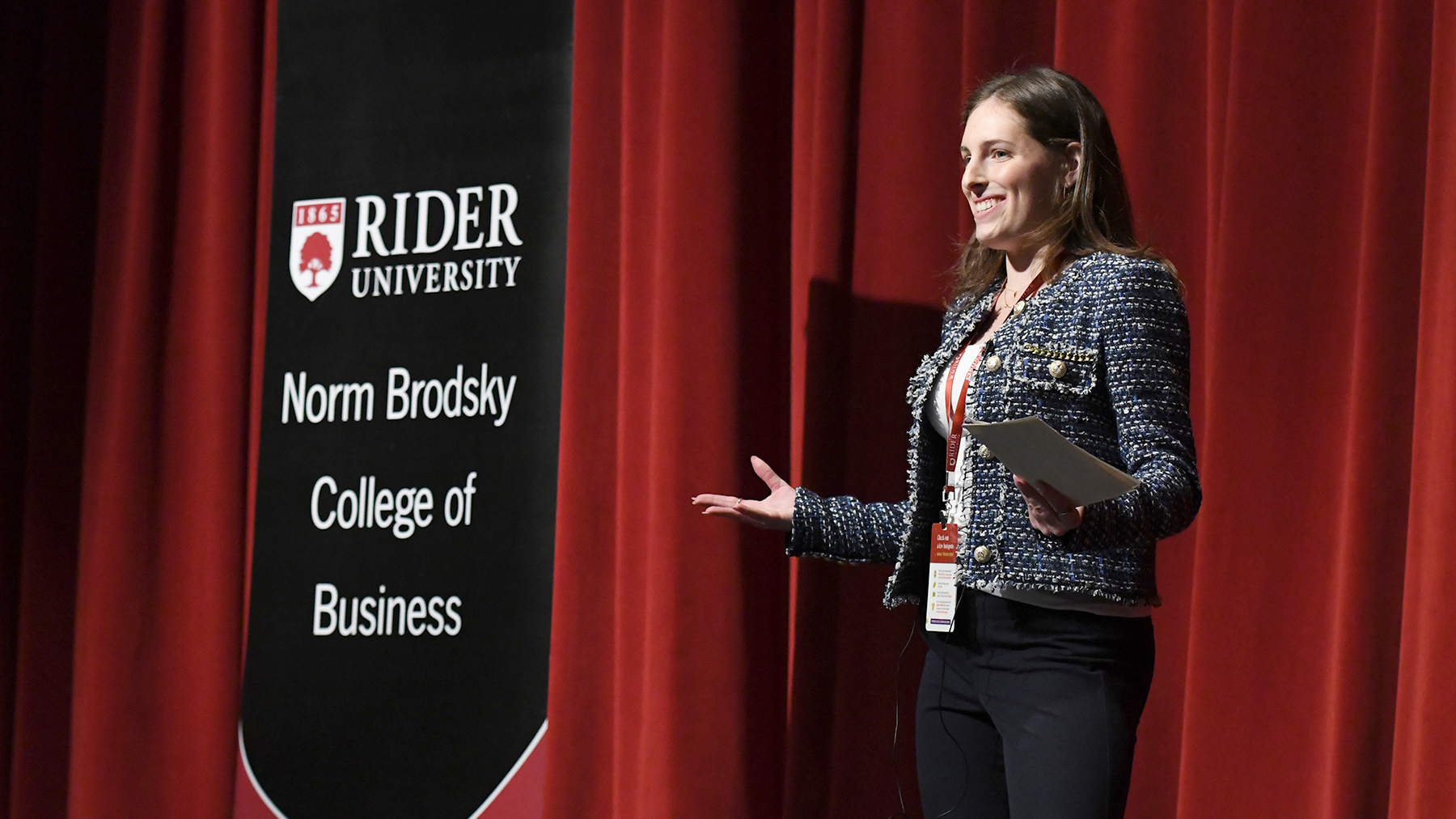 Brianna Bogos, a senior at Bishop Eustace Preparatory School in Pennsauken Township, New Jersey, is the winner of the 2023 Norm Brodsky Business Concept Competition. 
Bogos pitched her business idea to a panel of judges live on Jan. 28 during Rider University's annual competition, earning her a full, four-year tuition scholarship to the University. 
"It takes a huge financial burden off my shoulders and allows me to focus on my education and growing my business," she says. "I am grateful for the opportunity to attend Rider without worrying about college costs or going into debt."
Bogos developed the idea for an app for her business, Find The Perfect Outfit, LLC, which connects consumers to independent women's clothing retailers by curating outfit ideas. On the app, consumers could add items to a wish list, follow their friends to see their favorite clothing and follow a variety of retailers to see new releases. Retailers would pay to have their products featured on the app. 
Bogos, who intends to study marketing at Rider, established a Find The Perfect Outfit, LLC, website and social media profiles during the COVID-19 pandemic. In addition to showcasing a variety of designers and outfits, the site allows users to browse outfits by aesthetic, further customizing their experience. After gaining more than 20,000 subscribers across her digital media channels, Bogos hopes the app will further expand her business.
"The judges were very impressed by how Brianna intends to expand her current business," says Lora Hudicka, director of Rider's Center for Entrepreneurial Studies. "She exemplifies everything the competition seeks to reward — ingenuity, determination and an innate entrepreneurial mind."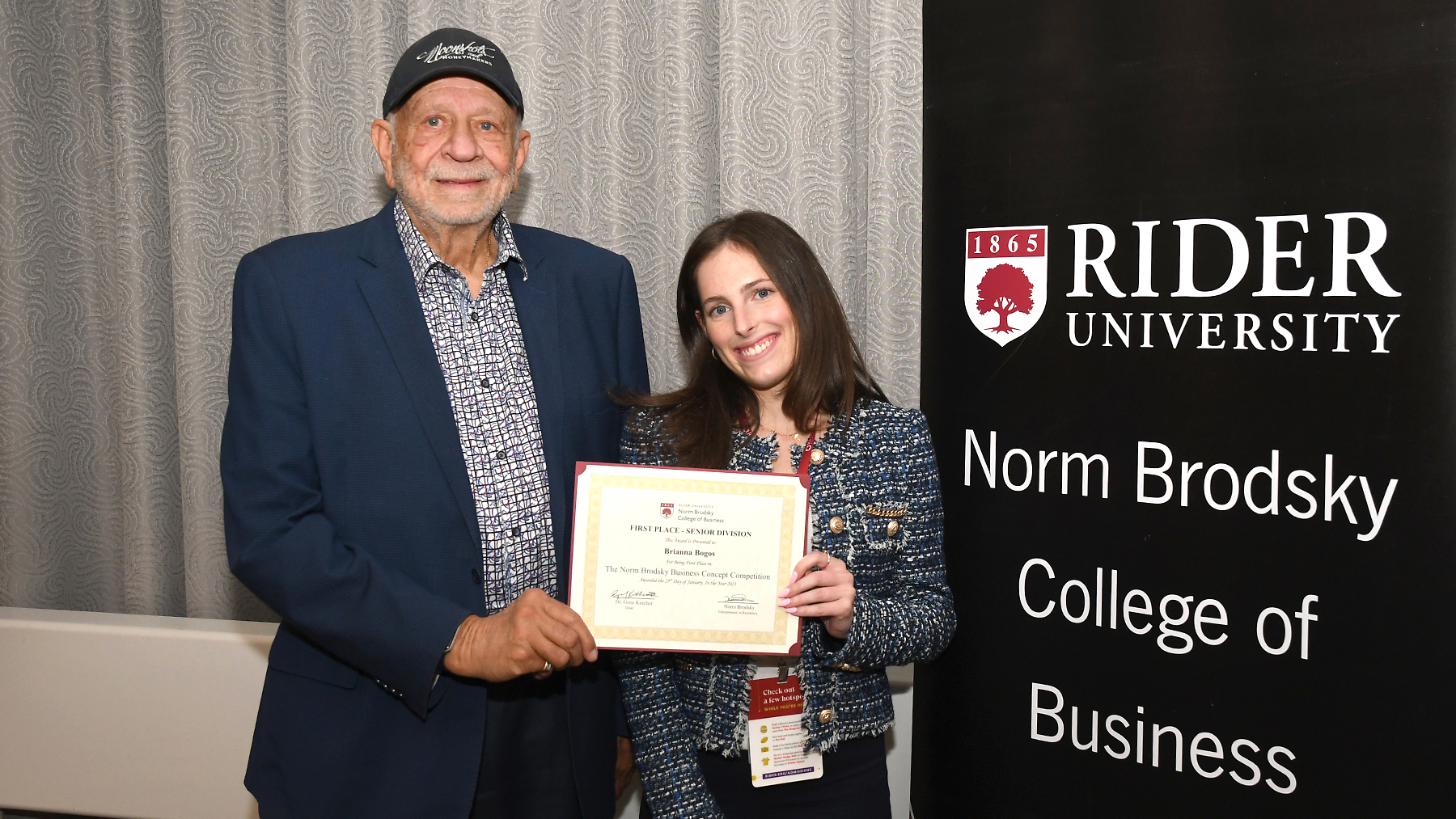 Rider's annual Norm Brodsky Business Concept Competition challenges high school students to develop an innovative business idea and present it in front of a panel of judges, Shark Tank style. Divided into two divisions, seniors competed for the full scholarship grand prize, while juniors and sophomores competed for several cash prizes and the chance to be automatically entered into the senior competition when eligible. This year's finale judges were Bill Cunningham of Encompass Media, Joe Lopez of the Uncommon Individual Foundation and Lisa Teach '02, '09, adjunct professor for the Norm Brodsky College of Business. 
Rider received more than 200 submissions for this year's competition. Applicants were required to submit a brief summary of their business concept, which went through two rounds of review by a group of judges, before being narrowed down to the 10 finalists. 
Other finalists included: Jenna Dancsecs of Cherokee High School (second place, senior division); Jordan Hidalgo of Newburgh Free Academy (third place, senior division); Dan Varughese of Monroe Township High School (fourth place, senior division); Danny Emerle of Shawnee High School (fifth place, senior division); Reeva Khokhar of John P. Stevens High School and Elina Csapo of The Hun School of Princeton (tied for first place, sophomore/junior division); Nathaniel Gaw of Atlantic County Institute of Technology (third place, sophomore/junior division); Ainsley Taggart of Cherokee High School (fourth place, sophomore/junior division); and Nick King of Colts Neck High School (fifth place, sophomore/junior division). 
The competition is sponsored by husband and wife Norm Brodsky '64 and Elaine Brodsky. Norm, a long-time entrepreneur who is the namesake of Rider's Norm Brodsky College of Business, founded eight successful businesses, including Citi Storage, the largest privately owned archive business in the country. He also heartily believes that anyone, regardless of industry or job title, can benefit from an entrepreneurial mindset. This mindset is recognizable throughout the College's more than 30 undergraduate and graduate programs, minors and certificates.