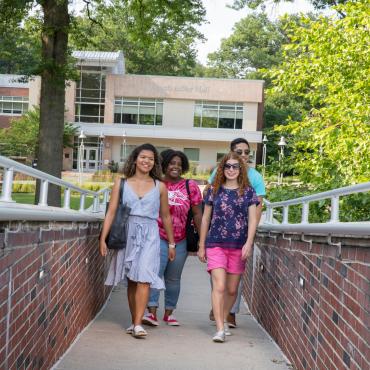 Lifting Barriers
For new first-year and transfer students entering in Fall 2021, Rider University recently announced a series of new measures intended to strengthen the overall value of a Rider education, including a 22% reduction of annual undergraduate tuition to $35,000 per year, as well as robust support for career preparation and academic success. Please see our Lifting Barriers website for information about our exciting initiative. 
Learn More
2020-2021 Academic Year
Total expenses for an undergraduate education at Rider includes tuition, room and board (view Housing and Dining Rates), books, and miscellaneous fees or expenses.
Tuition
Credits
Cost
12 to 18 credits 
(full-time student)
$22,560 per semester
Each credit above 18
$650 per credit
1 – 11 credits
$1,300 per credit
The comprehensive full-time tuition may not include audit and noncredit courses.
Student Expenses
Expense
Per Course
Per Semester
Student Activities Fee
(Mandatory for all full-time students)
 
$95
Technology Fees
$50 per course for part-time students
$225 per semester for full-time students
Distance Learning Course Fee
$35
 
Audit
$180
 
Student Teaching Fees
 
$250 per semester (only when student teaching)
$300 edTPA fee (only when student teaching)
Applied Music
Westminster Choir College – Applied Music
1 Hour Sessions
 
$2,090 per semester (Part-Time)
$1,500 – Elective per semester (Full-Time)
Westminster Choir College – Applied Music
30 Minute Sessions
 
$1,050 per semester (Part-Time)
$740 – Elective per semester (Full-Time)

For students whose major requires applied music lessons, the cost of the primary lessons is included in the full-time tuition rate until the requirement is met. If the student chooses 1) additional lessons beyond the requirement, 2) hour-long lessons when half-hour lessons are required, or 3) enrolls in applied music on an additional instrument, the student will be charged the appropriate elective fee. Part-time students are charged the appropriate Applied Music fee for their lesson. There are no other per-credit fees associated with the Applied Music lesson for part-time students.

Students enrolled in majors that do not require lessons are required to pay the Applied Music fee for each semester of elective lessons.

New Student Orientation Fee (One-time fee)
Lawrenceville campus freshman
Fall semester
 
$275
Lawrenceville campus transfer
Fall semester
 
$225
Princeton campus undergraduate
Fall semester
 
$275
Both campuses
Spring semester
 
$75
International Student Orientation
(excluding ELI students)
 
$275
Misc. Expenses
Expense
Cost
Application Fee
$50
Freshman Resident Student Parking Fee
(LAW campus only)
$300 for the freshman year
Accompanist Fee*
(Princeton - per semester)
$525
Chapel Choir Robe (WCC Freshmen)
$129
Voice Coaching Fee
$600 (1 Credit)
$1200 (2 Credits)
Readmission
(non-refundable; after 2 years of non-enrollment)
$30
Enrollment Clearance Fee
$50
Enrollment Reinstatement
$100
Medical Insurance Plan**
(academic year)
$1972
ID Card Replacement - First Time
$30
ID Card Replacement - Subsequent Times
$60
Late Tuition Payment
(all FT undergraduates)
$250
Late Tuition Payment
(all PT undergraduates)
$50
Monthly Payment Plan Fee
$75
Late Payment Plan Fee
$25
Dishonored Check Fee - First Time
$30
Dishonored Check Fee - Subsequent Times
$50
*Voice primary students should expect, in most cases, to hire accompanists. They may choose to hire a college-approved accompanist at a standard fee of $525 per semester. The semester fee is not refundable in any part if a student discontinues voice study or decides to seek out another accompanist.
**Medical plans are marketed in spring, rates for the current year will be determined based on the plan marketing.
The fees and charges set forth herein are subject to adjustment at any time.
Questions regarding rates and fees should be directed to the Bursar's Office at 609-896-5020.
Eligibility for scholarships, loans, and housing may be jeopardized if a student registers for a part-time load.
Students receiving financial aid from federal government programs or agencies (for example the Veterans Administration, the Civil Service Commission or State Scholarship Commissions) must pursue a full-time course of study of 12 credits or more to meet the eligibility requirements for continued assistance. Most state programs have the same requirement.