Monday, Dec 20, 2021
Rider accounting department chair is addressing the systemic barriers to entry into the field with mentoring program for minority students.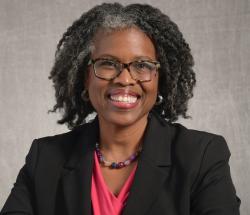 It could be said that Dr. Evelyn McDowell, associate professor and chair of the Department of Accounting at Rider University, operates by the adage, "each one, teach one." The African proverb, which originated in the United States during slavery, carries the ideology that once one obtains knowledge it becomes their responsibility to share it with others for the betterment of their community. 
As a Black accounting professional with over 40 years of experience, McDowell knows all too well the obstacles that minority professionals face, along with the often negative impact that ethnicity, and gender, can play once they've entered the workspace. 
With this in mind, she is advocating for greater representation within the field and addressing the challenges to college retention and graduation, and entry into the workforce, with the Aspiring Accounting Professional program for undergraduate students. 
The first of 100: John W. Cromwell Jr. 
Like many professions, accounting is not exempt from a dark past of racial discrimination. Segregation practices included keeping strict rules in place to deem eligibility for entry and practice in the field. In fact, it was not until 1921 that the first African American, John W. Cromwell Jr., was allowed to sit for the certified public accountant (CPA) exam. 
Cromwell, an accomplished scholar who graduated with honors from Dartmouth in 1906, had a goal of entering the profession but faced major obstacles being unable to gain experience and fulfill the requirements for licensure because no firms would hire a Black accountant. It was not until 1921,15 years after his college graduation, that he was able to take the exam following New Hampshire lifting the experience requirement for licensure. This year (2021) marks the 100th anniversary of his remarkable achievement.
Though undoubtedly the trailblazer paved the way for future generations of Black CPAs, even 40 years after earning his license, Cromwell was the only Black accountant in Washington, D.C. Additionally, it took another 44 years for 100 Black CPAs to become licensed. 
Time for change
"The accounting profession is still not diverse," says McDowell matter-of-factly.
In spite of diversity, equity and inclusion initiatives becoming more crucial in workplaces across various industries, unfortunately, the accounting field continues to trail behind.
Data from the U.S. Bureau of Labor and Statistics revealed that in 2020 there were 1,392,200 people employed as accountants and auditors. Of this number, a total of 25.9% are comprised of Asian, Black and Hispanic ethnicities while 86.5% identify as white. 
Additionally, in a 2019 report published by the Association of International Certified Public Accountants, only 2% of CPAs are African American, and only 1% of partners at CPA firms are African American. 
Creating a solution
In 2011, McDowell and Allen Boston, an executive advisory committee member and retired Ernst & Young partner, launched the innovative Aspiring Accounting Professionals program. The program works as a pipeline to help minority students reach graduation and entry into the accounting field.
Each year, McDowell invites students to join the multi-faceted program which provides students with the tools they need to thrive in the field. The program features focused academic coaching, mentoring with experienced industry professionals and externship and networking opportunities. It also helps students to develop strong peer support relationships that in turn aid them to remain engaged throughout their college journey. Participants are also eligible to receive a stipend.
In addition to the Aspiring Accounting Professionals program, McDowell has also hosted a series of campus events in honor of Cromwell's 100th anniversary highlighting minority accounting professionals, and diversity, equity and inclusion in the field.
McDowell believes that providing these groups with practical support and exposure to the field at the university level not only helps them to build a firm foundation of accounting knowledge but increases their ability to achieve future success in the field.
Within the program's 11-year span, it has graduated over 120 students, including RahQuan King '19. While at Rider, King, now an audit associate in financial services with KPMG, gained work experience through five paid internships in accounting and finance.
McDowell's work with the program has also earned her recognition from the northern New Jersey chapter of the National Association of Black Accounts, Inc. (NABA) as the Professional Member of the Month in April 2021. Although McDowell is thankful for the accolade, she remains humble. "As long as what I'm doing helps other people, that's all I want," she says. "If you want to thank me, go help other people. When I see you help others then I feel thanked and appreciated."
The future of accounting
Though McDowell believes that various systemic challenges may continue to exist for minorities, she will continue her work to advance diversity while equally championing success for students from all backgrounds. 
"Rider faculty consists of people who care tremendously about students. We come together as a department to develop programs that support students and make sure things happen," says McDowell. She continues on to note that she believes that this dynamic way of learning is what sets Rider's accounting program apart from other universities. "We keep our fingers on the pulse of the profession, listen to what's going on and ensure it is included in our curriculum." 
The accounting profession continues to grow as the BLS reports that approximately 135,000 openings for accountants and auditors are projected each year, on average, over the decade.
This data signifies that plenty of opportunities exist for qualified candidates of all backgrounds to gain a seat at the table.
To learn more about the Aspiring Accounting Professional program, and how Rider's dual AACSB-accredited accounting program can provide you with the tools to launch a successful business career, visit rider.edu/accounting.