Discover why hundreds of adults like yourself choose Rider University to continue their education.
Family. Time. Costs. Confidence. Life's challenges can leave you with little choice but to postpone earning your degree. Rider University can address these concerns and guide you through a seamless process as you return to learn and achieve your personal and professional goals.
Courses that Fit Your Busy Life: With a number of flexible degree completion options, as well as convenient online, evening and accelerated course formats, Rider can tailor an educational plan that fits your life.
Get Credit for What You Know: Request a Personalized Learning Evaluation to find out if you can earn credit based on prior learning, or earn credit by examination.
Your Credits Count: Transfer up to 72 credits from 2-year institutions and 90 credits from 4-year institutions. Plus, request a no-obligation transcript evaluation to find out how your credits count towards a Rider degree.
An Affordable Education: Rider offers a competitive per credit rate for part-time Continuing Education students, plus your designated financial aid counselor will work with you to identify scholarships, grants and other valuable aid resources. 
Student Support Services: From tutoring to career planning, we can help guide you throughout your journey at Rider, and beyond.
Discover how we can help you get started on finishing your degree. Browse our frequently asked questions and schedule time to talk with a counselor.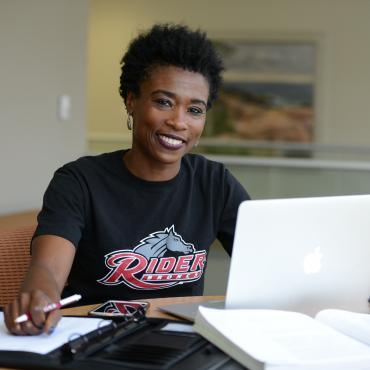 Antonia James '18
"I believe having it all means finding balance between being the best mother I can be, pursuing the completion of my degree to advance my career. When I decided to come to Rider, going to school at night and working full time, I don't think I ever envisioned the opportunities and all the achievements I am particularly proud of."