Beta Alpha Psi Officers
2018–2019 Beta Alpha Psi Officers
Beta Alpha Psi is the national honor society that recognizes excellence in students of accounting, finance and computer information systems. Under the direction of faculty advisers Iram Khan and Dr. Yunxia (Peter) Zhu, Rider's Kappa Epsilon chapter of Beta Alpha Psi gives students the opportunity to participate in a variety of professional and community service events, as well as network with numerous industry professionals. This year's induction ceremony was held on April 28 and featured the following elected officers for the 2017-18 academic year: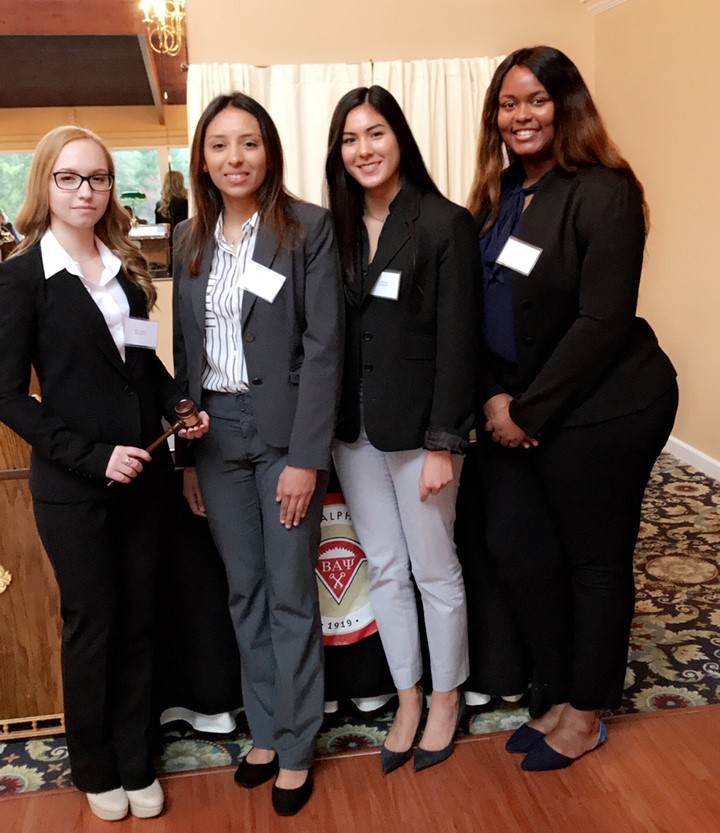 Daryna Chumak' 19, President
Daryna Chumak is third year student in the Accelerated 3+1 Program. In the spring of 2019, she will graduate with a Bachelor's Degree in Accounting and the following year with she will complete the MAcc with a concentration in Business Analytics and sit for the CPA Exam. On campus Daryna has been involved in Beta Alpha Psi, Accounting Society and Leadership Development Program. She is also an office assistant for the Chair of the Accounting Department and an accounting lab tutor. Over the past two years Daryna has completed a 7 month Co-Op at Johnson & Johnson, Tax Admin internship at Alliance Wealth Management Group, and a summer internship at Wilkin & Guttenplan. Additionally, she attended the Envision Leadership Conference at Deloitte and the Emerging Leaders Program at Ernst & Young. Her favorite quote is "Definiteness of purpose is the starting point of all achievement." –W. Clement Stone.
Malika Harper' 20, Vice President
I am a junior accounting student, hoping to seat for the CPA when I graduate. I am involved on campus with Beta Alpha Psi and Aspiring Accounting Professionals. I will be participating in the Launch Internship at EY this summer. My favorite quote is, "The key is to keep company only with people who uplift you, whose presence calls forth your best." -Epictetus.
Angela Cotugno' 19, Treasurer
Angela Cotugno is a senior accounting and finance double major with a minor in Chinese who plans to start taking her CPA exam once she graduates. Angela has been involved in multiple organizations on campus including Institute of Management Accountants, Aspiring Accounting Professionals, Leadership Development Program, and SGA. Angela has also been a student athlete on the track and field team for her first two years. She recently completed a summer internship with KPMG as an Embark Intern. Her favorite quote is "Enjoy the little things in life for one day you'll look back and realize they were the big things" by Kurt Vonnegut.