In 1976, Rider University established a circle of the Omicron Delta Kappa National Leadership Honor Society. Composed of junior and senior students who meet the leadership qualifications for membership and the GPA (3.25 or above) requirement, the society's goals are to recognize the accomplishments of academically sound student leaders and enhance leadership skills and abilities.
With over 300 circles nationwide, Omicron Delta Kappa recognizes achievement in the following five areas:
Scholarship
Athletics
Campus/Community Service, Social/Religious Activities, and Campus Government
Journalism, Speech and the Mass Media
Creative and Performing Arts
Omicron Delta Kappa not only promotes the personal and professional development of its members, but also seeks to encourage leadership development for all students at Rider University through a variety of workshops and opportunities.
Membership Information
Every September, Omicron Delta Kappa invites current juniors and seniors who have a 3.25 GPA or above to apply for membership. Those applicants who demonstrate a breadth and/or depth of leadership within the 5 areas ODK are accepted become official members of ODK by submitting a membership fee and participating in an Induction Ceremony that occurs in November.
Benefits of Membership
ODK members not only have opportunities to continue to develop their leadership skills at Rider, but also have opportunities to earn awards and scholarships through ODK National.  Rider ODK members are encouraged to attend programs and workshops to earn free cords upon graduation.
Activities of the Rider Circle
The Rider Circle of ODK enjoys supporting the National organization by planning events and service projects to celebrate Founder's Day (December) and the National Day of Service (April).  Additionally, ODK hosts numerous events throughout the year, including leadership discussions with our University's President and Board of Trustee members.
Omicron Delta Kappa Rider Circle Leader of the Year
In April 2016, the Rider Circle began its tradition of awarding the Leader of the Year Award. The purpose of the award is to celebrate the culmination of leadership accomplishments of a senior Rider Circle member.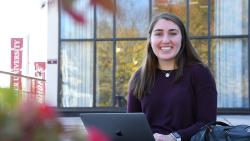 The 2022 ODK Rider Circle Leader of the Year award recipient is Ms. Elizabeth O'Hara. Liz came to Rider with the simple wish to develop as a future professional, leader, and community member while serving her community.  She began Rider with LEAD Camp to explore what leadership is and to practice it while in college.  From there, she found ways to practice leadership both in her academic and co-curricular experiences.  In four short years, she has been a member of the Leadership Development Program, President of our Unified Sports Club, tour guide for Admissions, Orientation Leader for new students, member of the Vice President for Student Affairs Committee, and most notably, committed to our Student Government through Class of 2022 executive board positions and as Student Body President. 
Her commitment to the student body earned her the Rider Student Government Association Rising Star Award, the Club President of the Year for Unified Sports, and the President's Award.  While being an active community member, she has also held five internships related to her future profession (her majors are Computer Science and Graphic Design), won the New Jersey Business and Industries Association Rising Star Award, and is an Andrew J. Rider Scholar (top 1% of seniors).  What is most impressive about Liz, though, is how she has led with grace, humility, joy, and a pure love of serving others.  As mentioned before, she came to Rider to develop her capacities, and in that journey, she was able to give back just as much, if not more, to Rider and her future profession.  Congratulations, Liz!
Previous Winners
2021: Kaitlyn Marut
2020: Jessica Flaherty
2019: Danielle Gangemi
2018: Ashley Leeds
2017: Alyssa Belardo
2016: Caroline Forde
For more information, visit the ODK booth at SGA Awareness Day (mid-September) and visit the ODK National website at www.odk.org.