Experiential learning experiences, such as internships and co-ops, provide fantastic opportunities for students to gain pre-professional work experience in the business world.  These engaged learning opportunities also help students gain an appreciation of what it is like to be a workforce member.
Students have the option to receive academic credits for participating in an internship or a co-op. Students who are interested in receiving academic credits for their internship or co-op experience must follow the steps outlined below to apply. For undergraduate business students, of the 120 credits required for graduation, students can take up to two credit-bearing practical training experiences with no more than a total of nine credits.
Find an Internship or Co-op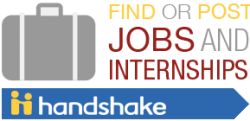 Students can find internship and co-op opportunities through Rider Handshake, faculty, departmental clubs and organizations, professional associations and Internet searches.
Steps to Apply
Fill out the internship or co-op form
Students may be eligible to receive credit for their internship or co-op by applying through the Norm Brodsky College of Business.
Downloads: Internship Form and Co-op Form
Students must attach the official job description from the company.  This includes the duties to be performed as well as a brief description about the firm and should be on the company's letterhead.  It is essential to include this documentation for approval.
 
Obtain a faculty sponsor signature
Once the form has been completed, students will then need to contact the Internship Coordinator for their department (see below) and make an appointment to secure a faculty sponsor.  The Coordinator will review all of the academic components to ensure that academic credit is warranted and, if approved, provide his/her signature on the form.
 
Get approval from chairperson and associate dean
The documents must then be reviewed and approved by the Department chairperson.  Once this is complete, all of the paperwork should be submitted to the Norm Brodsky College of Business Dean's Office (Sweigart 214) for final approval by the Associate Dean for Undergraduate Programs.

The Dean's office will communicate any further instruction via email.  The student's faculty sponsor will provide relevant assignments during the course of the internship / co-op as well as provide the evaluation form to be completed by the employer.
 
Assumption of risk form
All students completing an internship or co-op that requires off campus travel need to fill out an Assumption of Risk (AOR) form and return it to the Transportation Department located on the 2nd Floor of the SRC prior to the start of their internship or co-op. Visit here for the AOR form and more information.
Questions?
Contact the Norm Brodsky College of Business at 609-896-5170.
Faculty Internship Supervisors