Alumni News - Where Are They Now?
Sonya Maizell '12, English major with a minor in History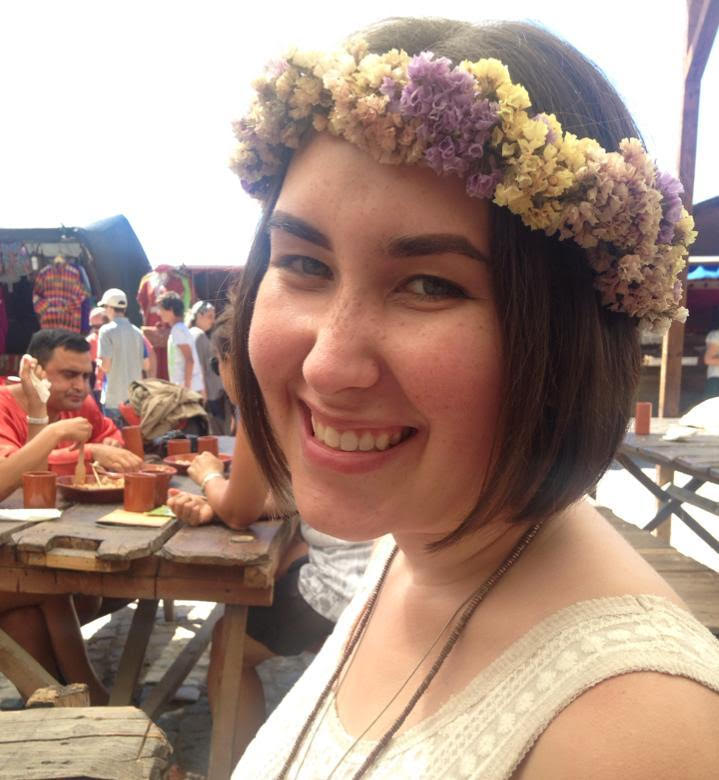 What is Everest and where can we read it?
Everest is an online zine that juxtaposes art with poetry and short prose. Though I don't have a background in art, I like the inclusion of it because I think gives the experience of reading a zine like this more depth overall. You might feel differently about a poem if you read it right after seeing a certain painting. If you encounter a photograph immediately after reading a short story, you draw emotional connections between the two, even though they technically aren't related at all. Of course everything we publish is wonderful on its own, but these pieces can be so much more when propped up next to each other. Or, maybe I'm just crazy. You tell me!
How has editing a journal changed your writing?
Seeing what people submit to us at the magazine has made me realize how creative you can really get. I'd heard of flash fiction before, but suddenly we were getting pieces only a few sentences long--microfiction. And at first I was like, this is silly. I can't just publish a four sentence story. But there could be such an impact, and such emotion, in just those few words. And I did publish one of those four sentence stories! I think now my writing is less constrained. I used to ask myself stuff like, "Is this a short story? Is this a novella? What's its label?" Now I just ask, "Does this make the reader feel something?"
What writing are you working on right now, and what job pays the bills?
I'm working on a short story collection that I originally did as an independent study at Rider under Professor Sullivan. All of the stories are about houses, or rather, the idea that houses retain memories from what has happened in them, and the people that lived there. And yes, I know, that independent study was three years ago. But you have much less time for the fun stuff once you're out in the world with bills to pay! Speaking of those, I currently manage them by working at Guideposts magazine in New York City as an editorial assistant, where I primarily ghostwrite and copyedit.
What else have you done post-Rider that would make us proud?
Honestly the thing I'm most proud of is getting a job in my field, since there were lots of haters when I was in college telling me that was impossible unless I wanted to be a teacher. That is kind of a depressing thing to say to an undergrad, I think.
What do you know now about writing that you wish you'd known when you were at Rider?
It's okay if your writing isn't edgy and world-changing. The things that you create that have tiny impacts on the space around you are still meaningful. In fact, I think they're meaningful even if they have no impact at all, and the only person who ever reads them is yourself. One of my favorite quotes, I think from Saul Bass (a graphic designer) is, "I just want to make beautiful things, even if nobody cares." Writing can just be about the process of creation, and of putting something new into the world that wasn't there before. Maybe that kind of writing won't change the world, but it can change you, and that can be just as important.
Carrie Drake '12, B.A. in English with a Cinema Studies Concentration
I hear you're being published!
My short story "Pill Pusher" won a Three Rooms Press competition for publication in their anthology Quarter-Life Crisis, which will include work from writers 26 and under. It comes out in April 2016. The anthology aims to poke fun at the media's perception of millennials while also highlighting issues that affect them.
How do you pay the bills these days?
I'm a project manager at a continuing medical education company. I don't get to write much at work, but I travel a ton!
What's your writing schedule like?
Sporadic. Planning a wedding while working a full-time (sometimes more than full-time) job isn't very conducive to a steady creative schedule, but the good thing about traveling a lot for work is having downtime in between destinations. My most recent story was written on a 4-hour train ride from Austin to Houston, TX.
What do you know about writing now that you wish you had known as an undergrad at Rider?
Don't be afraid to write "bad." Until a few years ago, I wasted a lot of time trying to perfect my writing as I wrote instead of pushing through to the end and going back to edit a full, complete piece. Never completing a story because it's not written exactly the way you want it to be is a good way to drive yourself crazy, as well as to quash creativity. Write what you want. Write bad. That's what first drafts are for.
Matthew Brian Cohen '08 graduated from Rider with a B.A. in English (Writing Concentration)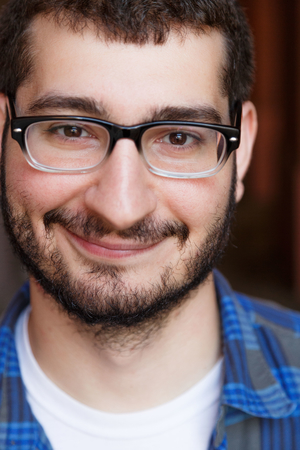 What is Janice?
Janice is a literary humor magazine edited by Ryan Haney and me, with artwork and design by Maëlle Doliveux. It has a different theme each issue. It is hopefully funny. [You can read it at http://www.janicemag.com]
What have you done post-Rider to make us proud?
I've been paid to write things! I've written and performed shows at the Upright Citizen's Brigade Theater in New York and Los Angeles. I've written for McSweeney's, Saturday Night Live's Weekend Update, The Onion, College Humor, and a whole bunch of other places. I'm currently writing for the Honest Trailer series on Youtube.
Kurt Vonnegut used to give a speech called "How to Get a Job Like Mine." How can an English major get a job like yours?
Personally, I'm just constantly trying to get better at my craft and work with talented people I admire and respect. Those people usually know more about money than me, and give me some, occasionally. This is a funny answer but also a real one.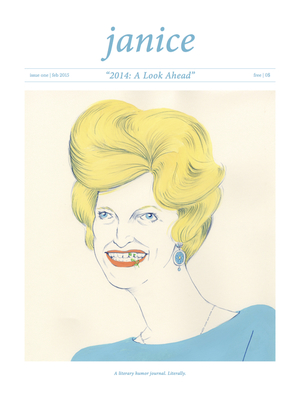 What is humor?
An interesting or unusual thing that appears in a previously known or understood context.
What is a magazine?
A collection of words and images pieced together to make a coherent collection of ideas. It helps if it has a clearly defined voice, like "elitist and self-satisfied," or "regurgitating predictable and worn-out musings on popular culture," or "fart jokes."
Tirusha Dave '07 graduated Rider with a B.A. in English (Writing Concentration)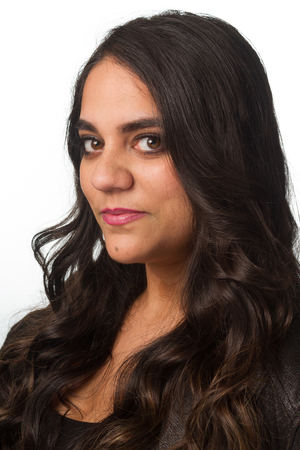 What is Bravura and what do you do there?
Bravura is an online fashion & lifestyle publication which I started seven years ago. I am the founder & Editor-in-Chief of the digital publication.
Describe your decision to start your own magazine.
The decision to start my own magazine actually came about as a challenge from one of my Rider Professors, Dr. Robbie Clipper. while I was doing my writing internships, I was very upset with the fact that I was being told how to write my articles, and had very little to NO freedom in my writing for other publications. So Dr. Clipper told me to start my own forum if that was how I felt. And that is when Bravura Magazine was born; and I could not have been happier with the decision.
Kurt Vonnegut used to give a speech called "How to Get a Job Like Mine." How can an English major get a job like yours?
That's a very interesting question!! In order to get a job like mine, students need to challenge themselves and think outside the box. And as clichéd as it sounds, it takes a lot of hard work, dedication, and putting yourself out there. Even though Bravura was far from "established" when I first began, I knew that the only way I could get the content people wanted to read was by putting myself out there. I used the fashion portfolio I had from previous magazines I wrote for, and started to apply for media credentials to bigger fashion-related events, and that eventually led to getting my foot in the door of Mercedes-Benz Fashion Week. And from there, one thing led to another; but all in all, none of this could have been possible if I didn't try to jump the hurdles, which were in my way, and not taking no for answer!
What else have you done post-Rider that would make us proud?
In February 2014, I launched my first collection as a designer. Sketching was something I was always interested in, especially after I started working with designers on original photo shoots. So I decided to take this passion one step further and create my own collection to showcase during Atlantic City Fashion Week. I have also won three awards, hosted by Atlantic City Fashion Week related to the work I've done with Bravura Magazine. The awards were in the category of Top Fashion Executive (2013 & 2014) and Top Fashion Journalist (2014). In 2013, I was personally invited to the NJ State Inaugural Ball for President Barack Obama's re-inauguration. I was surprised because my publication is strictly fashion-related, and the NJ State Society said that was WHY they wanted us there —to cover the "political fashion" of the Ball!
What do you know now about writing that you wish you'd known when you were at Rider?
In the words of Ernest Hemingway, "It was in that room too that I learned not to think about anything that I was writing from the time I stopped writing until I started again the next day." I always used to be the type of person who would write, write, write, but then it would not be cohesive or make sense. And then I learned from my seasoned professors that if I removed myself from the mindset of writing, it would come to me then, in a clearer and freer mindset!
Libby Hanks '13 graduated from Rider with a B.A. in English (Writing Concentration)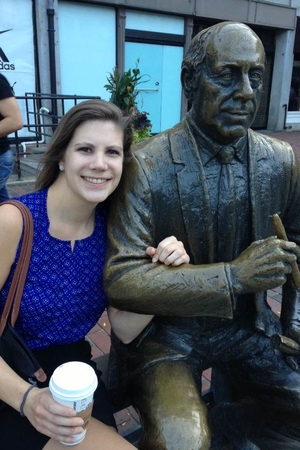 What is your job title now and what do you do at work?
I am a Production Coordinator at HarperCollins in their South Brunswick office. I have been with the company since April 2014 and I started out as a Production Assistant until I was promoted to Coordinator a few months ago. I work on the production team and our team works between a lot of other departments including editorial, art, design, inventory etc. and we make sure that everything is all set with the book before it goes to the printer. We have direct contact with the printers and other departments, and communicate with them daily throughout the process. Each person on the production team is in charge of different books and we oversee our titles throughout the process from start to finish. I sit in a cubicle all day and I never thought I would enjoy it as much as I do.
Describe your process of deciding to work in publishing.
I have always been passionate about publishing and knew that I wanted to work in the field since I was young. I have always been a writer and wrote poetry since middle school. When I got to college, I immediately knew that I wanted to be and English major. Throughout college, I took a lot of different English and Writing classes and they only furthered my interest in the field. I had a few different internships, including working for a magazine and writing for an art center, which developed my skills in different areas. Ultimately I knew that I wanted to work for a book publisher, but I applied to a lot of different companies to get my foot in the door. I was lucky to get a job at Harper. Hard work pays off.
Kurt Vonnegut used to give a speech called "How to Get a Job Like Mine." How can an English major get a job like yours?
Persistence, persistence, persistence. I wouldn't have gotten my job if I wasn't persistent. When I was applying for positions, I found out that Harper was opening a new office in South Brunswick. I called HR almost every day until I got an interview. I wanted to make sure that they knew I was passionate and really wanted to work for the company. I don't think I would have gotten this job if hadn't been so persistent. If you're passionate about getting a job at a company, step out of your comfort zone. Take the extra step and show them that you are committed; it might just work out for the best.
What do you know now about writing that you wish you'd known when you were at Rider?
I have learned a lot about writing since working for a book publisher. It's an incredible feeling to be able to see the entire process of a book behind the scenes and then walk into a store and see it on the shelf. Those books are developed from the skills that we learned in college, from the writing that we did on a daily basis. I am thankful that I was able to take all of the classes that I did at Rider and I learned a lot about writing. One thing that a classroom won't teach you is how writing will impact your life. If I can give anyone advice, don't lose sight of what you learned in school. It's the little things that you learn in the classroom that you will use on an everyday basis. Find time to write, no matter where you end up and regardless of other people's opinions, getting a job in the publishing world is worth it. Trust me.
Kathrine Hedayat '11 graduated from Rider with a B.A. in English (Literature Concentration)
What degree are you working on now, and where? What are your plans after that?
After I got my MA at SUNY Stony Brook in 2012, I was accepted to Rutgers School of Law and I'm currently doing my 1L (first year). I plan to get my JD, take the bar exam in 2017, and practice Intellectual Property law. My goal is to work in copyright, trademark, and contracts work with artists and writers.
Describe your process of deciding to get an M.A.
I wanted a Master's to help me along my path to becoming a professor. It was a wonderful experience, and I would absolutely do it again. The application process was hectic, and taking the GRE was challenging. (So for any prospective students, I would absolutely stress organization and time management!) Although my goals have changed since then, my MA was an opportunity to experience an incredibly heavy research, reading, and writing workload. Writing my thesis was honestly one of the best and most difficult experiences of my life.
Kurt Vonnegut used to give a speech called "How to Get a Job like Mine." How can an English major get a job like yours (or, in this case, go to an MA program like yours)?
Make sure your heart is in it. Concentrate on your studies and your grades, and take your work seriously. Do your research ahead of time and make sure you know what you're getting into. Budget your time well and remember your goals, and what you need to do to achieve them. Establish professional connections. Network! Go to events! Get business cards. Don't let your classmates distract you or tell you those kinds of things aren't important or won't serve you. These little snippets of advice may sound like throwaways, but honestly, putting your head down and working is the best thing you can do.
What else have you done post-Rider that would make us proud?
Writing my MA thesis and teaching my own reading and grammar students as an SAT tutor definitely top the list. Professionally, I've used my English skills in administrative and editing contexts as well; I have edited and generated advertising, marketing, and clerical documents for several companies since I graduated. Law school wasn't in my plans when I was an undergrad, bt doing well on the LSAT and getting impressive scholarship offers to fund my graduate studies were definitely triumphant moments. I've also worked in our law library helping to archive and scan court documents for the university database. I'm hoping to put my research and writing skills to work in the near future by interning with a judge in a NJ court this summer.
What do you know now about writing that you wish you'd known when you were at Rider?
I remember all my Rider professors really trying to impress upon us that writing is real work. If you want to be a writer, you need to make writing your job. For a writer or student of literature, research and writing every day is not an option, it is a necessity. This has really sunk in since my Rider days.
Ricky Lorenzo '10 graduated from Rider with a B.A. in English (Cinema Studies Concentration)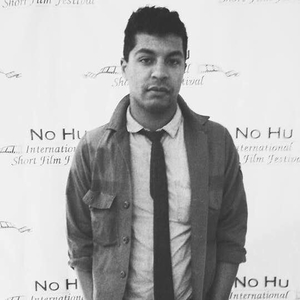 What have you done post-Rider?
In 2013, I earned an M.A. in Professional Studies in Directing from the School of Visual Arts. I made a short film, Transparent, which screened at numerous film festivals around the world and was nominated for a couple of awards. I just want to say that I filmed Transparent before Jill Soloway's television show of the same name was even created. Also, I produced and co-directed a horror movie trailer that went viral in the horror world and I have produced a horror film that was picked up for distribution. Funny because most of my more successful ventures were in a genre I had no interest in.
How do you pay the bills today?
Four years of low-wage freelance work in film production paid off! In September, I picked up a job with a Fox subsidiary company, Fairfax Productions, editing and doing camerawork for their news show Chasing News (formerly Chasing New Jersey) which airs on My9 and Fox29. I do miss the freelance work, but having a consistent paycheck and health insurance is awesome.
Kurt Vonnegut used to give a speech called "How to Get a Job Like Mine." How can an English major get a job like yours?
I don't know if many English majors want my job, but if you're an aspiring filmmaker concentrating in Cinema Studies, it's pretty simple. The two things you REALLY need are drive and patience. This industry requires you to have years of experience if you don't have connections. Also, buy a laptop and download your favorite editing software. Or you can do what I did: befriend a communications major and they'll let you share equipment. Start working as a student, when you can afford to work for free, and build a reel. Once you have it ready, reach out to the network of filmmakers, film crews, and producers. They're always looking for fresh, talented minds!
What is film?
Film is that bad taste in your mouth when you wake up the next morning after a night of drinking. Regardless of that awful taste, you're going to keep doing it! Although I'm working in the film/TV industry, it's very important to stay creative outside of work. So, I spend my time off directing and editing music videos and playing guitar and co-writing music for my band YJY.
Sarah Sassone '12 graduated with a B.A. in English (Writing Concentration)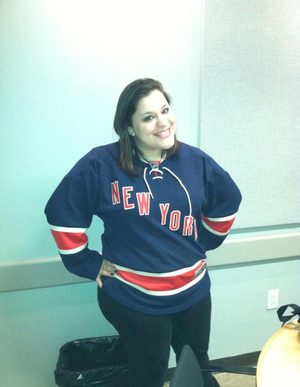 What degree are you working on now, and where? What are your plans after that?
I'm at Emerson College, finishing up my MFA degree in Creative Writing Fiction. I've applied to PhD programs all over the country, so I'm planning on going right into another program (either in Lit or Creative Writing). I plan on teaching on the collegiate level while I keep writing.
Describe your process of deciding to get an MFA.
I love school, and I love writing, so finding an MFA program in Creative Writing sounded like the best fit. I did some research on programs, applied to several, and chose Emerson after doing some more research. In my senior year at Rider, I had also made the career decision to be a professor, and a master's is required at most schools.
Kurt Vonnegut used to give a speech called "How to Get a Job Like Mine." How can an English major get a job like yours (or, in this case, go to an MFA program like yours)?
Lots of work and lots of reading. It was hard to get leisure reading done at Rider since I was always reading for classes, but it's necessary if you want to be a successful writer. You also need the time to find your influences. My favorite writer is Aimee Bender, and I was lucky to discover read her at Rider in Dr. Sullivan's Contemporary American Literature class. I still attribute my love of reading and writing to her. Reading more than you "need" to is necessary. You should try to read at least two extra books per month, at least during school time, and then more than that during the summer/winter breaks. At school, my professors usually assign a book per week, and then I read other books in addition.
What else have you done post-Rider that would make us proud?
I've been published, I teach creative writing, and—most importantly—I've pretty much found a balance between writing and teaching where they don't really get in the way of each other.
What do you know now about writing that you wish you'd known when you were at Rider?
It's not easy at all. A good writer makes writing seem easy, but it's not. Revision is the most important part. At Emerson, I've learned to cherish revision because that's the real art. The rough draft is nothing compared to the revision. Additionally, to become a successful writer, you need to learn how to handle rough criticism. I don't think I got enough of it at Rider. My professors here are merciless, and it's not always enjoyable, but my writing has improved drastically.