In 1976, Rider University established a circle of the Omicron Delta Kappa National Leadership Honor Society. Composed of junior and senior students who meet the leadership qualifications for membership and the GPA (3.25 or above) requirement, the society's goals are to recognize the accomplishments of academically sound student leaders and enhance leadership skills and abilities.
With over 300 circles nationwide, Omicron Delta Kappa recognizes achievement in the following five areas:
Scholarship
Athletics
Campus/Community Service, Social/Religious Activities, and Campus Government
Journalism, Speech and the Mass Media
Creative and Performing Arts
Omicron Delta Kappa not only promotes the personal and professional development of its members, but also seeks to encourage leadership development for all students at Rider University through a variety of workshops and opportunities.
Membership Information
Every September, Omicron Delta Kappa invites current juniors and seniors who have a 3.25 GPA or above to apply for membership. Those applicants who demonstrate a breadth and/or depth of leadership within the 5 areas ODK are accepted become official members of ODK by submitting a membership fee and participating in an Induction Ceremony that occurs in November.
Benefits of Membership
ODK members not only have opportunities to continue to develop their leadership skills at Rider, but also have opportunities to earn awards and scholarships through ODK National.  Rider ODK members are encouraged to attend programs and workshops to earn free cords upon graduation.
Activities of the Rider Circle
The Rider Circle of ODK enjoys supporting the National organization by planning events and service projects to celebrate Founder's Day (December) and the National Day of Service (April).  Additionally, ODK hosts numerous events throughout the year, including leadership discussions with our University's President and Board of Trustee members.
Omicron Delta Kappa Rider Circle Leader of the Year
In April 2016, the Rider Circle began its tradition of awarding the Leader of the Year Award. The purpose of the award is to celebrate the culmination of leadership accomplishments of a senior Rider Circle member.
The 2021 ODK Rider Circle Leader of the Year award recipient is Ms. Kaitlyn Marut. During her time at Rider, Kaitlyn made it her mission to not only practice leadership and contribute to our community, but to assure that she did so with intention and knowledge. Kaitlyn was a graduate of the Leadership Development Program as well as a protégé in the Gail Bierenbaum Women's Leadership Council. Through these programs, she gained the knowledge and leadership capacities that have prepared her to practice leadership with intention. She served in high level leadership roles in a number of campus organizations, including Psi Chi, the Society for Human Resource Management, Zeta Tau Alpha, and our Rider ODK Circle. Kaitlyn also participated in an impressive 5 internships while an undergraduate student, with the most recent internship being with Madison Square Garden as a Virtual People Development Student Associate. Kaitlyn lives by ODK's ideal "to strive for excellence in academics and pursue lifelong learning", and has used this ideal to focus and energize her efforts to develop her leadership while serving others. All of these experiences have been a conscious effort to best prepare herself for her future journey so that she can continue to use her knowledge and skills to positively impact our world.  Congratulations, Kaitlyn!
Image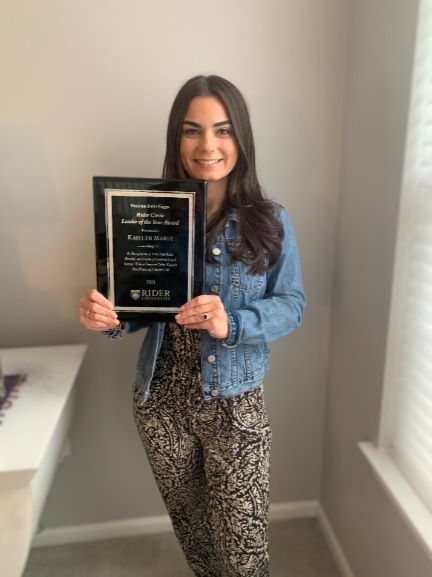 Previous Winners
2020: Jessica Flaherty
2019: Danielle Gangemi
2018: Ashley Leeds
2017: Alyssa Belardo
2016: Caroline Forde
For more information, visit the ODK booth at SGA Awareness Day (mid-September) and visit the ODK National website at www.odk.org.
ODK Contacts at Rider
Associate Director, CDLS and Director, LDP
Sweigart Hall
lseplaki [at] rider.edu
(609) 895-5791