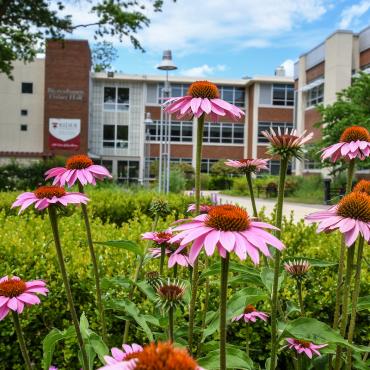 Environmental Sustainability Workshop and Symposium
High school teachers and students are invited to join us for a hands-on opportunity to engage in creative problem solving focused on the intersection of STEAM topics and sustainability.
Learn More
Green Film Series
Students are invited to join us for the Green Film Series. The film viewings will be followed by a brief discussion.
Learn More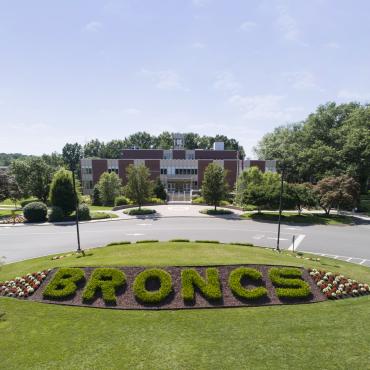 Recyclemania
Recyclemania is an eight week competition in which Rider competes against other colleges and universities in the country to have the biggest effect on their respective campuses and enact recycling change! This competition runs every year starting in February and runs through March.
Learn More
Green Events and Projects
Awareness Day
Awareness Day is an event held at the start of each semester for freshman and transfer students to see the plethora of organizations that Rider has and all that is available for them to get involved in. Each year the Eco-reps have a table with information on all that we have implemented on campus and sign-up sheets for interested students. Awareness Day is a great way for students to see all that Rider has to offer and gives them an opportunity to see a sustainability presence on campus.
National Campus Sustainability Day
National Campus Sustainability Day is a celebration held each year to raise awareness within college communities and encourage students to adopt a greener lifestyle. Rider has hosted National Campus Sustainability Day events since 2008 with each year's event growing in size and attendance. One of the ways in which we celebrate is our annual festival complete with Eco-Friendly giveaways, apple cider tasting, pumpkin painting, and various other games and activities. Through our Campus Sustainability Day events, we can show everything Rider has done to be sustainable as well as educate students on how they can get involved and go green with their clubs and organizations.
America Recycles Day
America Recycles Day, celebrated each year on November 15th, encourages Americans to reduce and recycle, invest in recycled materials, and increase education on local recycling options. Rider's America Recycles Day event includes info tables, recycling games, a petition to ban plastic bags usage on campus, and encouraging students to access the campus's Pepsi Dream Machine.
RecycleMania
RecycleMania is a 10-week competition that takes place throughout the spring semester. The competition is designed to increase recycling in residence and dining halls. The first two weeks of the competition are benchmark weeks were schools get acquainted with the rules of the competition and benchmark statuses are set for each participating institution. The next eight weeks comprise the actual competition where schools aim to increase recycling participation and decrease waste disposal. This year, a new element was added to the competition, allowing students to earn their school points by participating in a "green" action, and submitting a photo via text, tweet, or uploading to the MyActions online platform. Local colleges and universities compete against each other with the winning school being the one to reduce the most!
Earth Hour
Earth Hour is a climate awareness campaign organized by the World Wildlife Fund (WWF). Earth Hour started in 2007 in Sydney, Australia when 5.5 million homes and business turned off their lights for one hour, from 8:30pm-9:30pm on the last Saturday in March, to make a stand against climate change.  Global landmarks such as the, Sydney Harbour Bridge, The CN Tower in Toronto, The Golden Gate Bridge in San Francisco, and Rome's Colosseum, all stand in darkness, as symbols of hope for a cause that grows more urgent by the hour. Each year, the Eco Reps host an Earth Hour event inviting all students to gather on the Residence Hall Quad, but not before powering down all electronics and lights prior to coming out to join in the festivities. The event varies each year with previous festivals including glow items, fire dancers, glow-in-the-dark art, music, and more.
Earth Day
Earth Day is celebrated on April 22 of each year, and marks the anniversary of the birth of the modern environmental movement in 1970.  On that first Earth Day, 20 million Americans took to the streets, parks, and auditoriums to make a statement about living a healthy, sustainable lifestyle for the environment. Rider has celebrates Earth Day each year on an available date around April 22. Our annual event, held on Earth Day each year, includes information tables on both projects that Rider is working on and those of local community organizations, interspersed with various games and activities. Past activities have included potting your own plant, a trivia wheel with prizes, a human powered ride, a Velcro suit recycling game, amongst many other interactive, educational activities. Students also have the opportunity to bring in old clothing and swap it out for a Broncs Go Green organic t-shirt.
Westminster Spring Fling
Held annually in collaboration with Westminster Student Government Association, Spring Fling is an event filled with rides, games, food, music and more! The event is open to the public and always experiences a large attendance. This year the Eco Reps celebrated Spring Fling by hosting a table with information on sustainable vacation tips, beach erosion, and other sustainable summer ideas. At the table, attendees were also invited to plant their own seed infused paper globe in a recycled can!
Arbor Day
In 1872 Julius Sterling Morton, a pioneer of Nebraska, proposed a tree planting holiday he called "Arbor Day" for April 10 of that year. This new holiday would encourage residents to plant trees statewide leading to an estimated one million trees planted throughout Nebraska on that first Arbor Day. During the 1870's neighboring states adopted the holiday and it became traditionally observed in schools nationwide in 1882. Trees are an important resource for our environment because they not only produce shade to act as a natural air conditioner, but they also provide shelter for wildlife, reduce erosion of topsoil, filter ash, pollen, and dust from the air, absorb gallons of flood water and run off, and produce oxygen just to name a few. Each year, both the Rider and Westminster campuses celebrate Arbor Day by planting a tree on their respective campuses and sharing a quick history of Arbor Day with attendees. 
Don't Trash it, Recycle it
As part of the annual move out, a great amount of waste is generated by students who do not wish to lug items home after a long year of on campus living. To combat this waste from ending up in the landfill, Rider students initiated efforts to create a collection drive in Spring 2008. This student run effort came to be known as Don't Trash it, Recycle It.  All items were donated to HomeFront in Trenton, NJ, where they are put into a free-cycle store for unfortunate families in the area.  The Eco Reps continued to hold the program each year until 2013 when the event took on a new format by partnering with Community Recycling. This local company now places boxes in each residence hall for a two-week collection period prior to the end of the year move-out. At the end of this period, Community Recycling collects the items to be properly recycled.
Environmental Sustainability Symposium
On Thursday, April 30th, 2015, Rider University hosted its first Environmental Sustainability Symposium for high school students in New Jersey. A variety of sessions were held that covered a range of topics including climate change, urban sustainability, communication and the media, and green business. The students got to sit in on six different sessions hosted by both Rider faculty and guest speakers including: Dr. Laura Hyatt, Dr. Dan Druckenbrod, Dr. Barry Janes, Martin Johnson of Isles Inc., Stephanie Tsang of Terracycle, Matthew Wasserman of Church & Dwight, Florence Block of USGBC, Gary Zimmaro of TD Bank, Jennifer Dowd of Eco Schools USA, Mikey Azzara of Fresh From Zone 7, Sondra Flite from the Department of Environmental Protection, Philip Dahlin of Johnson & Johnson, Jim Simon of Isles Inc., Beth Feehan of NJ Farm to School Network and John Watson from D&R Greenway Land Trust. Teachers and administrators were invited to sit in on an additional session held by John Henry of the New Jersey School Boards Association and Kara Angotti of the USGBC. Attendees were also given the opportunity to take a campus green tour and enjoy a zero-waste lunch. 
Green Speakers
Bill Nye- Spring 2015
Bill Nye is most well-known for his television series surrounding a variety of science related topics, "Bill Nye the Science Guy" on PBS. Nye, who earned his college degree in mechanical engineering, began his career at Boeing before stepping into the entertainment world on a local show in Seattle, WA. Here, Nye's famous nickname "The Science Guy" was coined, as he gained credibility and landing a recurring role on Back to the Future: The Animated Series. His role on this show led to his famous educational program Bill Nye "The Science Guy" which ran for five years and sparked his authoring of several books, as well. More recently, Bill Nye has been making appearances on popular media to speak about various current science topics, including climate change. 
The Office of Sustainability was proud to host a successful event at which Bill Nye spoke to over 750 attendees about science and climate change. Bill used humor and history to educate the audience on the urgency of climate change and proposed his own strategies on how to solve the climate crisis.
Tim DeChristopher-Spring 2014
Tim DeChristopher is the passionate Climate Activist and co-founder of the environmental group Peaceful Uprising.  On December 19, 2008 he protested a Bureau of Land Management oil and gas lease auction in Salt Lake City of 116 parcels of public land in Utah's redrock country to drill on public lands. He successfully bid on 14 parcels of land (totaling 22,500 acres) for $1.8 million with no intention to pay for them.  DeChristopher was removed from the auction by federal agents and taken into custody  He has become an American hero for his act of civil disobedience serving 21 months in prison for his actions in trying to prevent the catastrophic consequences of climate change. In 2011, Tim was the focus of the award winning documentary Bidder 70 about his protest that landed him in jail for nearly 2 years.
We were thrilled to have Tim as our keynote speaker for Rider's 2014 Earth Day Festival held in the Campus Mall on April 22, 2014. He gave a passionate and educational talk on the dangers of climate change and how it can and is affecting us personally. In addition, he shared his ideas of how as a community we can make a difference by participating in peaceful activism.
Adrian Grenier – Fall 2013
Not only is Adrian Grenier the star of the popular HBO series, Entourage, and known for his role in The Devil Wears Prada, he is also listed as one of the Top 10 "Green" Celebrities; a very appropriate title. Adrian Grenier has created a TV series called "Alter Eco", a makeover series that shows viewers how to live an eco-friendly lifestyle. Because his career requires frequent travel, Adrian often buys carbon offsets to reduce his impact. Grenier has also created a green living platform called SHFT that displays and sells high quality sustainable materials. With everything from clothing to home décor, SHFT makes it easy for people to see how they can be sustainable in every aspect of their lives, and do so with ease. Adrian Grenier is true to his "green" celebrity status when the work is done and it's time to go home. His Brooklyn home uses solar panels, a green roof, and is insulated using recycled denim, and Grenier even drives a Prius hybrid car.
On October 24th, 2013, Adrian Grenier was the keynote speaker to celebrate Campus Sustainability Day. Grenier spoke to students, faculty, and the local public about investing in our own personal environment. This means, taking care of ourselves and our inner environment, as well as our immediate surroundings. He spoke about making daily individual choices and how we can strive to reduce our own individual impact. A great quote by him reads, "If everyone just became a little more aware of his or her own personal impact on the earth, real change would ultimately result."
Rosario Dawson – Fall 2012
Discovered on the streets of New York, Rosario Dawson is an actress/singer who has been featured in various films such as Josie and the Pussycats, Men in Black II, 25th Hour, The Rundown, Alexander, Sin City, and Eagle. Dawson is heavily involved in politics as evident by the non-partisan organization she co-founded in 2004, Voto Latino, which works to promote an enfranchised America by leveraging celebrity voices, the latest technology and youth themselves to promote positive change. She serves on the board of directors for V-Day and Scenarios USA and has also lent her support to the following organizations:  Amnesty International; Charity: Water; Declare Yourself; Global Cool; International Rescue Committee; Lower East Side Girls Club; ONE Campaign; Oxfam; Parents, Families, and Friends of Lesbians and Gays (PFLAG); Twenty Women For Darfur; Women's Voices, Women Vote; and Youth AIDS.  A native New Yorker, Dawson currently resides in Los Angeles.
Rosario Dawson was the keynote speaker for Rider University's 5th annual Campus Sustainability Day event.  She spoke to a group of over 500 students, faculty, staff and other community members in the Cavalla Room of the BLC about the importance of being mindful of the environment, finding your passion, and using your voice through purchasing power and voting.
Erin Brockovich - Spring 2012
Not only was she the subject of an Oscar-winning film, Erin Brockovich was a strong-minded activist, determined to bring justice to a case that exposed Pacific Gas & Electric for leaking toxins into the ground water of Hinkley, California. Working as secretary at a law firm, Erin discovered medical records proving that they had leaked toxins into Hinkley groundwater for 30 years, poisoning its  residents. After tireless investigation the largest direct action lawsuit in US history was filed against PG&E. They were required to pay $333 million to Hinkley residents, making US history and making Erin Brockovich a household name. Through her newfound fame, Erin began to tackle other medical mysteries across the country, and became an environmental activist. Wrapping up our successful Earth Day, Erin participated in an interview with Rider News, followed by a Meet and Greet with the ESSC. To conclude her visit, Erin gave an empowering presentation on standing up for what you believe is right and how a single person can move the world.
Jeffrey Hollender - Spring 2012
Jeffrey Hollender began his green future over 20 years ago when he co-founded Seventh Generation, a natural product brand. He built his company on the basis of authenticity, transparency, and progressive business  practices. Jeffrey's goal is to help businesses recognize the effect they have on society and to give these companies assistance in adopting more sustainable business practices. To aid his efforts, Jeffrey authored six books, including a best seller. Currently filling his time as a speaker, consultant, and activist, Jeffrey is part of Greenpeace US, and co-creator of American Sustainable Business Council. To kick off our Earth Month festivities, Jeffrey came to Rider to speak on behalf of his accomplishments and followed his presentation with a challenging question and answer session that got the audience thinking about more ways they can make change.
Mark Dixon - Spring 2011
Mark Dixon created the documentary YERT along with his two friends, Ben and Julie. The three embarked on a year long road trip across the United States to look for the bad environmental damage, the good steps that Americans are taking, and the unique ways we can all tackle Climate Change. Mark and his fellow road trippers discovered that there are hundreds if not thousands of ways to reduce climate change as they spoke to Americans in all parts of the country.  Mark continues to aid in environmental change by speaking across the country and urging everyone to take small steps in their lives to become greener. Mark enthusiastically spent the day at Rider, attending our Earth Day event, sharing a Meet and Greet dinner with our ESSC members, and presenting a stand out speech to the Rider community about his journey.
Colin Beavan - Spring 2010
In 2006 Colin Beavan decided that he would achieve his goal of making as little impact as possible for one year, while documenting his journey. By cutting out automated transportation, electricity, non-local food,  and material items, Josh was able to claim his title as No Impact Man. Colin documented his experiment in an award winning blog, noimpactman.com, a book, No Impact Man, and a documentary film of the same name. These efforts led to the creation of his non-profit organization, No Impact Project, to empower citizens to make better, more sustainable choices, thus lowering their environmental impact. Colin's work caught the attention of major news outlets such as Good Morning America. Colin continues to encourage No Impact efforts by speaking nationwide and serving as an environmental blogger, author, and consultant.
Josh & Rebecca Tickell - Fall 2009
Josh Tickell's radical efforts in his film Fuel reveal the dependency of America on oil and the problems that accompany this addiction. Raised in Louisiana, surrounded by all things oil, Josh witnessed first-hand how the oil companies control, deceive, and damage the country, Americans, and our environment. Finally Josh decided to take a stand. His goal was to attract national press and expose the harm that the oil giants were inflicting on Americans. Over the course of 11 years, he created the film Fuel which caught the attention of over 150 news giants such as: CNN, Good Morning America, The Huffington Post, etc. Josh and his wife/partner in crime Rebecca continue to raise awareness through promotion of their award-winning film Fuel and through speaking engagements across the country.
Tom Szaky - Fall 2008
Local entrepreneur, Tom Szaky is the creator of TerraCycle, an eco-friendly brand that creates consumer products from waste. TerraCycle began with the creation of Worm Poop, an all organic fertilizer, packaged in recycled soda bottles. Leading the world in the concept of upcycling, TerraCycle now runs out of a facility in Trenton, NJ which not only harvests Worm Poop, but various products created from waste materials, collected through their brigade program. Brigades let the public collect their non-recyclable items, such as: juice pouches, candy wrappers, chip bags, etc., to be sent to the TerraCycle facility for upcycling. Tom now spends his time managing TerraCycle and speaking on the importance of social responsibility.