Friday, Sep 16, 2022
The University was included in the publication's recent honor roll
by Adam Grybowski
Image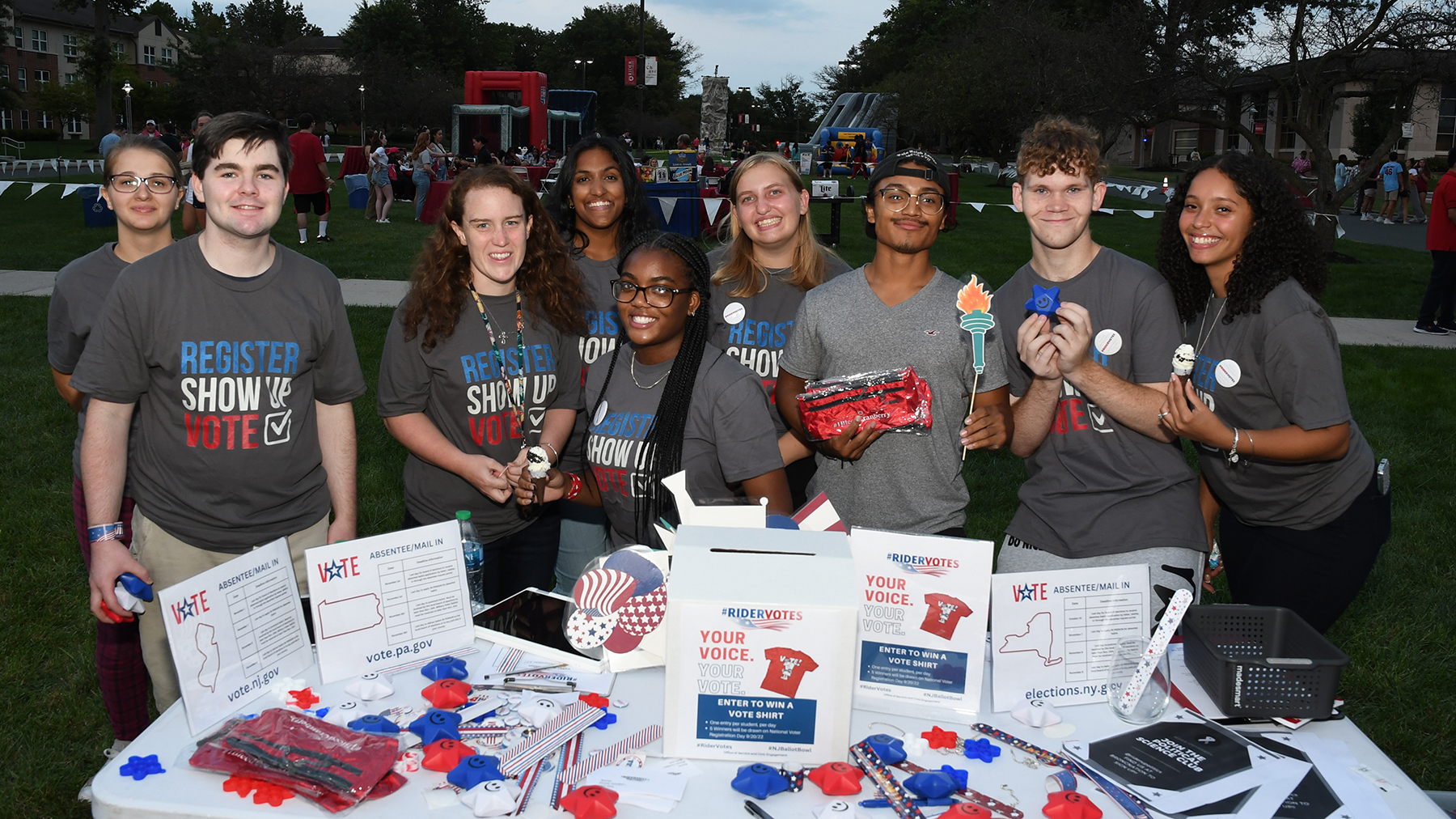 Washington Monthly named Rider University in August to its annual honor roll for the best colleges for voting in America. The publication recognized only 230 schools out of the 850 it considered, meaning fewer than one in three institutions made the cut. 
The accolade continues the increased recognition Rider has received since 2016 for the voting participation rates of its students. Participation rose from 52% in 2016 to 74% in 2020, which earned Rider a gold seal from the ALL IN Campus Democracy Challenge, a national program that recognizes colleges and universities working to increase nonpartisan democratic engagement among students. 
Working with campus partners across the University, Rider's Office of Service & Civic Engagement launched its Rider Votes campaign in 2016. The campaign aims to increase student voting by registering students to vote, providing education about the importance of voting and ensuring students vote on Election Day.
The objectives are aided by a slate of activities and services throughout the elections season, including voter registration drives, training sessions and a shuttle service to local polling places on Election Day. 
"Part of Rider's mission is to prepare graduates to be responsible citizens, and voting is fundamental to be an engaged, active citizen," says Joan Liptrot, director of Rider's Office of Service & Civic Engagement. "I'm grateful to everyone participating in this campaign." 
An analysis by Tufts University estimates that the 2020 presidential election likely featured one of the highest participation of people between 18 and 29 years of age since 1971, the year the voting age was lowered to 18. The university says that half of all young people voted, an increase of 11 points from 2016, when 39% of all young people voted. 
Part of Rider's mission is to prepare graduates to be responsible citizens, and voting is fundamental to be an engaged, active citizen."
In 2020, youth voter turnout increased by 22% in New Jersey, which accomplished the highest turnout among young people in the United States, according to Tufts. The increased participation coincided with the implementation of full vote-by-mail programs. 
Voter turnout typically declines in years without a presidential election. However, a national poll released in April by the Harvard Kennedy School found robust interest in participating in the midterms from 18- to 29-year-olds.
"Of course it matters who is president, but every election, especially down at the state and local level, impacts voters," says Micah Rasmussen, the director of Rider's Rebovich Institute for New Jersey Politics, which is dedicated to public service and scholarly analysis of government, public policy, campaigns and elections in New Jersey. "I hope our students, and students across the country, will choose to vote this November." 
As a general rule, the Rebovich Institute recommends that students who will be living at Rider on Election Day should register to vote using their campus address. The registration deadline to vote is 21 days prior to Election Day on Nov. 8.
This year, the Rider Votes campaign will register voters during Cranberry Fest, Sept. 17, and on Voter Registration Day, Sept. 20. On Constitution Day, Sept. 17, volunteers will distribute constitutions. 
This year, Rider is also participating in NJ Ballot Bowl 2022, a statewide non-partisan voter registration and engagement competition among students. It's a program of the New Jersey Department of State's Jersey Civic Engage initiative, as well as a joint effort with the ALL In Campus Democracy Challenge.